Bearish call trading?
STLD up more than 20% since last week's earnings beat
Call options volume jumped on Tuesday
Stock hit record closing highs past two days
One of the ever-present traps in the markets is making quick decisions based on limited information. The reason that can be such a challenge is that traders are constantly bombarded with new information—which, when combined with the human tendency to fear missing out on potentially fleeting opportunities, lends itself to action rather than reflection.
On Tuesday, for example, traders were active in Steel Dynamics (STLD), which was in the process of extending the price surge that began after it released earnings last week. The stock extended its four-day gain to more than 20%, posted its second-straight record close, and climbed closer to the all-time intraday high of $100.37 it set in April: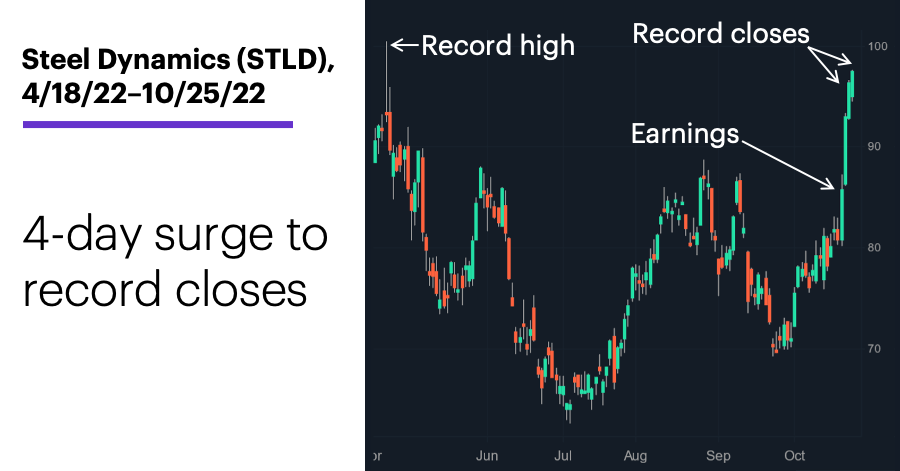 Source: Power E*TRADE. (For illustrative purposes. Not a recommendation.)
---
By the time the closing bell rang yesterday, STLD was up 55% in 2022, even though it was at breakeven for the year as recently as early July. The run also pushed shares a little above the average Street analyst target of $92.25.1
Despite the fresh highs, though, some traders may have been more interested in STLD's options activity. Call volume was nearly 10 times average on Tuesday morning, and included a 2,700-contract trade in the December $80 calls: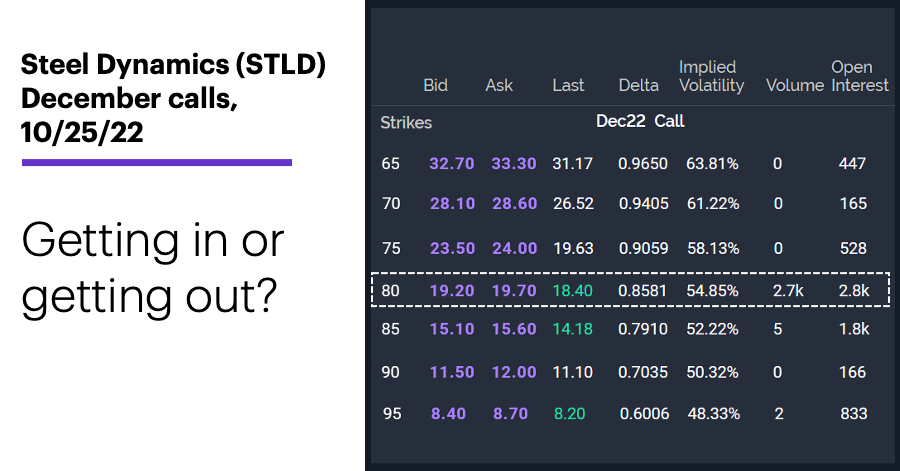 Source: Power E*TRADE. (For illustrative purposes. Not a recommendation.)
---
Since calls can be converted into long stock positions, it probably seemed logical to some traders that a stock making such a strong up move was experiencing heavy call volume—i.e., bulls appeared to be bidding up the stock and buying its calls. Especially in options, though, traders who glance at the headline without reading the story risk getting an incomplete—and potentially misleading—picture of what may really be happening in the market.
In this case, the story was the contract's existing open interest (OI) of 2,800 contracts. That means some or all of the 2,700 contracts that traded on Tuesday could have been the result of traders getting out of their existing positions, rather than new, bullish traders getting into the stock.
That situation should be clarified by today's OI total. If it's lower, traders were getting out; if it's higher, they were getting in. But there was one bit of evidence that may support the "liquidation" hypothesis: Between April 1 and October 24, total volume in the December $80 calls was less than 500 contracts. But on March 30, 2,749 contracts traded.
That may lead some traders to wonder whether traders who may have been holding these options for nearly seven months decided to get out as STLD posted its sharpest rally of the year—a move that not only approached the implied resistance of the stock's all-time high, but also resulted in the December $80 calls trading for more than they did on March 30 for the first time since late April.
Market Mover Update: Workiva (WK) edged toward the upper portion of its trading range with Tuesday's 2%-plus gain (see "Options at work"). Despite a solid rally yesterday, Campbell Soup (CPB) extended its consolidation to a seventh day (see "Traders open a can of puts").
Today's numbers include (all times ET): Mortgage Applications (7 a.m.), Advance International Trade in Goods (8:30 a.m.), Advance Retail and Wholesale Inventories (8:30 a.m.), New Home Sales (10 a.m.), EIA Petroleum Status Report (10:30 a.m.).
Today's earnings include: Turning Point Brands (TPB), Bristol Meyers Squibb (BMY), Boeing (BA), Etsy (ETSY), Meta (META), Ford (F), ServiceNow (NOW), Spirit Airlines (SAVE).
Click here to log on to your account or learn more about E*TRADE's trading platforms, or follow the Company on Twitter, @ETRADE, for useful trading and investing insights.
---
1 TipRanks.com. Steel Dynamics Stock Forecast & Price Target. 10/26/22.
What to read next...
10/25/22
Rangebound cloud stock has a few notable options positions as earnings approach.
---
10/24/22
First full week of earnings season goes to the bulls.
---
10/21/22
Big-tech earnings highlight ways to adjust options spreads for specific risk–reward outlooks.
---