Baiting the bears?
WOR down 10% intraday on Thursday after earnings
Move broke the bottom of a five-week trading range
Intraday recovery setting up possible bear-trap rally?
An old bit of market wisdom holds that the longer a trading range lasts, the more powerful its eventual breakout will be.
True or not, Worthington Industries' (WOR) five-week consolidation definitely ended with a bang instead of a whimper yesterday. The industrial metals company's sell-off after a surprise earnings miss1 dropped the stock nearly 10% in early trading, close to its late-October, early-November lows around $47–$47.50: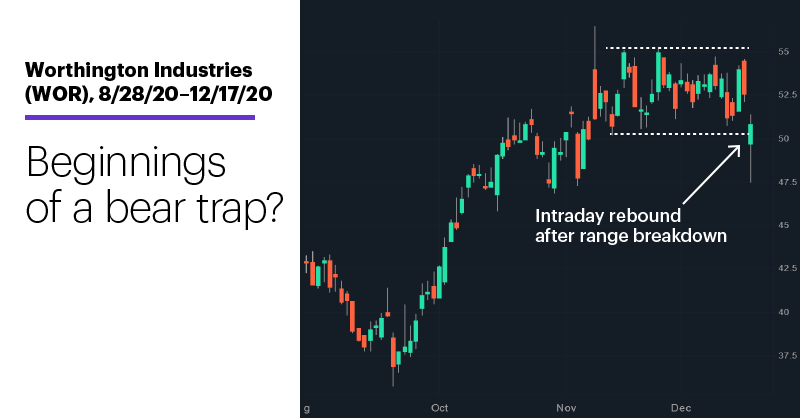 Source: Power E*TRADE
---
Short sellers who quickly jumped on the breakdown bandwagon may have gotten a bit of a surprise, though, since after two hours of trading WOR had rebounded 8.6% off its intraday low and climbed right back into the range.
Bullish traders who had watched the stock rally for more than seven months before the range formed may have seen yesterday's price action as a potential "bear trap"—a downside breakout that triggers stops and entices short sellers, only to quickly reverse and, sometimes, gain momentum as those traders bid up prices to get out of their positions (and, possibly, flip to the long side).
That may have already happened in microcosm yesterday. The question now is whether it will unfold on a larger scale and propel WOR above its trading range highs. Reviewing other down days like yesterday revealed a couple of interesting patterns, both tied to today's price action:2
1. The stock closed higher the next day 64% of the time (28 of 44 instances), with an average gain of 2%.
Also, whether WOR closed higher or lower on the first day after the sell-off appeared to be a better-than-average indicator of whether the stock was still higher after one week:
2. If the stock closed up the day after the down day, it was higher after one week 68% of the time. If it closed lower the day after the down day, it was lower after one week 63% of the time.
Keep an eye on today's action—it may help signal whether the bears are likely to regain near-term control, or whether yesterday's pinch turns out to be a full-blown squeeze.
Market Mover Update: Dave & Buster's (PLAY) edged out of their trading range with a 7.7% intraday rally yesterday (see "Breakout potential"). February WTI crude oil (CLG1) pushed to its fourth higher high this week, trading just shy of $49/barrel (see "Oil pivot").
Today's numbers (all times ET): Current Account (8:30 a.m.), Leading Indicators (10:00 a.m.), "Quadruple Witching" (quarterly) expiration.
Click here to log on to your account or learn more about E*TRADE's trading platforms, or follow the Company on Twitter, @ETRADE, for useful trading and investing insights.  
---
1 StreetInsider.com. Worthington Industries (WOR) Q2 Revenue Tops Consensus. 12/17/20.
2 All figures based on Worthington Industries (WOR) daily price data, 7/5/83–12/17/20. Pattern (44 instances) consists of a day with a low that is below at least the previous 10 daily lows, and at least 7.5% below the immediately preceding low. Supporting document available upon request.
What to read next...
12/16/20
Stock's recent retreat may be the prescription some bulls were looking for.
---
12/15/20
After hitting one technical milestone, traders may be watching for this software stock to tag another.
---
12/14/20
Tech and large caps may have slumped last week (after hitting new records, of course), but small caps maintained their bullish stance.
---