Putting on the puts
Bear put spread is a conservative short-side options strategy
Risk is limited, but so is potential reward
The stock market's long-term upside bias makes short selling a challenge, to say the least—something investors should generally avoid, and even short-term traders should approach with extreme caution. But inverting the bull call spread—a limited-risk, limited-reward options strategy designed to profit from an up move—is one way some traders attempt to manage short-side risk.
The "bear put spread" turns the bullish strategy on its head by combining a long (typically at-the-money) put with a lower-strike (out-of-the-money) put that expires at the same time. For example, with a stock trading around $50, a trader anticipating a down move may decide to buy a $50 put expiring in five weeks while simultaneously selling a $45 or $40 put with the same expiration.
The position is designed to profit if the stock price falls, but those profits are capped at the lower strike price, since at that point further gains from the long put are offset by losses from the short put: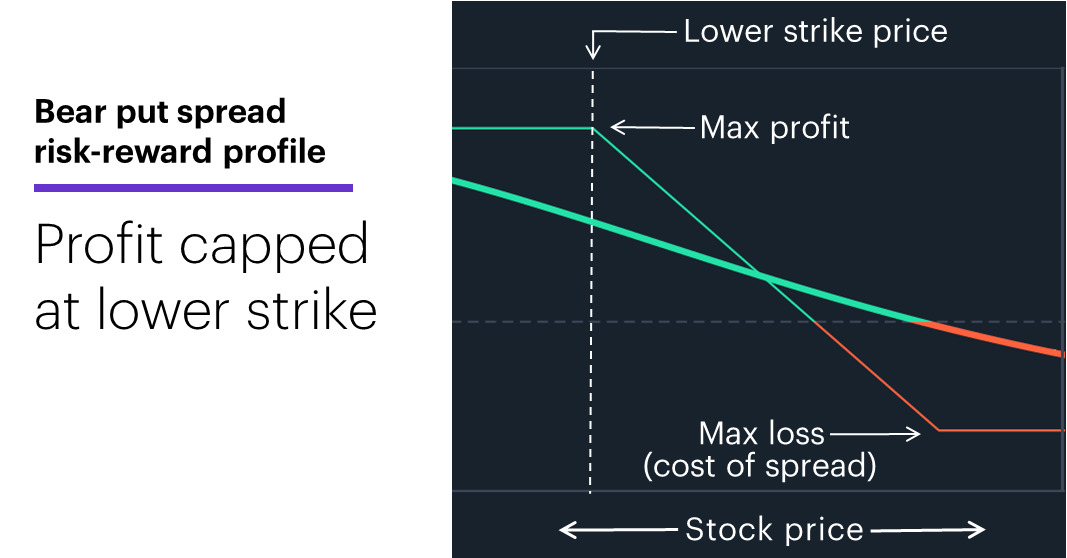 Source: Power E*TRADE
---
The two big reasons traders sometimes choose to use a bear put spread instead of simply shorting the stock:
1. Upfront, fixed loss: A bear put spread's maximum loss is the cost (debit) of establishing the position, which is the difference between the premium collected from the less-expensive short put and the premium paid to buy the long put.
2. Potentially larger return on investment (ROI): The spread's gain may be limited, but if the position is profitable, its return—either measured as a percentage of margin or the cost of establishing the trade—can be larger than the ROI on a short-stock position.
For example, say a trader thought TransMedics (TMDX) had the potential to decline more after yesterday's intraday reversal, when the stock fell into the red after being up nearly 12% intraday:
Source: Power E*TRADE
---
The stock initially rallied on news that its liver transplant platform received a thumbs up from a Food and Drug Administration advisory panel (trading had been halted on Wednesday in advance of the vote1). By 1:30 p.m. ET, though, the stock was down more than 4% on the day after bumping its head on price resistance at the top of its recent trading range (around $35.25).
When a stock sells off on apparent good news, traders often take note, since it can sometimes mean the news was already more than factored into its price, or it wasn't as "good" as the market initially thought. Regardless, many conservative traders use bear put spreads to take advantage of potential downside—with an eye on limiting the risks that always come with shorting the stock market.
Market Mover Update: Most big banks lost ground after releasing earnings this week, and most regional banks—many of which will announce their numbers over the next two weeks—followed suit (see "Beyond the bigs"). Yesterday, for example, Signature Bank (SBNY)—which is scheduled to announce its numbers on Tuesday—was down more than 3% since Monday. The following chart shows the options market was forecasting a +/-3.21% earnings-day move for SBNY (final purple column), which is smaller than its three-year historical average of 5.27% (yellow dashed line):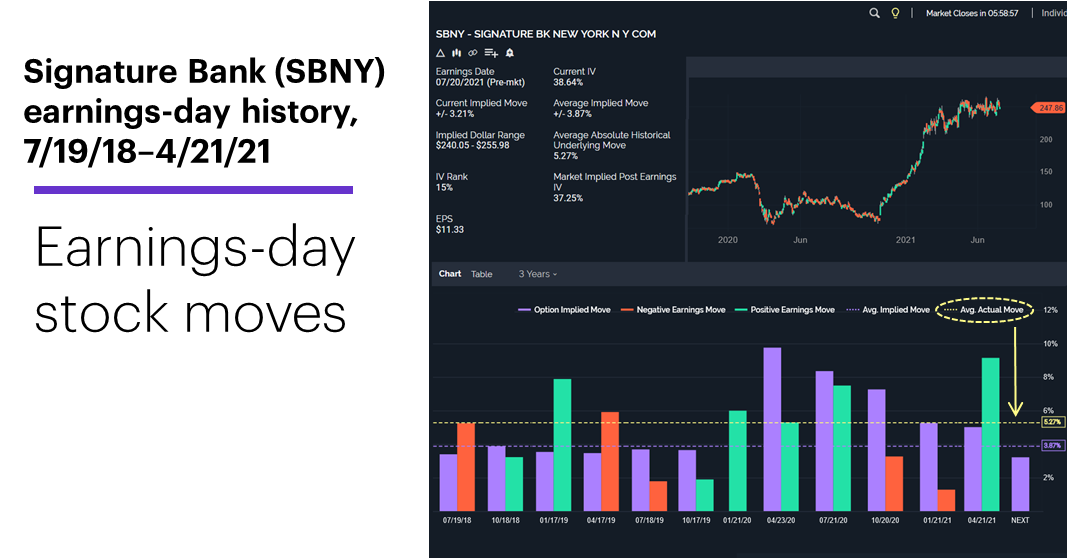 Source: Power E*TRADE
---
SBNY has rallied on seven of its 12 past earnings days, and 22 of its past 38.
Today's numbers include (all times ET): Retail Sales (8:30 a.m.), Business Inventories (10 a.m.), Preliminary Consumer Sentiment (10 a.m.).
Today's earnings include: State Street (STT), Kansas City Southern (KSU)
Today's IPOs include: Stevanato Group (STVN), Phillips Edison (PECO), Bridge Investment Group (BRDG), Regencell Bioscience (RGC), Perspectum Group (SCAN), Imago BioSciences (IMGO).
Click here to log on to your account or learn more about E*TRADE's trading platforms, or follow the Company on Twitter, @ETRADE, for useful trading and investing insights.
---
1 MarketWatch.com. TransMedics Group's stock is halted in advance of FDA committee meeting. 7/14/21.
What to read next...
07/15/21
Logical response or overreaction? A potential reshuffling of medical fees appears to catch traders off guard.
---
07/14/21
Snow in summer: Do traders think former blockbuster IPO can climb mountain again after selling avalanche?
---
07/13/21
There's more to bank earnings than the high-profile announcements scheduled for this week.
---