Tracking the bear
S&P 500 briefly entered bear-market territory last week
Index roughly 17% below January's all-time high
"Bear market" has often meant move was closer to end than beginning
Traders and investors have been subjected to seemingly ever-increasing levels of stock-market volatility this year, and over the past couple of weeks they've been treated to a steady stream of reminders of how close the S&P 500 (SPX) is to a bear market.
While the S&P 500 (SPX) hasn't officially closed in a bear market, it dipped into one on an intraday basis last Friday, falling more than 20% below its January 3 record close before rebounding: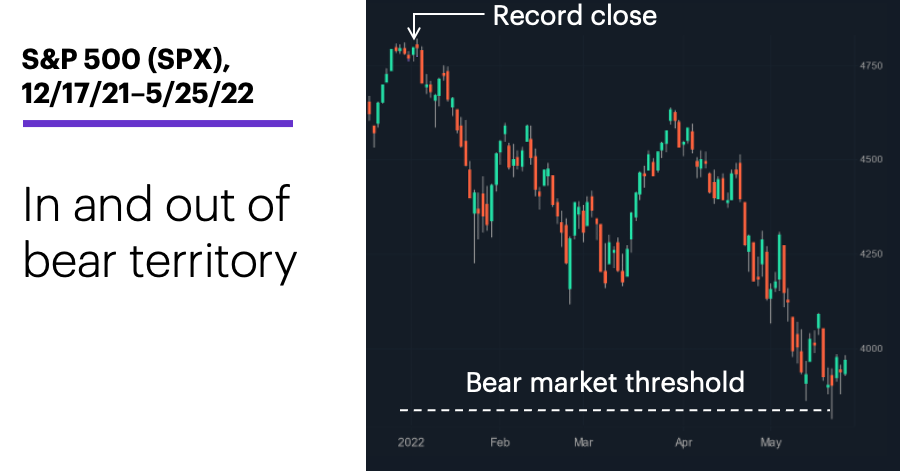 Source: Power E*TRADE. (For illustrative purposes. Not a recommendation.)
---
First, it's important to note that the -20% threshold doesn't have any particular significance, other than being a handy round number to mark sell-offs that don't happen very often. After all, a 19% or 21% (or 18% or 22%) decline would feel much the same as a 20% decline to most investors, and what happens after such moves doesn't vary much if you define a bear market as an 18.7% decline, a 20% decline, or a 21.6% decline. That said, while many investors would argue we've been in a bear market for a while, it's worthwhile to look into what traders can expect if and when the SPX crosses the -20% threshold.
Crossing the bear-market threshold was always followed by additional downside, but more often than not,  the worst of the selling was over at that point.
The table below breaks down the SPX's eight bear markets since 1957 (when the index expanded to 500 stocks), showing (left to right): the date of the closing high before the SPX hit bear territory, the day it first entered a bear market, the day it hit the bear-market low, how many trading days it took to first hit the bear threshold, how many additional trading days it took to reach the bear-market low, the bear market's maximum decline, and the SPX's return in the first year after hitting its bear-market low.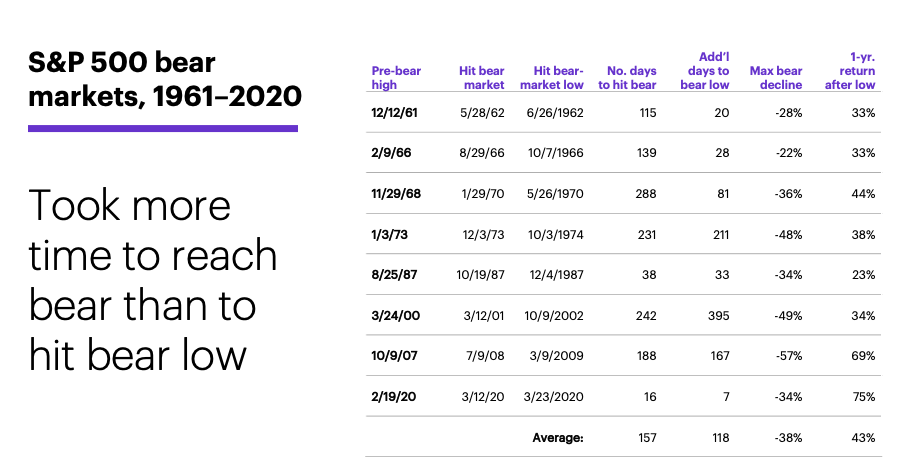 Source (data): Standard & Poor's. (For illustrative purposes. Not a recommendation.)
---
While it's possible the current correction could turn out to be deeper and longer lasting than any of the others over the past 65 years, these examples suggest that by the time the SPX fell 20% below a previous high, the market often had less downside ahead of it than behind it. Consider:
1. In every case but one (1973–1974) it took the SPX longer to reach the bear-market threshold than it did to reach the eventual bear-market low.
2. After reaching the bear-market threshold, the SPX fell an additional 20% or more only three times (1973–1974, 2000–2002, and 2007–2009).
3. In five out of eight cases, the SPX's percentage gain for the first year after the bear-market low was bigger than the bear market's maximum decline. The average one-year gain (43%) off bear market lows was more than five times the SPX's overall average one-year return.1
In other words, although the market always fell more after "officially" entering a bear market, by the time it crossed that threshold, traders and investors had—more often than not—already experienced the worst of the selling.
That's especially important for longer-term investors. Even though no one can pinpoint when a downturn will end, exiting the market to avoid further downside can mean missing out on larger-than-average gains on the way back up.
Market Mover Update: PepsiCo (PEP) rallied for a third-straight day, bringing its gain for the week to around 4% (see "Synthesizing a long trade").
Today's numbers include (all times ET): Q1 GDP, second estimate (8:30 a.m.), Weekly Jobless Claims (8:30 a.m.), Corporate Profits (8:30 a.m.), Pending Home Sales Index (10 a.m.), EIA Natural Gas Report (10:30 a.m.).
Friday's numbers include: Advance International Trade in Goods (8:30 a.m.). Personal Income and Outlays (8:30 a.m.), PCE Price Index (8:30 a.m.), Advance Retail and Wholesale Inventories (8:30 a.m.), Consumer Sentiment (10 a.m.).
Today's earnings include: Jack in the Box (JACK), Ulta Beauty (ULTA), Macy's (M), Dollar Tree (DLTR), Medtronic (MDT), Dollar General (DG), Buckle (BKE), American Eagle Outfitters (AEO), Burlington Stores (BURL), Workday (WDAY), Zscaler (ZS), Gap (GPS).
Friday's earnings include: Big Lots (BIG), Canopy Growth (CGC).
Holiday reminder: Monday is Memorial Day—US markets will be closed. (Also, US bond market will close early (2 p.m. ET) on Friday, May 27.
Click here to log on to your account or learn more about E*TRADE's trading platforms, or follow the Company on Twitter, @ETRADE, for useful trading and investing insights.
---
1 All figures reflect S&P 500 (SPX) daily closing prices, 12/31/57–5/25/22. "Bear market" is defined as an SPX daily closing price 20% or more below a prior daily closing price. Supporting document available upon request.
What to read next...
05/24/22
The recent stock market sell-off may present potential dip buyers with different risk-reward scenarios.
---
05/23/22
Broad market hits bear territory with Fed in focus.
---
05/20/22
When bears appear to be in control, many traders keep their eyes on the volatility index.
---