Batteries not included
Hydrogen fuel-cell stocks boosted by potential demand, regulation
BLDP and PLUG have more than doubled since April
BLDP pulled back yesterday, but call options volume surged
There's more than one way to power an electric vehicle.
That may be the lesson of recent rallies in hydrogen-fuel companies like Ballard Power Systems (BLDP) and Plug Power (PLUG), both of which have been on a tear in recent months, especially over the past few weeks.
Ballard rallied to an 18-year high of $21.61 earlier this month after announcing a big order from China—the company's hydrogen fuel cells reportedly provide the current for nearly 3,000 electric buses and trucks in the Middle Kingdom.1
Yesterday, BLDP was definitely in play in the options market: Call options volume was nearly 14 times average in early trading, with most of the action—more than 13,000 contracts worth—in the August $21 and $23 strikes: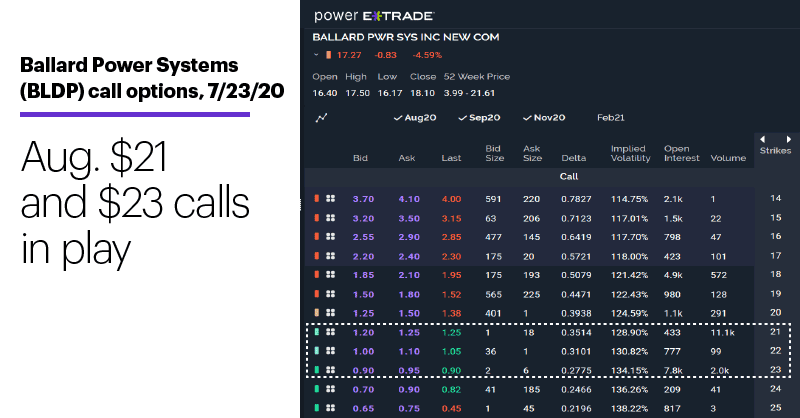 Source: Power E*TRADE
---
While traders appeared to be getting out of some of their $21 calls (note the open interest was a fraction of the volume), traders were fully engaged with the $23 calls, which had the highest open interest (7,800) and second-highest volume (2,000) of any strike price. And this was all happening as the stock was on its way to falling more than 12% intraday, dropping below $16 for the first time in more than three weeks.
Here's the quick take on hydrogen tech: Hydrogen fuel cells mix stored hydrogen gas with with oxygen to create electricity that powers the vehicle. And unlike lithium-based vehicle batteries, which can sometimes take hours to recharge, refueling a hydrogen vehicle can be done in a matter of minutes.
Toyota has said that both hydrogen and lithium-battery technology will be necessary to meet long-term electric vehicle demand.
But early adoption of lithium-based batteries as the go-to power source for the first generation of electric vehicles has left hydrogen playing catch-up: While plug-in stations for lithium-battery vehicles are a common sight these days, there are currently fewer than 50 hydrogen stations in the US, almost all of them clustered in California—which, by the way, recently passed legislation requiring more zero-emission trucks.2
But some market watchers think hydrogen's day may be coming—perhaps out of necessity. Toyota, for example, has said both hydrogen and lithium-battery technology will be needed to meet the long-term demand for clean vehicles, as well as expanding environmental regulations.3 So, the hydrogen-battery showdown isn't necessarily a winner-takes-all battle (at least for now).
Ballard's deal earlier this month was seen by some analysts as a shot in the arm for hydrogen tech, and more recently long-haul truck maker Paccar (PCAR), which is investing in hydrogen vehicles, made news for referencing hydrogen tech 20 times in its recent earnings call.4
All that buzz is reflected in BLDP's price chart, which shows the stock nearly tripled from its April 1 low to its July 9 high: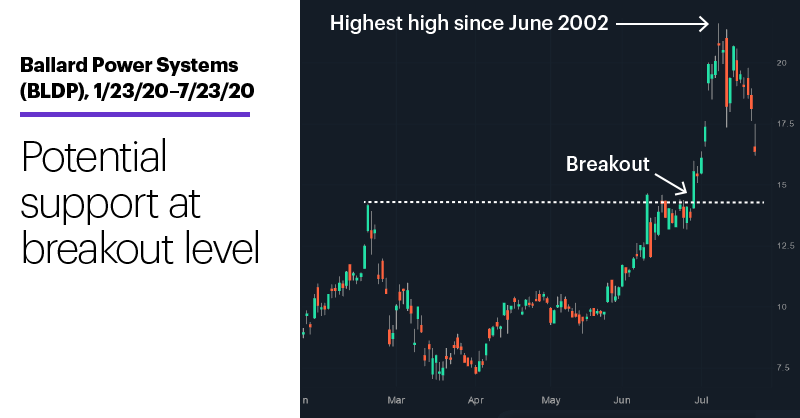 Source: Power E*TRADE
---
Of course, buzz can evaporate just as quickly as it appears—as of yesterday, BLDP had retreated more than 25% from its July 9 high.
While some traders may see yesterday's heavy call trading as a sign of potential long-side bets on the stock, others—especially those who have witnessed similar corrections in other recently hot areas of the market, including electric vehicles—will note BLDP hasn't yet reached a key technical level: the potential support at late-June breakout point around $14.50.
It's a target that will likely be on the radar of many patient traders as the stock works its way through the current volatility buzz and charts its future course.
Market Mover Update: Gold took another step toward record levels, as August gold futures (GCQ0) notched their fifth-straight up day, rallying as high as $1,897.70/ounce. Silver took a breather, though, falling more than 1%.
Click here to log on to your account or learn more about E*TRADE's trading platforms, or follow the Company on Twitter, @ETRADE, for useful trading and investing insights.  
---
1 Bloomberg.com. Fuel Cell Stock Rallies to 17-Year High After China Order. 7/3/20.
2 Reuters. California passes landmark mandate for zero emission trucks. 6/25/20.
3 Washington Post. Why is Toyota making hydrogen fuel-cell cars when plug-in electric vehicles are so popular. 2/26/20.
4 Barron's. Hydrogen Is the New Thing in Fuel. Just Look at Truck Makers' Earnings. 7/22/20.
What to read next...
07/23/20
Diagnostics stock hits record highs in advance of earnings, but options activity draws attention to historical price pattern.
---
07/22/20
Bulk retailers weathered the lockdown better than most businesses, and price action suggests buyers may be lining up for some of their stocks, too.
---
07/21/20
One of the hottest areas of tech is one you probably don't pay much attention to.
---