Boatload of options
KEX options open interest nearly seven times average
Positions concentrated in out-of-the-money calls
Stock up more than 85% since hitting 11-year low in 2020
Never heard of Kirby Corporation (KEX), the largest barge operator in the US? Well, traders may have taken notice of the stock after a spike in options trading this week.
Around 11:30 a.m. ET on Thursday, although only 95 calls and one put had changed hands, KEX's open interest (the number of unclosed options positions) was nearly seven times average, holding a little above 17,000 contracts: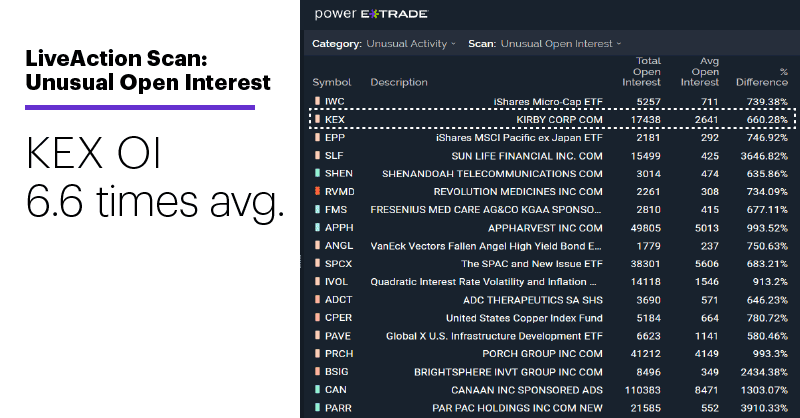 Source: Power E*TRADE
---
With such light volume yesterday, it was easy to see where all the action had taken place earlier this week. Almost all the positions—14,200 contracts worth—were in the April $75 calls, which also happened to be the only strike price with volume of more than 10 contracts.
With the stock trading around $64 halfway through the trading day, that meant traders who had bought these options needed KEX to rally at least 17% over the next seven weeks for them to have any value at expiration.
Kirby has been doing its part lately to make a game of it. KEX shares essentially matched their one-year high yesterday before turning lower, and are up more than 20% this month and more than 75% over the past four: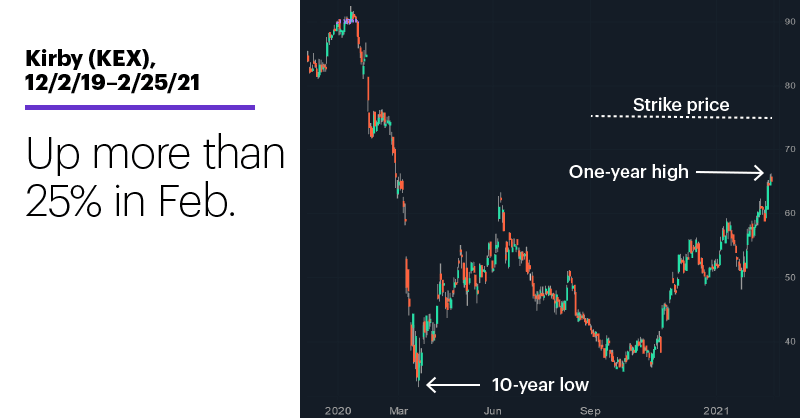 Source: Power E*TRADE
---
If those gains don't sound that impressive compared to some of the hyperbolic tech and small-cap rallies that unfolded over the past year or so, it's worth noting that KEX's current up move began after it retreated to test the 10-year low it made last March, which is around the same time long hedge fund holdings reached a new high.1 Also, this week's surge in call options positions occurred as the stock was bucking broad-market weakness and pushing above its June 2020 highs.
Like any other single piece of market information, open interest never tells the entire story. But it can highlight situations where traders are positioning themselves in off-the-beaten-path stocks that may deserve a second look.
Market Mover Update: The recent tech retrenchment means a lot of high-flyers from the past year or so are closer to earth than they've been in a while. That includes Zoom Video Communications (ZM), which yesterday was trading more than 15% below its mid-February high (see "Them's the breaks").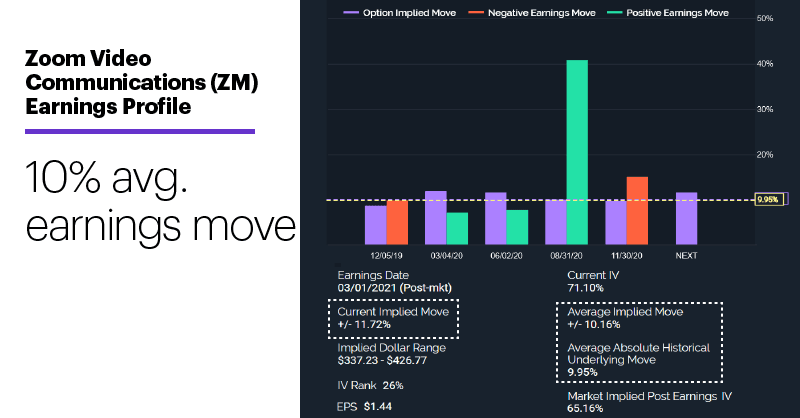 Source: Power E*TRADE
---
Zoom is currently scheduled to release earnings after the bell on Monday. As of yesterday, the options market was pricing in an 11.72% post-earnings stock move, which is a little bigger than ZM's 9.95% average move after its past five earnings announcements (dashed line). The stock has rallied the day after earnings three of those times and sold off two times.
Today's numbers (all times ET): Personal Income and Outlays (8:30 a.m.), Advance International Trade in Goods (8:30 a.m.), Advance Retail and Wholesale Inventories (8:30 a.m.), Chicago PMI (9:45 a.m.), Consumer Sentiment (10 a.m.).
Today's earnings include: DraftKings (DKNG), Foot Locker (FL).
Click here to log on to your account or learn more about E*TRADE's trading platforms, or follow the Company on Twitter, @ETRADE, for useful trading and investing insights.  
---
1 InsiderMonkey. Is KEX A Good Stock To Buy According To Hedge Funds? 12/21/21.
What to read next...
02/25/21
Is this high-flying tech stock's sell-off similar to other buying opportunities in recent months?
---
02/24/21
Sometimes there is a certain degree of method to the apparent madness of earnings volatility.
---
02/23/21
Looking for stocks that buck the market's trend on a given day can potentially highlight pockets of hidden momentum.
---