Banking on sector strength
Can the financial sector continue to lead the market into 2020?
Key bank stocks up more than 20% over the past month
Huge positions in MS call options
Financial stocks may have cooled in recent days, but sector-savvy traders are aware this group has led the S&P 500 (SPX) for the past three months (and the most recent 30 days…and last week). The following chart shows PNC Financial (PNC), JPMorgan Chase (JPM), Bank of America (BAC), and Morgan Stanley are all up more than 20% from their mid-August lows: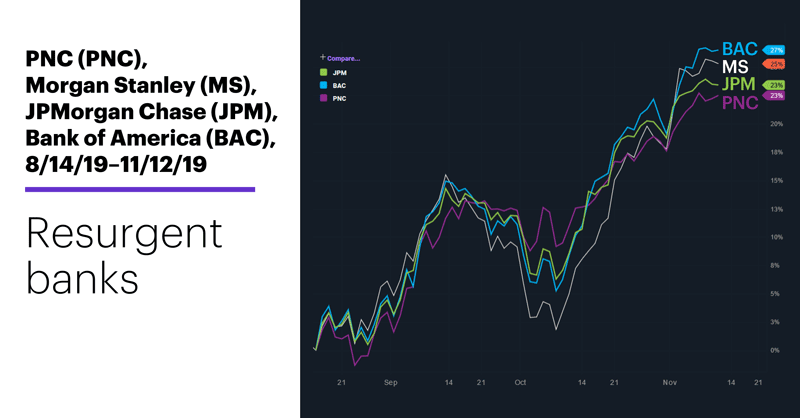 Source: Power E*TRADE
---
Whether or not financials (and specifically, banks) can maintain that leadership into year-end is an open question, but if recent MS options activity is any indication, there's plenty of trader interest.
MS, which broke sharply to test support at the end of September, has shot up around 23% since October 8, a surge that pushed it to its highest levels in more than a year: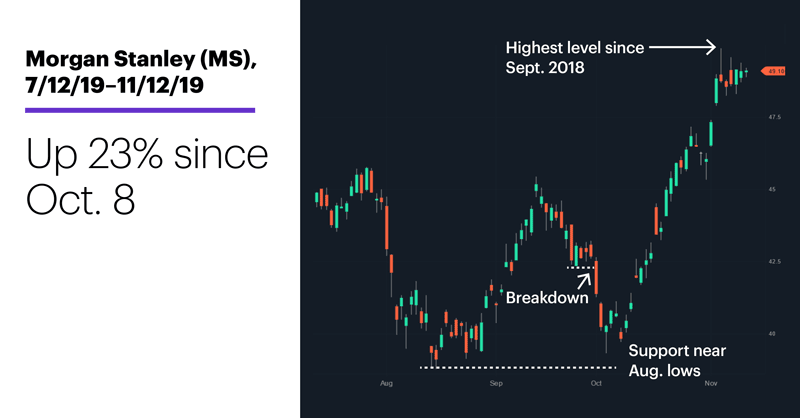 Source: Power E*TRADE
---
But while stock traders took a breather the past few days, options traders were putting up some big numbers in MS options. Open interest (the number of unclosed options positions) in the January $55 call options ballooned to 47,000 contracts yesterday—representing a cool $25.85 million in stock—with 4,500 contracts changing hands early in the trading session: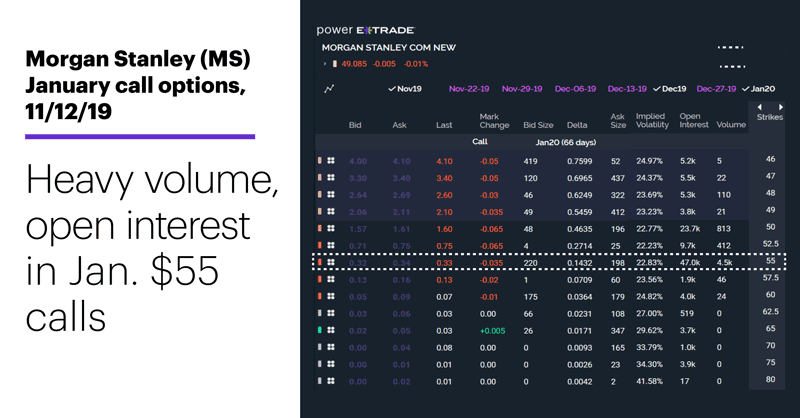 Source: Power E*TRADE
---
Increasing open interest suggests more (and/or bigger) traders are taking positions in a market. With MS trading around $49 midday yesterday, buyers of the January $55 call options would need to see shares rally a little more than 12% by expiration (66 days from now) for their options to be in the money. And the stock's recent pause after a strong one-month upswing may have some traders thinking about the possibility of an upside breakout and continued rally to fresh highs.
That scenario could play out, but experienced traders know that momentum ebbs and flows, and the path to any price target is rarely a direct one. Consider the road MS took to its current levels: After pulling back from its mid-September highs around $45—highlighted by a big down day on September 24—the stock stabilized for a few days.
Pullback over? Not quite—MS tumbled as much as 7.9% in the first three days of October before mounting its latest rally. As of yesterday shares were up more than 14% from where they were the day before that sell-off, but that doesn't mean that three-day sell-off didn't occur.
While that was a fairly nasty example of a market "head fake," even traders who expect a continued rally in banks will likely see the possibility that these stocks could first retreat—say, to at least test their recent (e.g., October) highs—before extending their rallies.  
The lesson: Outperforming stocks in strong sectors can be attractive trading candidates, but it's always helpful to catch them when they're temporarily weak rather than chase them at their highs.
Market Mover Update: Yesterday's new record high for the S&P 500 (SPX) was a double milestone—the index traded above 3,100 for the first time in its history. Sony (SNE) pushed to another record high yesterday (see "Value proposition").
Today's numbers (all times ET): Consumer Price Index, CPI (8:30 a.m.), Atlanta Fed Business Inflation Expectations (10 a.m.), Fed Chairman Jerome Powell testifies before Congress (11 a.m.).
Today's earnings include: Luckin Coffee (LK), Cisco Systems (CSCO), Ctrip.com (CTRP), NetApp (NTAP).
Click here to log on to your account or learn more about E*TRADE's trading platforms, or follow the Company on Twitter, @ETRADE, for useful trading and investing insights. Online stock, ETF, and options trades1 are now commission-free.
---
What to read next...
11/12/19
Some bullish utility stocks may have given deceptive signals recently.
---
11/11/19
Dow scales new heights as market tacks on another record-setting week.
---
11/08/19
Some bullish utility stocks may have given deceptive signals recently.
---