Banking on earnings season
New earnings season only a month away
Financial stocks have sometimes outperformed before Jan. earnings
Syncing with seasonal tendencies?
Too early to talk about earnings season?
Not really, especially if you're talking about financial sector earnings, and more specifically, what those stocks may do in the 20 or so trading days before their numbers start hitting the Street.
We all know how the process unfolds each quarter—a bunch of big banks release their numbers, often on a Friday. It's the unofficial kickoff to earnings season. While most market watchers focus on the numbers themselves and how those stocks behave immediately after the announcements, proactive types may want to consider what happens before them.
The financial sector is currently the third-strongest S&P 500 sector year to date (up roughly 27%), and up around 13% just since October 2. Is the sector likely to follow through on that performance as we head into the new year?
The chart below may trigger some interesting discussion about that. It shows the S&P financial sector's average gains1 for three periods—five (trading) days, 10 days, and 20 days before the beginning of all the earnings seasons from 2010–2019. Because JP Morgan Chase (JPM) is traditionally one of the big banks that kicks off each quarterly reporting period, its release dates were used to mark the start of earnings season. The chart also compares the results for January earnings seasons (green bars) to others (blue bars):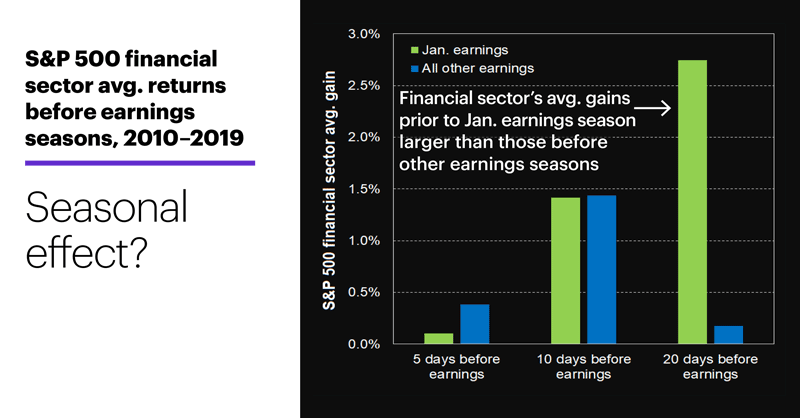 Source (data): Power E*TRADE
---
The most conspicuous aspect of the chart is how much bigger the financial sector's average gains were in the 20 days leading up to January earnings (+2.7%) than they were before other earnings seasons (+0.2%).
But the results for the five- and 10-day periods provide some potentially critical context. These suggest that financial stocks typically rallied about the same amount (around 1.4%) in the final 10 days before January earnings season as they did before other earnings seasons, but underperformed in the final five days.
That's a long-winded way of saying that the overall outperformance financial stocks exhibited in the 20 days leading up to January earnings season may have occurred more at the beginning of that 20-day period than at the end of it.
One possible explanation for this is that the 20 days leading up to January earnings season encompasses part of one of the most historically bullish periods of the year—late December to early January. (And coincidentally, the underperformance in the final days before January earnings season may dovetail with evidence that the stock market has a tendency to drift or pull back in mid-January, something that will be detailed in this space on December 31.)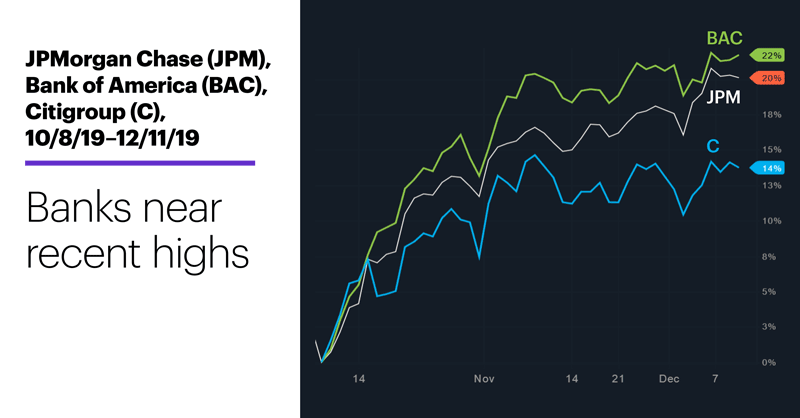 Source: Power E*TRADE
---
With that in mind, the above chart of JPM, Bank of America (BAC), and Citigroup (C) shows three big bank stocks at or near their recent highs in the wake of strong rallies off their October lows.
If the tail winds of sustained broad-market strength remain in force, and bullish "Santa Claus rally" seasonal patterns play out, bullish traders may see the potential for financials to make a move before mid-January.
In other words, an "earnings play" for financial stocks may present itself well before the numbers actually come out.
Today's numbers (all times ET): PPI (8:30 a.m.), EIA Natural Gas Report (10:30 a.m.).
Today's earnings include: Adobe (ADBE), Twist Bioscience (TWST), Ciena (CIEN), Costco (COST), Broadcom (AVGO).
Click here to log on to your account or learn more about E*TRADE's trading platforms, or follow the Company on Twitter, @ETRADE, for useful trading and investing insights.
---
1 S&P financial sector performance represented by the returns of the Financial Select Sector SPDR (XLF). Supporting document available upon request.
What to read next...
12/11/19
Even if small-cap momentum doesn't last, it may offer short-term trade opportunities. And if it does have legs…
---
12/10/19
Are certain sectors or stocks more likely to gain ground at the end of the year?
---
12/09/19
Stocks rebound from first real pullback since October.
---