Baking in a price move
TWNK call options volume surges after last week's earnings
Sixth-consecutive earnings beat
Friday rally pushed stock toward consolidation high
There appeared to be something cooking, or specifically, baking, in Hostess Brands (TWNK) yesterday.
TWNK, the company that gives us—yes, you guessed it—Twinkies and other shelf-ready baked goods, showed up on virtually every scan for unusual options activity, with call volume running more than 35 times its average level in early trading: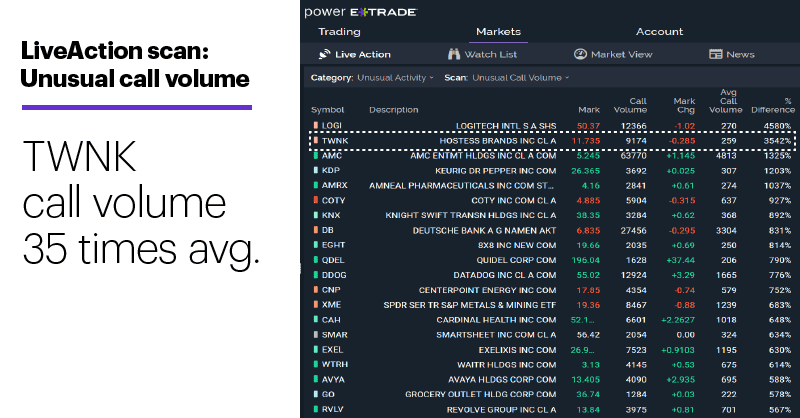 Source: Power E*TRADE
---
Later in the day, call volume would be more than 40 times average.
While there was a fair amount of trading (and open interest) in the May and June calls, the following chart shows the dough was really rising in the July $15 calls—8,600 changed hands, which accounted for around 94% of the total call volume at the time: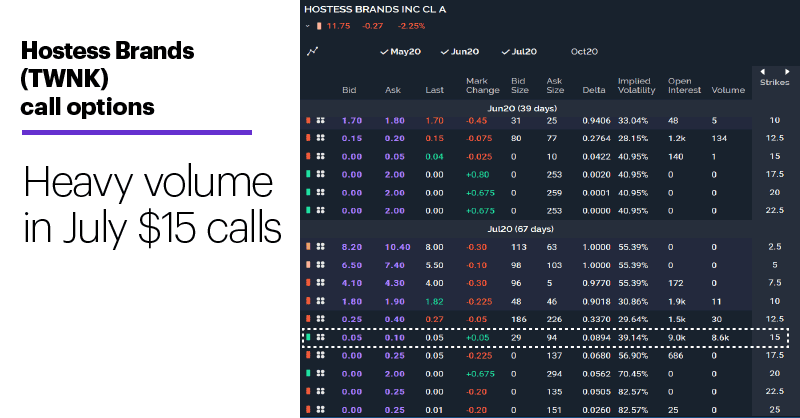 Source: Power E*TRADE
---
As the character Winston from the original "Ghostbusters" film famously quipped about a theoretical 35-foot, 600-lb. snack cake: "That's a big Twinkie."
With the stock trading around $11.75 yesterday, if we assume that one of the reasons someone would put on such a big position in the July $15 calls was an expectation that TWNK could rally to $15 or higher by expiration (a little more than two months from now), it would imply at least a 27% up move in the stock.
While Hostess may have gotten a bit of a sales bump during the original hoarding stage of the coronavirus pandemic (something the company's CEO acknowledged), it was doing pretty well before that: TWNK had topped its headline earnings numbers for five consecutive quarters,1 and the company earned analyst praise for building up its portfolio by acquiring Canadian cookie maker Voortman in December.2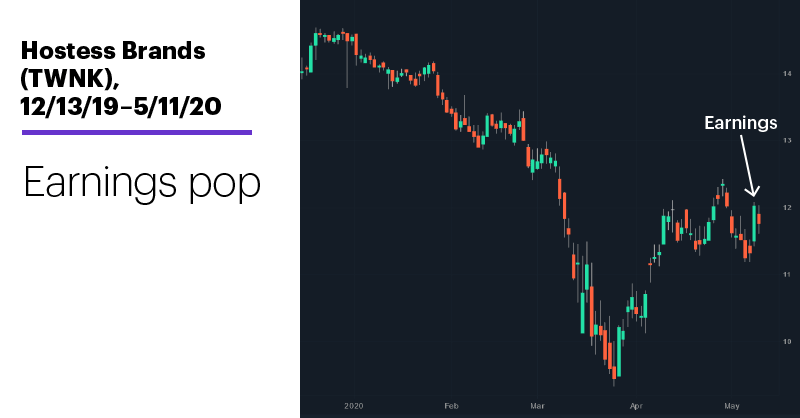 Source: Power E*TRADE
---
The chart above shows TWNK rallied more than 6% on Friday after Hostess beat its numbers for the sixth-straight time.3 As of yesterday, the stock was up roughly 24% from its March low, and roughly halfway between its April 29 high around $12.40 and its May 6 low around $11.20.
Those may be the levels breakout traders will be watching in the near term to see if TWNK can reward bullish options traders with something sweet.
Market Mover Update: There was a bit of a cardio theme happening yesterday. Six days after a nearly picture-perfect pullback to test the confirmation level of a double-bottom pattern, MyoKardia (MYOK) exploded 59% to the upside after announcing successful clinical trial results for its cardiovascular disease treatment (see "Hearty premiums"). Also, cardiac device maker Abiomed (ABMD) rallied more than 4% yesterday, closing near the top of its recent consolidation; ABMD June $200 calls jumped 61% (see "Heart stock finds pulse").
Today's numbers (all times ET): NFIB Small Business Optimism Index (6 a.m.), Consumer Price Index, CPI (8:30 a.m.).
Today's earnings include: Adaptive Biotechnologies (ADPT), Duke Energy (DUK), XP (XP).
Click here to log on to your account or learn more about E*TRADE's trading platforms, or follow the Company on Twitter, @ETRADE, for useful trading and investing insights.  
---
1 StreetInsider. Hostess Brands (TWNK) Earnings. 5/11/20.
2 Bloomberg.com. Twinkie Parent Hostess Cheered for Cookie Company Purchase. 12/3/19.
3 Zack's Equity Research. HOSTESS BRANDS (TWNK) Tops Q1 Earnings and Revenue Estimates. 5/8/20.
What to read next...
05/11/20
Stocks take record-breaking jobs report in stride, get back into plus column last week.
---
05/08/20
Will college dorms be filled to capacity this fall? One stock's outlook may hinge upon the answer to that question.
---
05/07/20
Options traders especially may like the way its chart looks.
---