Back in the zone
HQY posted first earnings since acquiring WageWorks
Shares rebounded intraday after testing January low
Stock has tended to post outsized gains after similar days
When a stock makes one of the five biggest moves in its history, has heavy options volume, and just released critical quarterly numbers, only an exceptionally disinterested trader wouldn't take a closer look.
After Tuesday's close, health care information services company HealthEquity (HQY) posted its first earnings since closing its $2 billion acquisition of WageWorks last month.1 Yesterday morning a LiveAction scan showed HQY options were trading roughly six times more than usual, and the options chain showed the biggest chunk of that volume was in out-of-the-money September calls: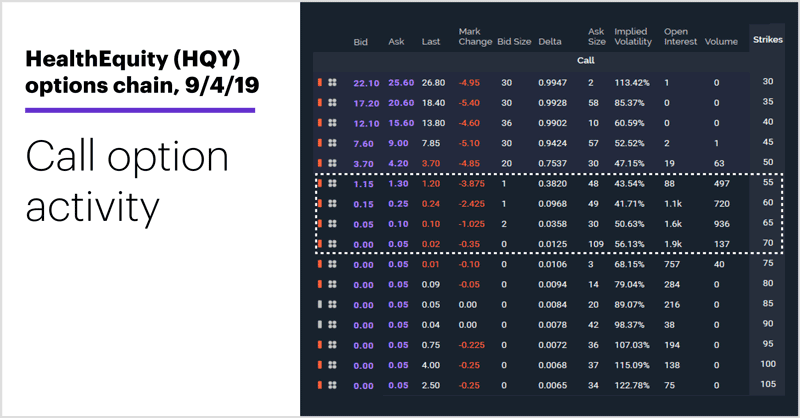 Source: Power E*TRADE
---
With the stock trading around $51–$54 in the morning, lots of action in call options with strike prices of $55 or higher could mean some traders were making bullish bets on HQY (since a rising stock price would make these options more valuable), although it's not exactly conclusive evidence.
The context is provided by the price chart, which shows HQY shares tumbled more than $8 early yesterday, approaching their January low of $50.29: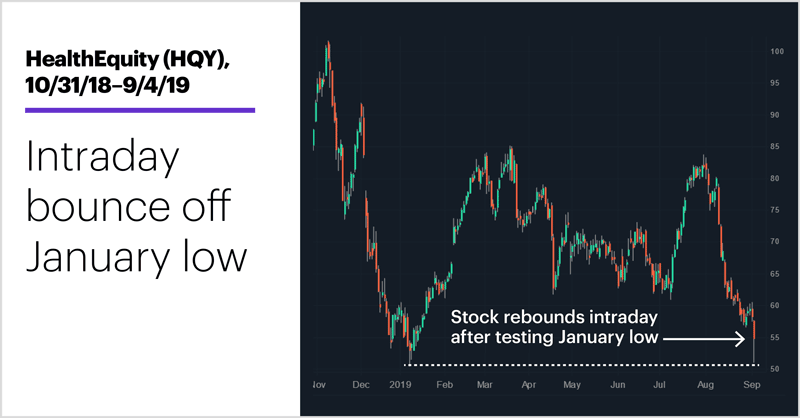 Source: Power E*TRADE
---
There may not seem to be much reason to be bullish about such a big drop—other than the fact that HQY was again trading at the level it was at when it put together its biggest run of the year, the 69% rally to its March high of $85.07.
What we're talking about here is potential support.
The reason so many traders look to a significant prior low for support is that it represents a level that market participants proved was an attractive buy point—the caveat being, of course, that conditions change, and what was attractive then may not be now. But sometimes it still is, and bulls often begin to dip their toes in the water around such levels, so even if support doesn't hold longer-term, an energetic  short-term bounce can sometimes still unfold.
The stock typically gained more than twice as much as usual in the five days after a 10% or larger intraday sell-off.
And there was evidence that buyers yesterday were enticed when HQY approached that January low. The stock was down more than 12% when it bottomed at $50.87 around 10:15 a.m. ET, but by noon it  had cut that loss in half, rallying close to $55.
In terms of the numbers themselves, HQY beat its headline earnings and revenue estimates comfortably, but it also lowered its full-year earnings target to $1.10–$1.16/share, which was below analyst estimates of $1.33/share.2 That was the "bearish" surprise. Enough to justify a -12% fire sale in the stock's price? That's what the next few days may determine.
HQY doesn't have a deep price history (it's been trading only since July 2014), but it does have 14 previous days similar to yesterday—10% or larger intraday sell-offs.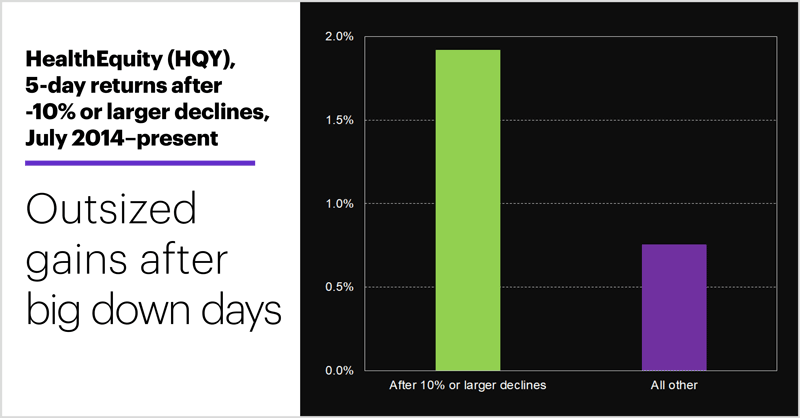 Data source: Power E*TRADE
---
The chart above shows HQY's median five-day return after the 10%-or-larger intraday declines was +1.92%, while its median return for all other five-day periods was +0.76%. In other words, after falling 10% or more in a single day, over the next five trading days the stock typically gained more than twice as much as usual.
Also, in most cases, if the stock closed higher the day after the big down day, HQY was more likely to be higher at the five-day mark—six out of nine times, in fact.
As of yesterday's close, HQY's line in the sand was still intact. Many traders will likely be keeping a close eye on it in the next 24 hours.
Market Mover Update: Yesterday Activision Blizzard (ATVI) blasted out of the top of its short-term consolidation to hit is highest level since November 2018. Walmart (WMT) pushed to a new all-time high a day after it announced it would stop selling handguns and scale back sales of certain types of ammunition.
Today's numbers (all times ET): ADP Employment Report (8:15 a.m.), Productivity and Costs (8:30 a.m.), PMI Services Index (9:45 a.m.), Factory Orders (10 a.m.), ISM Non-Manufacturing Index (10 a.m.), EIA Natural Gas Report 10:30 a.m.), EIA Petroleum Status Report (11 a.m.).
Today's earnings include: Lululemon Athletica Inc (LULU), G-III Apparel (GIII), Zoom Video (ZM), Ciena Corp (CIEN), Crowdstrike (CRWD), DocuSign (DOCU), Guidewire Software (GWRE).
Click here to log on to your account or learn more about E*TRADE's trading platforms, or follow the Company on Twitter, @ETRADE, for useful trading and investing insights.
---
1 Zack's Equity Research. HealthEquity Acquires WageWorks, To Make Notable Investments. 9/2/19.
2 TheStreet.com. HealthEquity Slides on Reduced Full-Year Guidance. 9/4/19.
What to read next...
09/04/19
Long-dormant gaming stock tests range amid favorable press, industry tailwinds.
---
09/03/19
Stocks kick off September after breaking a four-week losing streak.
---
08/30/19
Hidden bullishness: A pair of soaring stocks may have escaped notice because of financial sector weakness.
---