Auto stock shifting gears?
AN call volume more than 135 times put volume on Tues.
Stock rallied more than 3% intraday, interrupting recent trend
Shares consolidated after falling 21% from Oct. highs
When unusual activity hits the tape, traders always risk reacting emotionally rather than objectively. But it's important to remember that no single piece of data can tell the entire story of what's happening in a market. Traders and investors are better served by taking the time to look into the other factors that may provide key context—that is, the "why" for the "what" that grabbed their attention in the first place.
Yesterday, for example, call volume in online car dealer and servicer AutoNation (AN) was more than 135 times its put volume: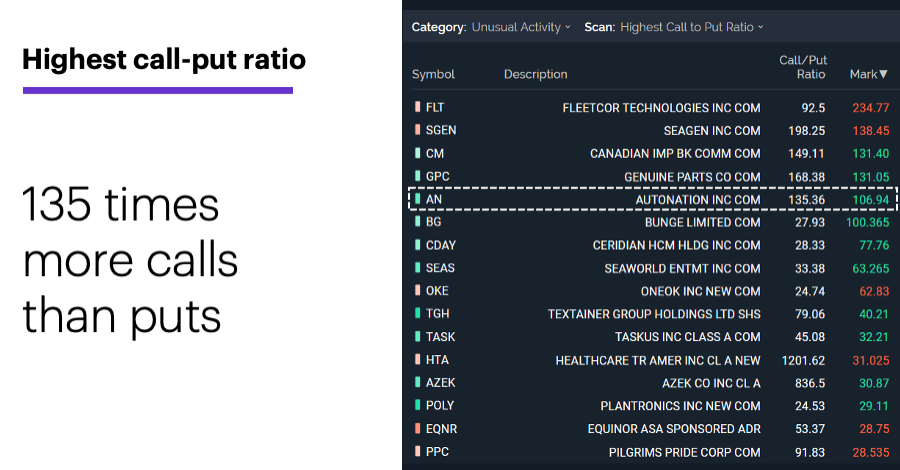 Source: Power E*TRADE. (For illustrative purposes. Not a recommendation.)
---
While options activity can sometimes highlight trader interest that may not be evident in a stock's price action, it can't be taken at face value. For example, while high call volume could mean bulls are taking positions in a stock, that activity can also be the result of traders exiting their existing call positions.
In this case, the options chain revealed two interesting details. First, because the volume in both the April $120 and $130 calls—the two contracts responsible for most of the day's activity—was higher than their respective open interest, we know at least some new positions were being opened. Second, the fact that the volume in the two contracts was identical (826) raises the possibility that a single trader was putting on a large position: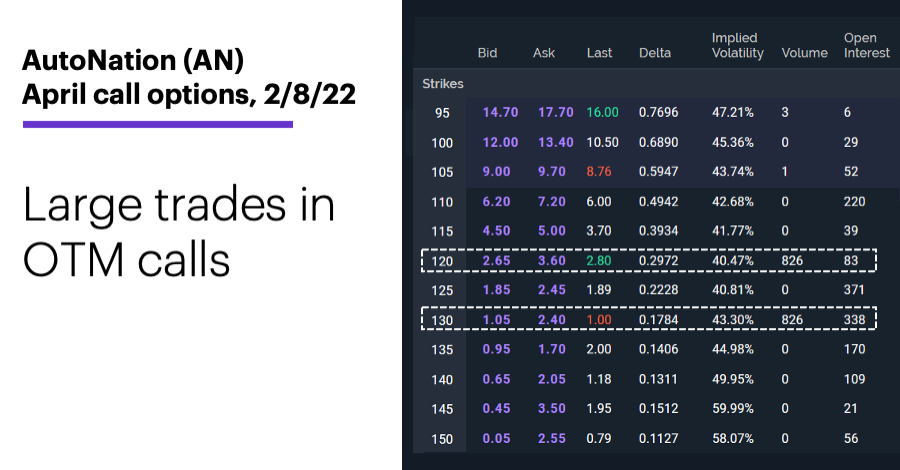 Source: Power E*TRADE. (For illustrative purposes. Not a recommendation.)
---
In this case, some observers may have been inclined to think someone was establishing an out-of-the-money (OTM) bullish vertical spread—i.e., buying the $120 calls while selling the $130 calls, setting up a limited-risk, limited-reward trade with the potential to profit if the stock (which spent most of the day between $103–$107) rallied between the two stock prices.
There's no way to know if that was the case, but the fact remains that new, long OTM call positions were being established and the stock was trading up more than 3% on the day after testing its recent lows. Despite a sharp December setback, AN gained more than 67% last year as vehicle prices soared, but by late January it had fallen as much as 21% below its October record high amid evidence that prices were leveling:1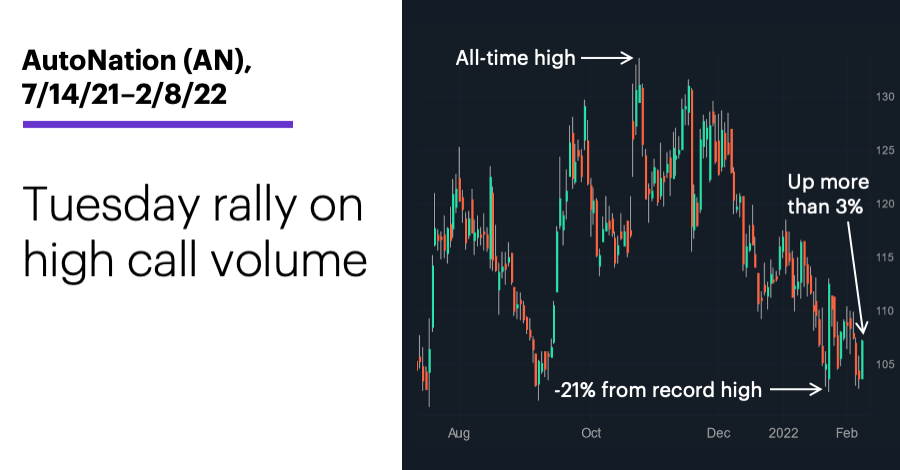 Source: Power E*TRADE. (For illustrative purposes. Not a recommendation.)
---
And a final piece of this puzzle: AN, which has topped earnings and revenue estimates for the past eight quarters and has an average one-week post-earnings move of +5.3%, is currently scheduled to release earnings a week from tomorrow (February 17).2
No matter how compelling one piece of information may seem at a given time, it's always just one part of a larger picture—something that risk-conscious traders should always keep in mind.
Market Mover Update: Airlines enjoyed another robust day on Tuesday, including United Airlines (UAL), which rallied more than 5% intraday and also appeared on the LiveAction high call-put ratio scan in early trading (see "Take-downs and take-offs").
Today's numbers include (all times ET): MBA Mortgage Applications (7 a.m.), Preliminary Wholesale Inventories (10 a.m.), EIA Petroleum Status Report (10:30 a.m.).
Today's earnings include: CVS Health (CVS), Honda (HMC), PepsiCo (PEP), Uber (UBER), Toyota (TM), Canopy Growth (CGC), Yum! Brands (YUM), Walt Disney (DIS), Mattel (MAT), O'Reilly Automotive (ORLY).
Click here to log on to your account or learn more about E*TRADE's trading platforms, or follow the Company on Twitter, @ETRADE, for useful trading and investing insights.
---
1 Barron's. Used-Car Prices Aren't Soaring Anymore. What It Means for Inflation. 2/7/22.
2 StreetInsider.com. AutoNation Inc. (AN) Earnings. 2/8/22.

What to read next...
02/08/22
Do traders think this industry leader's adverse news has been priced in?
---
02/07/22
Stocks weather more volatility, rally for another positive week.
---
02/04/22
This stock's surge has a backstory that may be of interest to investors as well as traders.
---