Market gets jobs surprise
Market extends rebound amid economic surprises
Tech stocks lead, energy sector retreats with oil
This week: Inflation (CPI and PPI), 1,200-plus earnings
When the closing bell rang last Thursday, the US stock market was in a good position to grab its third-consecutive up week, with the S&P 500 (SPX) down slightly for the day but still up more than half a percent for the week.
Shortly after Friday's opening bell, though, that streak looked to be in jeopardy, with the SPX down more than 1% on the heels of a much-stronger-than-expected jobs report. The apparent concern: Economic strength would encourage the Fed to keep raising rates aggressively, which could pressure stock prices.
But by the end of a choppy trading session, the SPX had recouped enough of sell-off to get back into the black for the week: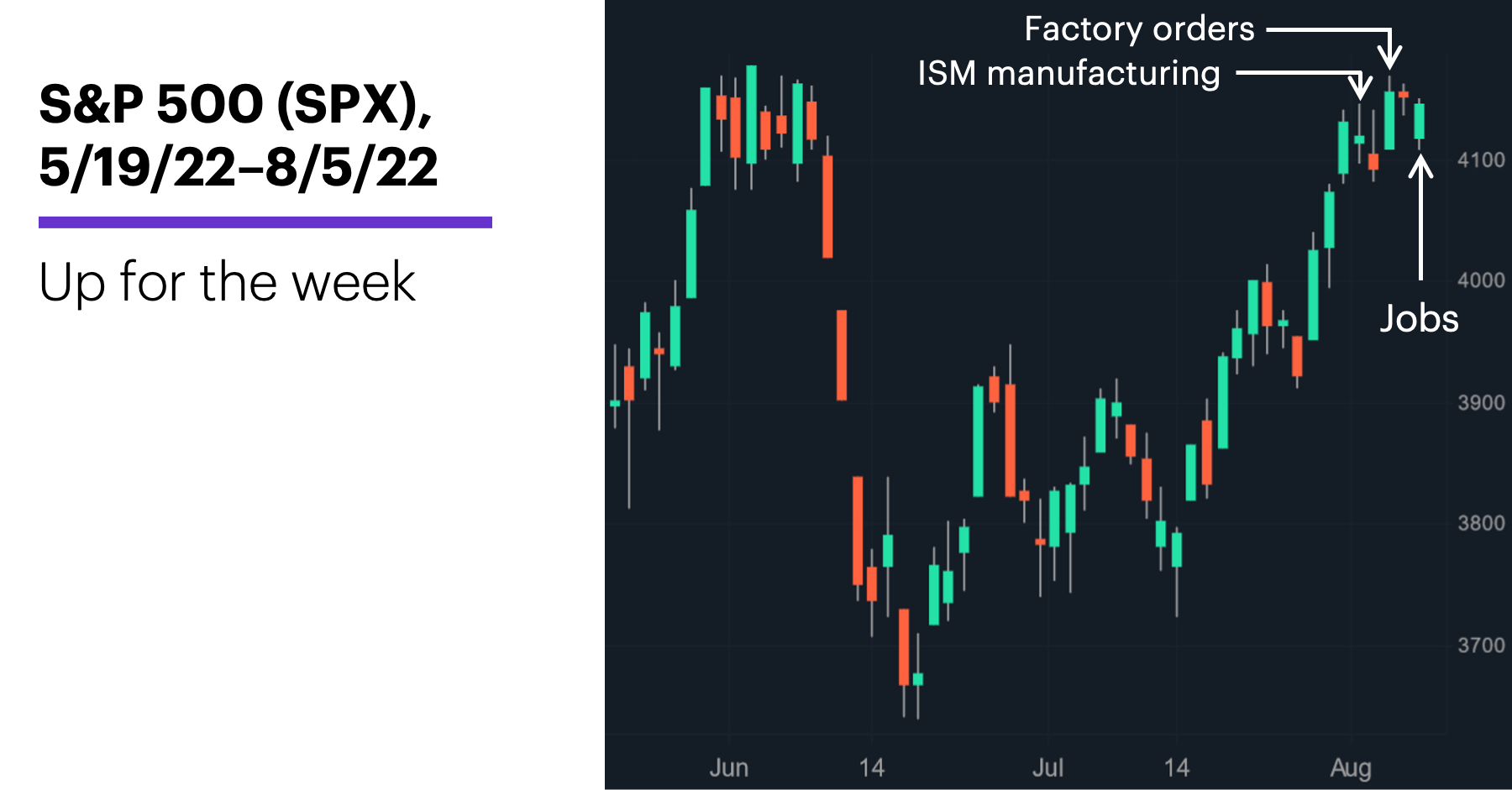 Source: Power E*TRADE. (For illustrative purposes. Not a recommendation.)
---
The headline: Stocks rack up third week of gains amid strong economic data.
The fine print: The jobs report wasn't the only upside surprise last week—factory orders, the ISM manufacturing and service-economy indexes, and the trade deficit were all better than anticipated. Construction spending was the lone major data point to miss expectations.
The move: The SPX's 13.3% rally from June 16 through last Wednesday—that's almost as much as the index gained in the six months from June 4, 2021 to January 3, 2022. It's also one of the larger bear-market rallies of the past 60 years.
The number: 558,000, the number of new jobs created in July—more than twice what analysts had expected. The unemployment rate also ticked down to 3.5%.
The scorecard: The Nasdaq 100 (NDX) was the strongest major US index last week:
Source (data): Power E*TRADE. (For illustrative purposes. Not a recommendation.)
---
Sector roundup: The strongest S&P 500 sectors last week were information technology (+1.9%), communication services (+1.1%), and consumer discretionary (+1.1%). The weakest sectors were energy (-6.7%), real estate (-1.4%), and materials (-1.3%).
Stock movers: Ping Identity (PING) +61% to $28.08 on Wednesday, ChemoCentryx (CCXI) +109% to $50.43 and Alnylam Pharmaceuticals (ALNY) +49% to $212.01 on Thursday. On the downside, SiTime (SITM) -35% to $136.4 and Pagaya Technologies (PGY) -34% to $17.69 on Thursday.
Futures: September WTI crude oil (CLU2) ended a week below $90/barrel for the first time since February, closing Friday at $89.01—despite a smaller-than-anticipated OPEC production increase.1 After hitting a nearly one-month high of $1,812/ounce on Thursday, December gold (GCZ2) sold off on Friday to end the week modestly higher at $1,891.20. Week's biggest gains: September orange juice (OJU2) +6.3%, October platinum (PLV2) +4.4%. Week's biggest losses: WTI crude oil (CLU2) -10.3%, September heating oil (HOU2) -10.1%.
Coming this week
Get ready for another round of inflation numbers:
●Today: New York Fed 3-year inflation expectations
●Tuesday: NFIB Business Optimism Index, Productivity and Labor Costs
●Wednesday: Consumer Price Index (CPI)
●Thursday: Producer Price Index (PPI)
●Friday: Import Price Index, Consumer Sentiment (preliminary)
Here's a sample of the more than 1,200 companies reporting earnings this week:
●Today: BioNTech (BNTX), Digital Turbine (APPS), Dominion Energy (D), monday.com (MNDY), HF Sinclair (DINO), Alpha Metallurgical Resources (AMR), Blink Charging (BLNK), Take-Two Interactive Software (TTWO), Novavax (NVAX)
●Tuesday: Emerson Electric (EMR), Sysco (SYY), GlobalFoundries (GFS), Roblox (RBLX), Trade Desk (TTD), Coinbase (COIN), Plug Power (PLUG)
●Wednesday: Disney (DIS), Honda (HMC), Ballard Power Systems (BLDP), Krispy Kreme (DNUT), Bumble (BMBL)
●Thursday: Rivian Automotive (RIVN), US Foods (USFD), Dillard's (DDS)
●Friday: Spectrum Brands (SPB)

Check the Active Trader Commentary each morning for an updated list of earnings announcements, IPOs, economic reports, and other market events.
When good news isn't
Last Friday, traders and investors got a front-row seat to the sometimes head-scratching "Good News is Bad News" phenomenon, at least briefly. Stock futures fell sharply in pre-market trading following a surprisingly strong jobs report, and despite rebounding in the regular trading session, the SPX ultimately ended the day with a small loss. Why the mixed reaction?
For most of this year, one of the dominant market themes has been the challenge the Fed has faced in fighting inflation (through raising interest rates) without derailing the economy. If—as Morgan Stanley Wealth Management argued last week2—the market's recent rebound reflected investors looking past certain challenges and hoping that signs of a slowing economy would make the Fed less aggressive, it makes sense that a strong jobs report would let some of the air out of the sentiment balloon.
In a nutshell, last week's robust economic data may have made it more difficult to entertain the idea that the Fed will take its foot off the gas sooner rather than later, which could mean higher interest rates for longer—rarely something the stock market embraces.
Friday wasn't the final word on anything—the coming weeks and months will bring more numbers. But we may soon find out whether Friday's market move was a one-off or the beginning of a larger pivot.
Click here to log on to your account or learn more about E*TRADE's trading platforms, or follow the Company on Twitter, @ETRADE, for useful trading and investing insights.
---
1 CNBC.com. OPEC+ set to approve minuscule oil output rise in rebuff to Biden. 8/3/21.
2 MorganStanley.com. Should Investors Trust the Latest Rally? 8/2/22.

What to read next...
08/05/22
A post-earnings rally to record highs may attract traders—for more than one reason.
---
08/04/22
Options trade highlights under-the-radar tech stock about to release earnings.
---
08/03/22
Is the stock market's recent rebound a head fake, or evidence the bear is headed back to the woods?
---