Market warms up as inflation cools
CPI and PPI surprise to downside, market rebound tops 16%
Small caps flex muscle, energy and financials lead sectors
This week: FOMC minutes, retail earnings, housing numbers
When is 8.5% year-over-year consumer inflation a good thing?
Answer: When it was 9.1% a month earlier.
The market's summer rally stretched to eight weeks—including the first four-week win streak since last November—as traders bid up stocks amid cooler-than-expected inflation data.
The S&P 500 (SPX) had been extending a short-term consolidation early last week before Wednesday's Consumer Price Index (CPI) and Thursday's Producer Price Index (PPI) reports showed prices increased at a slower pace in July—or by some measures, actually dipped. Traders took the opportunity to push stocks to their highest levels since early May by the end of the week: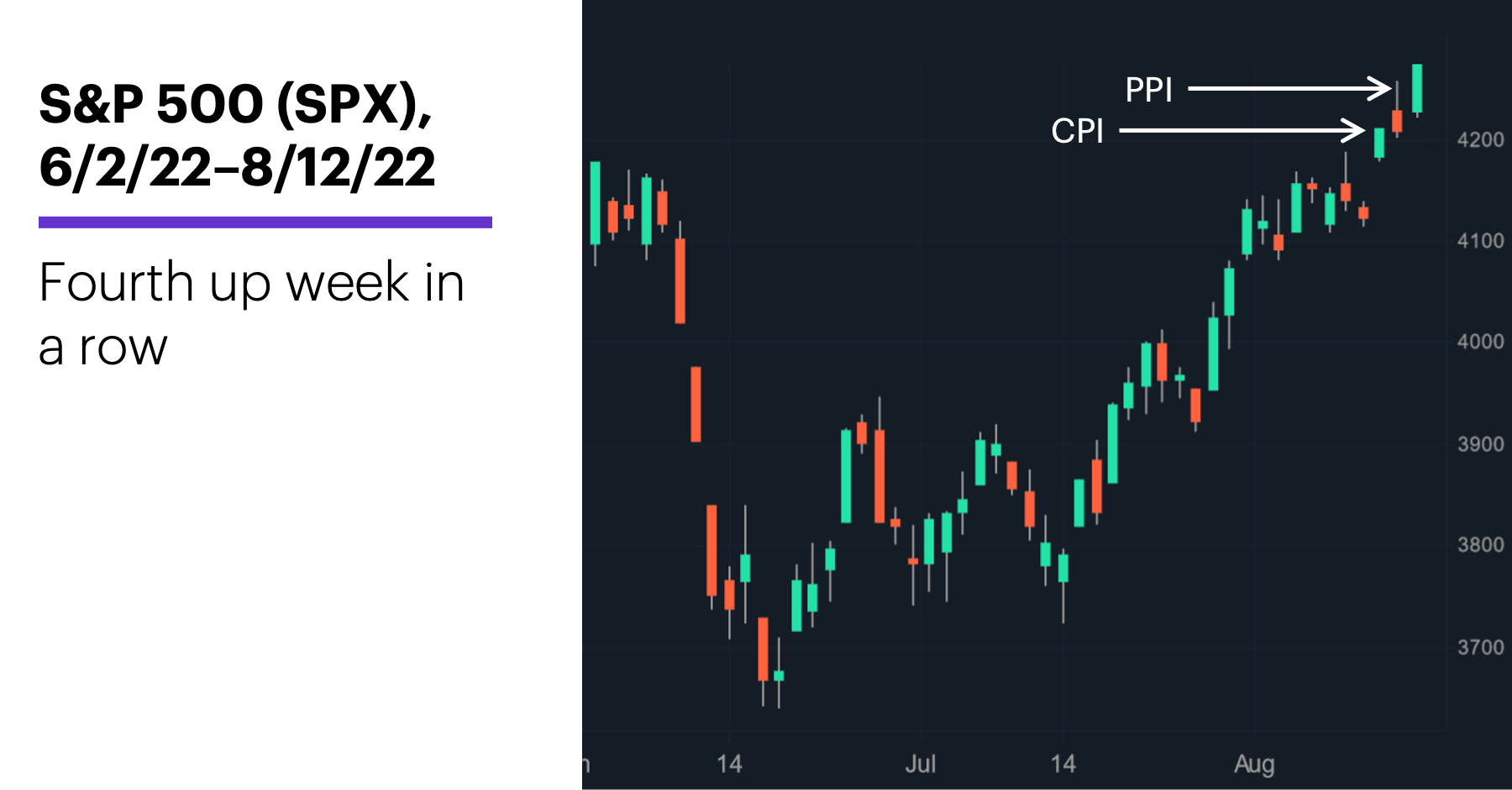 Source: Power E*TRADE. (For illustrative purposes. Not a recommendation.)
---
The headline: Market embraces inflation data.
The fine print: While the drop in crude oil prices (down roughly 10% in July) played a key role in last week's tamer inflation numbers, the "core" CPI and PPI readings, which exclude energy and food prices, also rose less than expected. (Morgan Stanley Wealth Management highlighted the possibility of an inflation "head fake" in the wake of last week's data, noting that inflation is still unsustainably high, and the Fed will need to continue to hike interest rates.1)
The number: -0.5%, the surprise decline in the PPI from June to July.
The move: The Cboe Volatility Index's (VIX) lower low and close last week—the eighth week in a row it's done that, which is the longest stretch in VIX history.
The scorecard: The small-cap Russell 2000 (RUT) led the US market, while the Nasdaq 100 (NDX) tech index brought up the rear, partially because of a semiconductor stock sell-off early last week: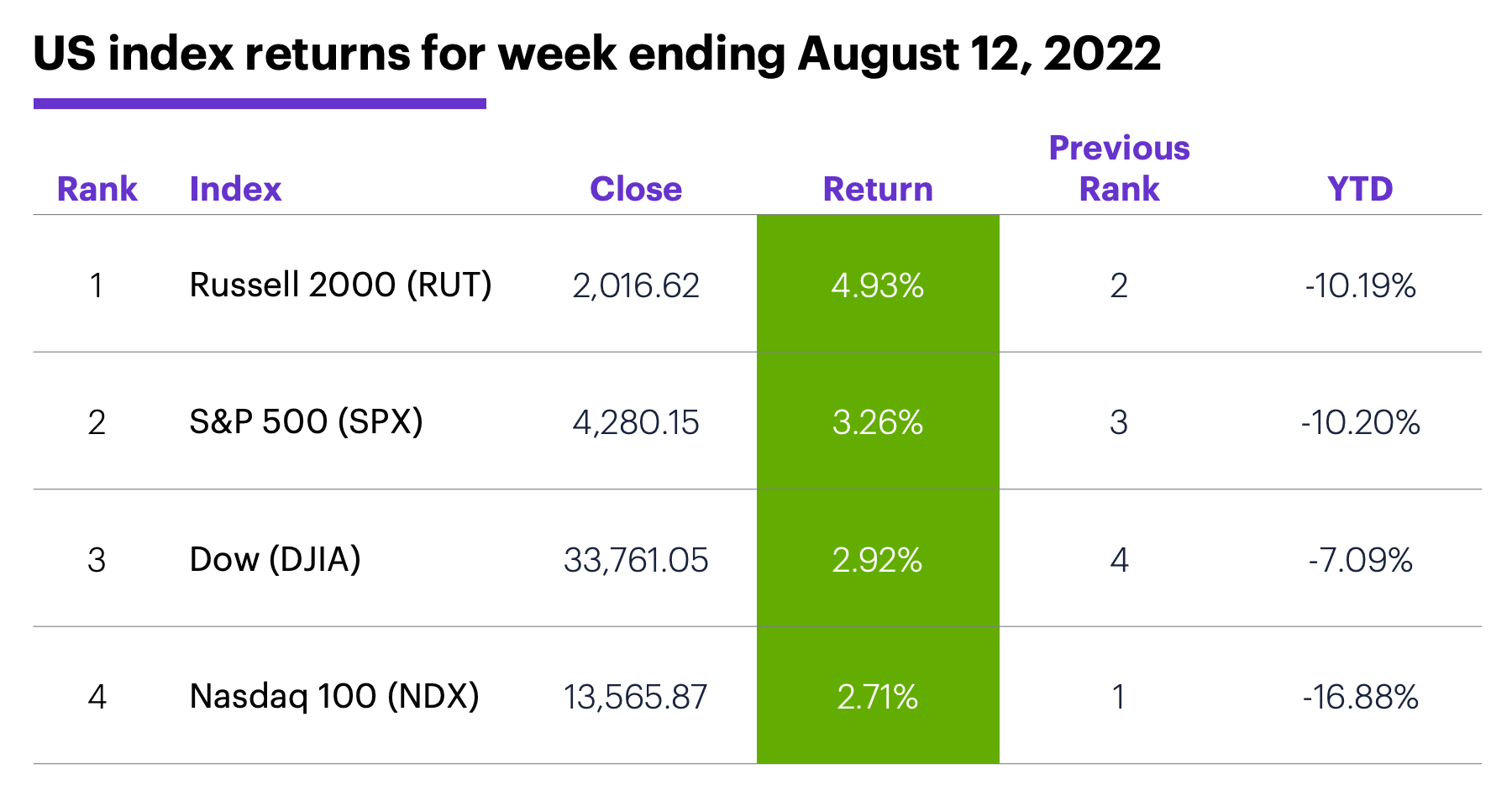 Source (data): Power E*TRADE. (For illustrative purposes. Not a recommendation.)
---
Sector roundup: The strongest S&P 500 sectors last week were energy (+7.2%), financials (+5.5%), and materials (+5.1%). The weakest sectors were consumer staples (1.2%), health care (1.7%), and information technology (2.4%).
Stock movers: Karuna Therapeutics (KRTX) +72% to $241.19 and Cincor Pharma (CINC) +49% to $35 on Monday. Reata Pharmaceuticals (RETA) -33% to $24.06 on Monday, CS Disco (LAW) -54% to $13.58 on Friday.
Futures: After closing at an eight-day high of $93.99/barrel on Thursday, September WTI crude oil (CLU20) pulled back to end the week modestly higher at $92.09/barrel. December gold (GCZ2) hit an intraday high of $1,824.60/ounce last Wednesday, and closed Friday up more than $23 for the week at $1,815.50. Week's biggest gains: September lumber (LBSU2) +22.9%, September Russian ruble (R6U2) +16.7%. Week's biggest losses: September VIX (VXU2) -4.2%, September Ultra T-bond (UBU2) -1.3%.
Coming this week
In addition to parsing the minutes of the July Fed meeting, traders will get a look at the latest retail sales and housing numbers:
●Today: Empire State Manufacturing Index, NAHB Housing Market Index
●Tuesday: Housing Starts and Building Permits, Industrial Production and Capacity Utilization
●Wednesday: Retail Sales, Business Inventories, FOMC minutes
●Thursday: Existing Home Sales, Leading Indicators
●Friday: Monthly options expiration

Retail stocks highlight the earnings calendar:
●Today: Li Auto (LI)
●Tuesday: Walmart (WMT), Home Depot (HD), TJX (TJX), Agilent (A)
●Wednesday: Cisco (CSCO), Lowe's (LOW), Analog Devices (ADI), Target (TGT), Keysight Technologies (KEYS), Macy's (M), Krispy Kreme (DNUT)
●Thursday: Estee Lauder (EL), Applied Materials (AMAT), NetEase (NTES), Ross Stores (ROST), Bill.com (BILL), BJ's Wholesale Club (BJ), Tapestry (TPR), Kohl's Corp (KSS), Canadian Solar (CSIQ)
●Friday: Deere (DE), Foot Locker (FL), Buckle (BKE)
Check the Active Trader Commentary each morning for an updated list of earnings announcements, IPOs, economic reports, and other market events.
The VIX's rare move
Not only did last week mark the first time the Cboe Volatility Index (VIX) hit lower weekly closing and low prices eight weeks in a row, it was only the fourth time the VIX had simply closed lower for eight straight weeks.
Since the VIX tends to decline when the market rallies and surge when the stocks sell off, many traders use it as a contrarian indicator, looking for signs of a bearish sentiment extreme when the VIX spikes higher or bullish exhaustion when the VIX drops significantly.
The VIX's decline over the past eight weeks is certainly significant—even historic, in that this specific pattern of lower lows and closes has never happened before. But since there aren't any past episodes to compare it to, it's impossible to draw any conclusions about what it may imply about the market's future.
The stock market's performance after VIX moves like the one that unfolded over the past eight weeks may surprise many traders.
One aspect of the VIX's decline has a somewhat deeper history, though. As of Friday, the VIX had fallen 37.3% over the past eight weeks, and had hit its lowest level in 16 weeks. If we define comparable moves as 35%-or larger-declines where the VIX also makes at least a 12-week (three-month) low, we find there have been 26 other examples since 1990.
The SPX's typical short-term performance after these VIX moves was mixed: The SPX closed lower the next week more often than not (14 out 26 times), and had a slightly negative median return (-0.09%). After four weeks, though, the SPX was higher in 18 cases, and its median return was 1.8%—that's bigger than its overall four-week median return of 1.1%.2
This has been an historic year in many ways, but contrarians looking at the VIX's history-making drop over the past couple of months may be surprised to find that comparable runs tended to be followed by brief market pauses or dips over the next few weeks rather than major sell-offs.
Click here to log on to your account or learn more about E*TRADE's trading platforms, or follow the Company on Twitter, @ETRADE, for useful trading and investing insights.
---
1 Bloomberg.com. Morgan Stanley Warns of 'Head Fake' in Inflation Data. 8/12/22.
2 All figures reflect weekly S&P 500 (SPX) and Cboe Volatility Index (VIX) price data, 1990–2022. The specific pattern consists of a week the VIX closes at least 35% below its close eight weeks earlier, and makes an intraweek lower that is below the lows of at least the past 12 weeks. Supporting document available upon request.
What to read next...
08/12/22
The recent performance of lithium stocks suggests a less-than-straightforward connection to the lithium market.
---
08/11/22
Pharma stock's recent pullback illustrates potential advantages of well-known options spread.
---
08/10/22
Is the market's recent pause setting up another momentum breakout?
---