Summer surge
Stocks jump as Fed tightens and GDP comes up short
Energy sector rebounds, big tech earnings mixed
This week: Jobs report, manufacturing and service economy numbers
After a huge week of economic data and corporate earnings, the US stock market enters August where few people likely expected it to be at the beginning of July—at a seven-week high, and coming off its biggest up month (+9.1%) since late 2020.
After pulling back last Tuesday, the S&P 500 (SPX) rallied 5.3% over the next three days as the Federal Reserve raised interest rates by 0.75%, GDP contracted for a second-straight quarter, and the latest Fed inflation reading came in higher than expected: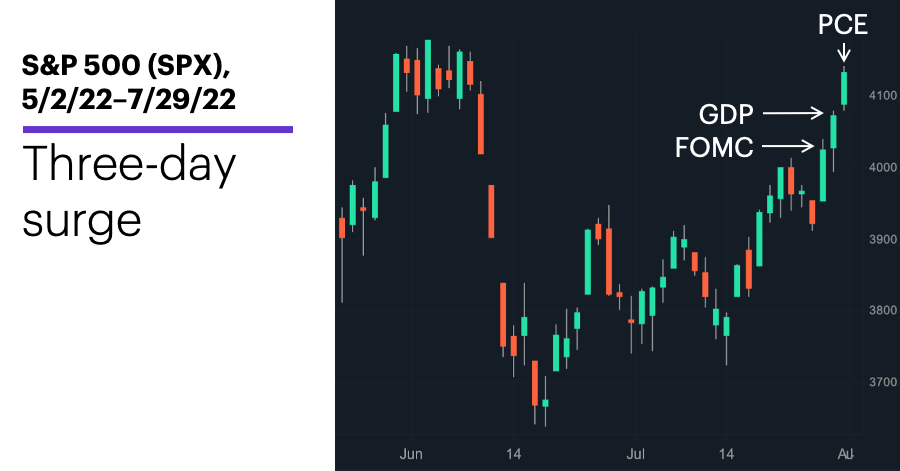 Source: Power E*TRADE. (For illustrative purposes. Not a recommendation.)
---
The headline: Stocks rally to wrap up strongest month since November 2020.
The fine print: The market made its move despite the week's challenging economic data and mixed earnings. Of the heavy hitters reporting last week— Alphabet (GOOGL), Amazon (AMZN), Apple (AAPL), Meta (META), and Microsoft (MSFT)—only AAPL topped both its headline earnings and revenue numbers. But META was the only stock of the bunch to lose ground for the week.
The numbers: -0.9%, the initial estimate of Q2 GDP. Back-to-back quarters of negative GDP is a widely referenced—but unofficial—signal of a recession, which may have helped fuel the stock rally, as investors anticipated economic weakness could cause the Fed to raise rates less aggressively (Morgan Stanley & Co.  has a more nuanced take1). On the inflation front, the Fed's preferred inflation gauge, the core PCE Price Index, increased +4.8% year over year in June—slightly higher than expected, and up from May.
The scorecard: The Nasdaq 100 (NDX) tech index and the small-cap Russell 2000 (RUT) led the US market last week: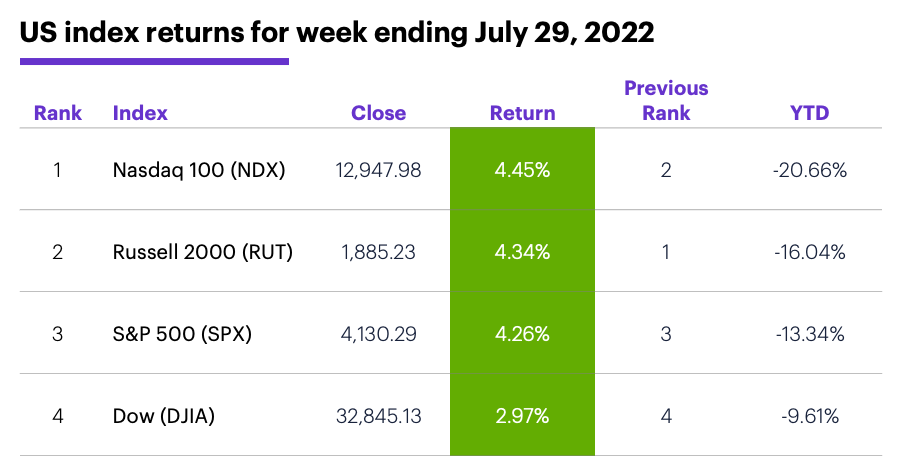 Source (data): Power E*TRADE. (For illustrative purposes. Not a recommendation.)
---
Sector roundup: The strongest S&P 500 sectors last week were energy (+10.3%), utilities (+6.5%), and industrials (+5.7%). The weakest sectors were consumer staples (+1.7%), health care (+2%), and communication services (+2.5%).
Stock movers: Infrastructure and Energy Alternatives (IEA) +32% to $13.75 on Monday, Getty Images (GETY) +149% to $26.15 on Friday. On the downside, Roku (ROKU) -23% to $65.52 and Siga Technologies (SIGA) -23% to $17.19, both on Friday.
Futures: September WTI crude oil (CLU2) tagged a three-week high of $100.88/barrel early Friday but reversed to end the week at $98.03. September natural gas (NGU2) capped a three-week, 74% rally by challenging its contract highs last Tuesday, then pulled back to close slightly higher for the week at 8.302. August gold (GCQ2) extended its recent bounce, tagging $1,765.70/ounce on Friday before closing at $1,760.80. Week's biggest gains: December soybean oil (ZLZ2) +13.5%, July micro ether (METN2) +13.3%. Week's biggest losses: September lumber (LBSU2) -10%, August VIX (VXQ2) -8.3%.
Coming this week
The first week of Augusts kicks off with manufacturing and service-economy data, and the all-important jobs report:
●Today: S&P Global Manufacturing Index, ISM Manufacturing Index, Construction Spending
●Tuesday: Job Openings and Labor Turnover Survey (JOLTS)
●Wednesday: S&P Global Services Index, ISM Non-Manufacturing Index, Factory Orders
●Thursday: Trade deficit
●Friday: Employment Report
This week's earnings include:
●Today: Lattice Semiconductor (LSCC), ON Semiconductor (ON), Global Payments (GPN), Check Point Software (CHKP)
●Tuesday: Harmony Biosciences (HRMY), International Game Technology (IGT), Marathon Petroleum (MPC), Sage Therapeutics (SAGE), Uber (UBER), Molson Coors (TAP)
●Wednesday: CVS Health (CVS), Yum Brands (YUM), Moderna (MRNA)
●Thursday: Lantheus Holdings (LNTH), EPAM Systems (EPAM)
●Friday: Goodyear Tire & Rubber (GT), DraftKings (DKNG)
Check the Active Trader Commentary each morning for an updated list of earnings announcements, IPOs, economic reports, and other market events.
August market performance
As welcome as July's stock rally was for investors, Morgan Stanley Wealth Management recently raised a few points about the market's rebound—specifically, the idea that concerns about tipping the economy into recession could mean the Fed is closer than previously thought to pausing or ending its rate-hike cycle.
One highlight of the discussion: While a recession could prompt the Fed to stop hiking interest rates sooner rather than later, it would also likely result in a "material slowdown" in consumption growth, as well as unemployment spikes.2  That wouldn't necessarily support the idea on an extended stock rally.
For now, we'll see what August brings. From 1960–1991 it was a solid month for stocks, with a positive SPX return 63% of the time and an average return of 0.9%. But it's also slipped a few notches in the most recent 30 years, sporting the second-lowest percentage of positive returns (57%) and second-lowest average return (-0.3%) of all months of the year.3
Finally, to get a feel for how notable the market's June–July pivot was, the SPX has followed an 8%-or-larger monthly loss with an 8%-or-larger monthly gain only four other times since 1960. Slightly less dramatic reversals—a 5%-or-larger-down month followed by a 5%-or-larger up month—have occurred only 17 other times. The SPX gained ground the next month in 12 of these cases, with an average return of 1.7%—about half the size of the average up month since 1960.
Click here to log on to your account or learn more about E*TRADE's trading platforms, or follow the Company on Twitter, @ETRADE, for useful trading and investing insights.
---
1 MorganStanley.com. Is This the End of the Bear Market? 7/25/22.
2 MorganStanley.com. Is the Bear Market for Stocks Over? 7/27/22.
3 All figures reflect S&P 500 (SPX) monthly closing prices, 12/31/59–7/29/22. Supporting document available upon request.
What to read next...
07/28/22
With earnings around the corner, homebuilder stock breaks out above resistance.
---
07/26/22
With earnings approaching, big options prints put spin on healthcare stock's rally.
---
07/25/22
After last week's push, can the market put together back-to-back up weeks?
---