Large caps keep things humming
Materials sector leads, small caps slip
Inflation data mixed, oil and gold volatility surges
This week: FOMC minutes, housing numbers, retail sales and earnings
US stocks hit the midpoint of August at fresh highs, as conflicting inflation data—fast-rising wholesale prices offset by a smaller-than-expected increase at the consumer level—failed to distract market bulls.
Whatever inflation "relief" the market may have felt after Wednesday's tame Consumer Price Index (CPI) reading was short-lived, as Thursday's Producer Price Index (PPI) came in hotter than expected. But the S&P 500 (SPX) actually gained more on Thursday than it did on Wednesday:
Source: Power E*TRADE. (For illustrative purposes. Not a recommendation.)
---
The headline: Stocks start new week at new records after inconclusive inflation data.
The fine print: The focus on inflation may have overshadowed the Senate's passage of a $1 trillion infrastructure bill—but then again, with approval in the House still pending (and uncertain), premature celebration may have been unwarranted.
The number: 23%, the year-over-year increase in the median existing home price in the US in Q2—the biggest jump on record, according to data from the National Association of Realtors. The median home price hit an all-time high of $357,900.1 The S&P 500 homebuilders index ended last week with a modest gain despite pulling back on Thursday and Friday.
The scorecard: Large-cap stocks paced the market, while tech and small caps brought up the rear: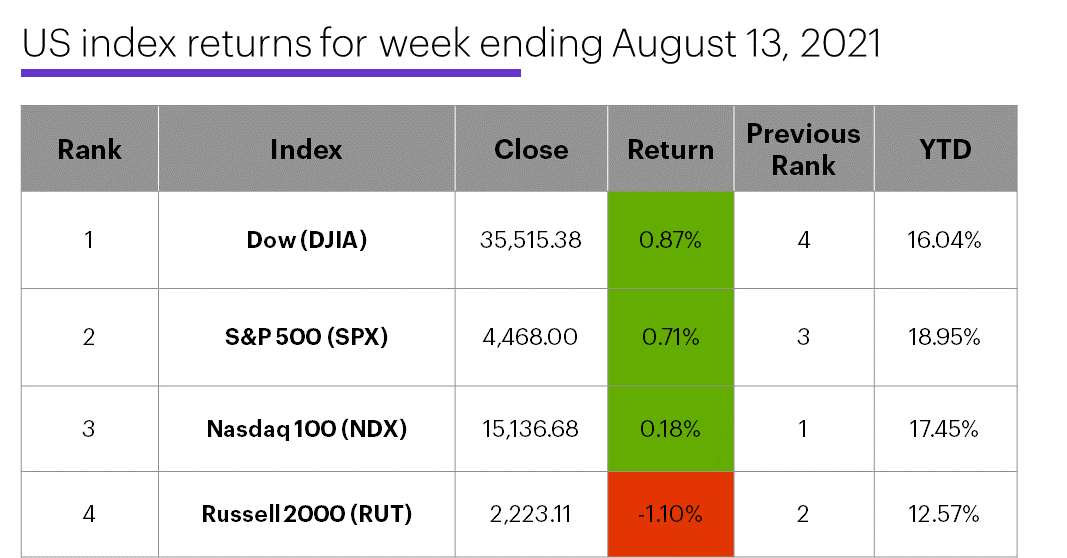 Source: Power E*TRADE. (For illustrative purposes. Not a recommendation.)
---
Sector roundup: The strongest S&P 500 sectors last week were materials (+2.6%), consumer staples (+2.1%), and financials (+1.8%). The weakest sectors were energy (-0.9%), consumer discretionary (-0.1%), and information technology (0.02%).
Highlight reel: Fulcrum Therapeutics (FULC) +125% to $18.77, Lightning eMotors (ZEV) +81% to $11.6 on Tuesday. On the downside, Axsome Therapeutics (AXSM) -47% to $27.37 on Monday, LifeStance Health (LFST) -46% to $11.71 on Thursday.
Futures action: Gold and oil both dialed up the volatility. December gold (GCZ1) started last week by briefly plunging to a 16-month low of $1,677.90/ounce before climbing more than $100 the rest of the week to close Friday at $1,778.20. September WTI crude oil (CLU1) tumbled to a three-week low of $65.15/barrel last Monday, rebounded to $69.45 by Wednesday, then slumped back to $68.44 by Friday. Biggest up moves: August Ether (ETHQ1) +9.8%, August bitcoin (BTCQ1) +7.8%, December oats (ZOZ1) +7.2%. Biggest down moves: September lumber (LBSU1) -10%, September natural gas (NGU1) -6.9%, September VIX (VXU1) -5.9%.
Coming this week
FOMC minutes, retail sales, and housing data stand out on the week's economic calendar:
●Today: Empire State Manufacturing Index (8:30 a.m.).
●Tuesday: Retail Sales, Industrial Production, Capacity Utilization, Business Inventories, NAHB Housing Market Index
●Wednesday: Housing Starts and Building Permits, FOMC minutes
●Thursday: Leading Indicators
Retail earnings dominate the earnings calendar:
●Today: Roblox (RBLX), First Majestic Silver (AG), Tencent Music (TME)
●Tuesday: Agilent (A), Home Depot (HD), Walmart (WMT), Krispy Kreme (DNUT)
●Wednesday: Analog Devices (ADI), Bath & Body Works (BBWI), Weibo (WB), Nvidia (NVDA), Target (TGT), TJX Companies (TJX), Lowe's (LOW), Keysight (KEYS)
●Thursday: Applied Materials (AMAT), BJ's Wholesale Club (BJ), Kohl's (KSS), Estee Lauder (EL), Ubiquiti (UI), Ross Stores (ROST)
●Friday: The Buckle (BKE), Deere (DE), Foot Locker (FL)
Check the Active Trader Commentary each morning for an updated list of earnings announcements, IPOs, economic reports, and other market events.
T-notes and technicals
Our colleagues at Morgan Stanley have argued that Treasuries—which have rallied in recent months as their yields have dropped—have become disconnected from fundamental market conditions because of "extreme technical factors," including Fed bond purchases, non-U.S. buying, and pension-fund rebalancing. Morgan Stanley further outlined the possibility of a return to a 1.75% 10-year T-note yield by the end of September.2
But certain traders may be keeping a close eye on Treasury yields this week (as if they weren't already) because of a different type of "technical." The 10-year yield looks like it could be getting ready to test a basic chart-pattern principle—a pullback to a recent breakout level after the formation of a potential bottom pattern: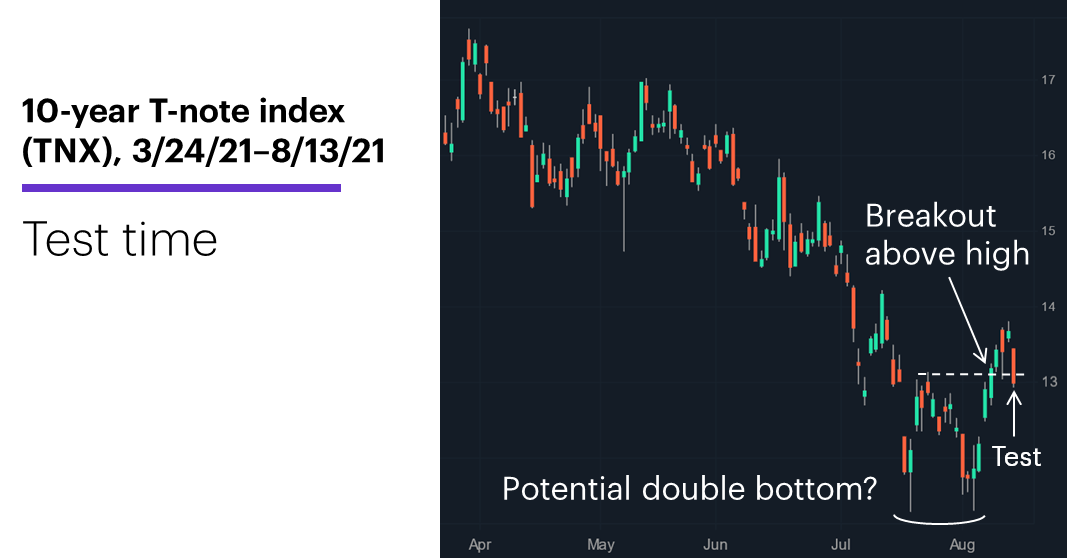 Source: Power E*TRADE. (For illustrative purposes. Not a recommendation.)
---
Quick summary: After dropping to a five-month low in late July, the 10-year yield rebounded, pulled back to test that low in early August, and rebounded again—the beginnings of what many chart watchers may see as a possible "double bottom" pattern that implies further upside. After breaking out above the highest high separating the two lows, the yield retreated last week to test the breakout point.
Whether you believe in technicals or not, you can bet plenty of people will be waiting to see if Friday's pullback was the beginning of another extended downswing or a temporary interruption of the seven-day jump that preceded it—a move that just happened to be the yield's biggest up move since March.
Click here to log on to your account or learn more about E*TRADE's trading platforms, or follow the Company on Twitter, @ETRADE, for useful trading and investing insights.
---
1 Bloomberg.com. Home Prices in the U.S. Soar 23%, the Fastest Rate on Record. 8/12/21.
2 MorganStanley.com. Why Are Treasury Yields Falling? 7/13/21.
What to read next...
08/13/21
Chinese tech provides potential lessons in why traders may use options to help manage risk in volatile stocks.
---
08/12/21
Trading ramps up in tech stock's soon-to-expire call options as shares stage intraday breakout.
---
08/11/21
Insurer's volatility bump may have traders looking into selling options, regardless of whether they're bullish or bearish.
---