Seasonal disruption
This month on pace to be one of the worst Aprils for stocks in decades
May has historically been a weaker-than-average month
May returns have tended to be weaker after negative Aprils
For traders who track seasonal patterns, April has probably added to the feeling that the stock market has thrown out the "rulebook" so far this year. While April has historically been one of the more bullish months of the year, this one is running the risk of being the S&P 500's (SPX) weakest month since March 2020, and its worst April since 1970.1
And with May just two trading days away, traders are likely pondering what effect, if any, the market's most recent downturn could have on a month with a less-than-bullish reputation. While we're nearly two generations removed from May consistently being one of the weakest spots on the market calendar, it still hasn't tended to be a month that has significantly padded the annual returns of stock investors.
The following chart shows most of the bearishness occurred in the years up to 1983, when the SPX lost ground in more than 60% of Mays, and the month's average return was -1.2%—the worst of any month of the year: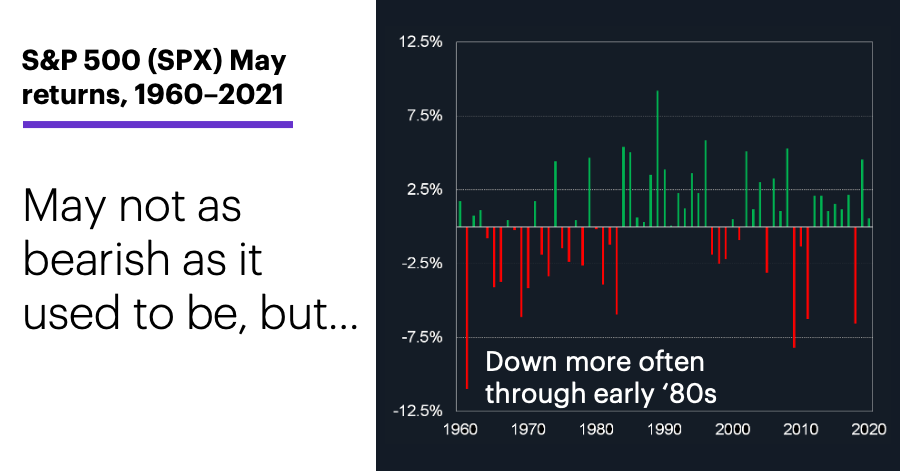 Source (data): Power E*TRADE. (For illustrative purposes. Not a recommendation.)
---
Breaking the past 62 years into equal parts, from 1960–1990, May was down 16 times and up 15 times, with an average return of -0.36%—the second-weakest of any month. Since 1991, though, May has been up 20 out of 31 times (third-best win rate of any month) with an average return of 0.67% (sixth-weakest):
While it may be natural to think the market may snap back after such a negative April—and it certainly could—the numbers suggest bulls should remain vigilant. Overall, up Aprils have often been followed by up Mays, and down Aprils and have tended to be followed by down Mays.
1. After the 45 positive Aprils since 1960, the SPX was positive in May 29 times with an average return of +0.3%.
2. After the 17 negative Aprils, the SPX lost ground in May nine times with an average return of -0.2%.
3. Of the 24 times the SPX was negative for the year through April (regardless of whether April was positive or negative), May was negative 12 times with an average return of -0.3%.
Finally, as of yesterday the SPX was down roughly 7% for the month. While there have been only six previous Aprils with monthly losses of -3% or more, each of them were followed by negative Mays.
Market Mover Update: Spotify (SPOT) hit an all-time low of $95.74 yesterday—the first time the stock has traded below $100. Royal Gold (RGLD) was down more than 8% week-over-week through Wednesday (see "Mining stocks diverge from metals").
Today's numbers include (all times ET): GDP (8:30 a.m.), Jobless Claims (8:30 a.m.), EIA Natural Gas Report (10:30 a.m.).
Today's earnings include: Baxter International (BAX), Mastercard (MA), Eli Lilly (LLY), Caterpillar (CAT), McDonald's (MCD), Mr. Cooper Group (COOP), Southwest Airlines (LUV), Hershey (HSY), Merck (MRK), Twitter (TWTR), Keurig Dr. Pepper (KDP), Northrop Grumman (NOC), Intel (INTC), First Solar (FSLR), Amazon.com (AMZN), Apple (AAPL).
Click here to log on to your account or learn more about E*TRADE's trading platforms, or follow the Company on Twitter, @ETRADE, for useful trading and investing insights.
---
1 All figures reflect S&P 500 (SPX) monthly closing prices, 1960–2021. Supporting document available upon request.
What to read next...
04/25/22
Market stumbles into last week of April amid inflation and interest rate concerns.
---
04/22/22
Recent consolidation shows why traders sometimes tweak a popular non-directional options spread.
---
04/21/22
Legging into spreads carries unique risks, but in certain situations it may also give traders more flexibility.
---