Stocks pivot into Q2
Broad market inches higher, traders bid up utilities and real estate
Oil slides as White House decides to tap reserves
This week: FOMC minutes, factory orders, service economy data
Three weeks ago the S&P 500 (SPX) was down more 12% for the year, Russia was pushing deeper into Ukraine, and the Fed was about to hike interest rates for the first time in more than three years.
But one trading day after wrapping up its first down quarter since 2020, the SPX was closer to its all-time highs than its March lows—despite a relatively sharp Wednesday–Friday pullback last week.
After jumping to its highest level in more than three months last Tuesday, the SPX retreated amid conflicting reports of Russia scaling back military operations in Ukraine,1 new inflation data, and a monthly jobs report that came in a little below expectations. But a surge in the final 15 minutes of trading on Friday turned a weekly loss into a small gain: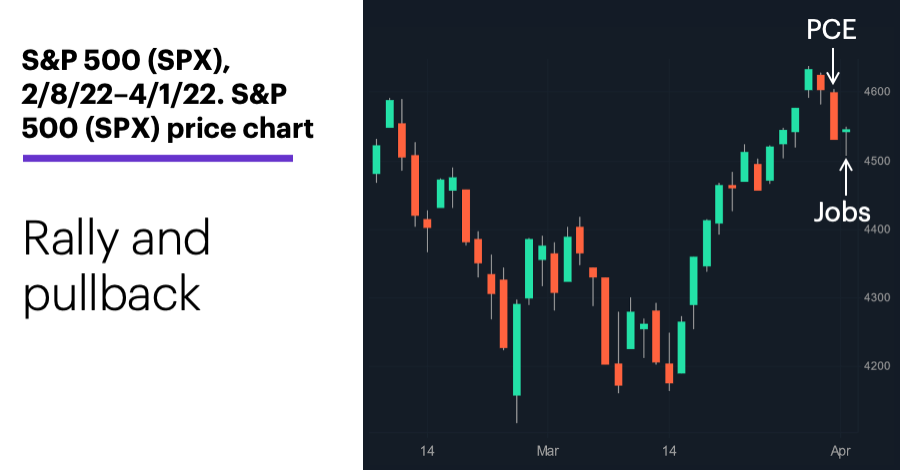 Source: Power E*TRADE. (For illustrative purposes. Not a recommendation.)
---
The headline: Market's win streak extends to three weeks despite pullback.
The fine print: Just because the Fed launched a rate-tightening cycle—and stocks rallied—doesn't mean inflation suddenly disappeared. Last week the Fed's go-to inflation barometer, the core PCE Price Index, climbed 5.4% year-over-year—it's biggest increase since 1983.
The move: Even though the week didn't end near its highs, the SPX's 8.1% gain from March 11 to April 1 was its biggest three-week rally since November 2020—and bigger than 98% of all of its three-week gains since June 1972.
The number: 431,000, the number of new jobs created in March—below the 490,000 estimate. But the unemployment rate ticked lower, from 3.7% to 3.6%
The scorecard: The Nasdaq 100 (NDX) tech index and the Russell 2000 (RUT) small-cap index posted the week's biggest gains: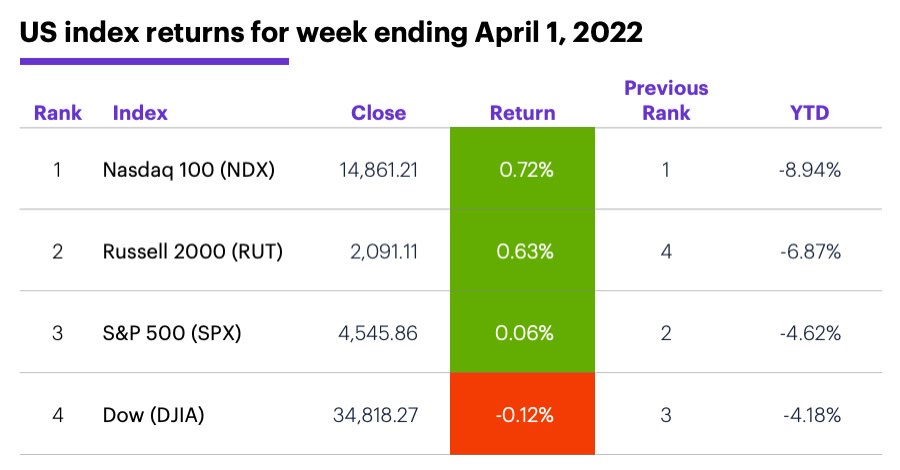 Source (data): Power E*TRADE. (For illustrative purposes. Not a recommendation.)
---
Sector roundup: The strongest S&P 500 sectors last week were real estate (+4.4%), utilities (+3.7%), and consumer staples (+2.3%). The weakest sectors were financials (-3.3%), energy (-2.4%), and industrials (-1.5%).
Highlight reel: Plantronics (POLY) +53% to $39.99 on Monday, IGM Biosciences (IGMS) +97% to $29.49 on Tuesday, On the downside, NeoGenomics (NEO) -30% to $12.49 on Tuesday, Sky Harbour (SKYH) -28% to $14.92 on Thursday.
Futures action: After falling 8% last Monday, WTI crude oil (CLK2) slid an additional 6% on Thursday as the White House announced the US would release a million barrels of oil per day from its strategic reserves for the next six months.2 The market closed at $99.27/barrel on Friday, down more than $13 for the week. June gold (GCM2) stabilized after a sharp Monday–Tuesday sell-off to end last week at $1,923.70/ounce, toward the middle of its two-week consolidation. Biggest up moves: April ether (ETHJ2) +11.1%, June Russian ruble (R6M2) +6.7%. Biggest down moves: May WTI crude oil (CLK2) -27.7%, June Brent crude oil (BM2) -6%.
Coming this week
In addition to factory orders and the latest service economy numbers, the Fed will share the minutes from its March 15-16 FOMC meeting on Wednesday:
●Today: Factory Orders (9 a.m. ET)
●Tuesday: Trade deficit, Markit Services PMI, ISM Services Index
●Wednesday: FOMC minutes
●Thursday: Consumer Credit
●Friday: Wholesale Inventories
This week's earnings include:
●Today: ZoomInfo Technologies (ZI)
●Tuesday: Acuity Brands (AYI), SMART Global Holdings (SGH)
●Wednesday: Levi Strauss (LEVI), Schnitzer Steel (SCHN), RPM International (RPM), Simply Good Foods (SMPL)
●Thursday: Conagra Brands (CAG), Constellation Brands (STZ), Apogee Enterprises (APOG), WD-40 (WDFC)
Check the Active Trader Commentary each morning for an updated list of earnings announcements, IPOs, economic reports, and other market events.
The stock market in April
When the closing bell rang last Thursday, the SPX was down 4.95% for the year—its first quarterly loss since 2020, and its second-biggest since 2009.
The uncertainty surrounding the Russian invasion, still-high energy and commodity prices, and continued stock market volatility may seem like good reasons to ignore the stock market's seasonal playbook. But the historical record shows April has been one of the more bullish months of the year—especially over the past three decades: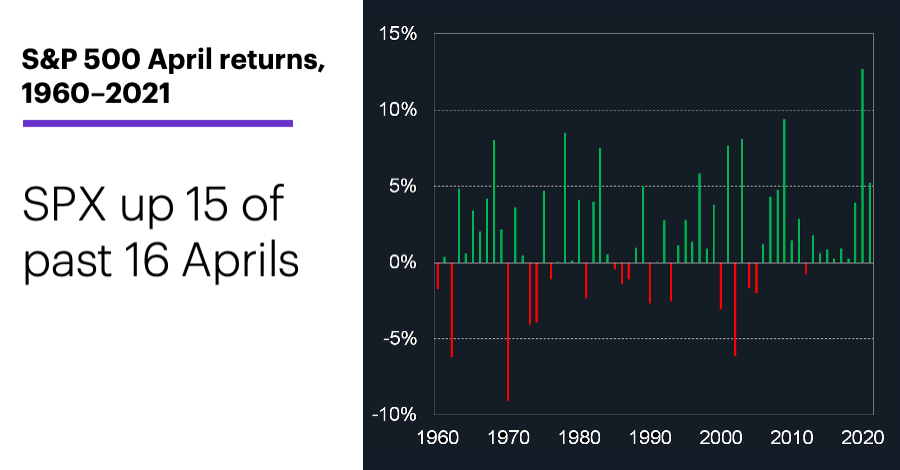 Source (data): Power E*TRADE
---
Since 1991, the SPX has declined in April only six times, and only once (in 2012) over the past 16 years. It also has the largest average gain (2.2%) of any month of the year during that span.3
In addition to the argument that immediate market factors will override general seasonal tendencies, some traders would point out that the market tends to give back some ground after the type of exceptionally strong short-term rally that unfolded over the past three weeks.
But the SPX's track record after similar moves may surprise them. The SPX has staged a 7%-or-larger rally (after at least one down week) 53 other times since 1972. The index was higher the following Friday 64% of the time, and its median gain was 0.9%. After a month, the index's median gain was 2.3%.4
But there was also tendency for the market to give back some ground in the third week after these big rallies—the SPX fell in 31 out of 53 of these weeks, with a median loss of -0.3%.
Click here to log on to your account or learn more about E*TRADE's trading platforms, or follow the Company on Twitter, @ETRADE, for useful trading and investing insights.
---
1 CNN.com. US skeptical of Russian claims it's scaling back the war in Ukraine. 3/29/22.
2 CNBC.com. U.S. to release 1 million barrels of oil per day from reserves to help cut gas prices. 3/31/22.
3 Reflects S&P 500 (SPX) monthly closing prices, December 1959–March 2022. Supporting document available upon request.
4 Reflects S&P 500 (SPX) weekly closing prices, June 1975–March 2022. Supporting document available upon request.
Important note regarding economic sanctions. This event may involve the discussion of country/ies which are generally the subject of selective sanctions programs administered or enforced by the U.S. Department of the Treasury's Office of Foreign Assets Control ("OFAC"), the European Union and/or by other countries or multi-national bodies. The content of this presentation is for informational purposes and does not represent Morgan Stanley's view as to whether or not any of the Persons, instruments or investments discussed are or may become subject to sanctions. Any references in this presentation to entities or instruments that may be covered by such sanctions should not be read as recommending or advising on any investment activities involving such entities or instruments. You are solely responsible for ensuring that your investment activities in relation to any sanctioned country/ies are carried out in compliance with applicable sanctions.
What to read next...
03/31/22
Big print on the options tape as stock attempts to sustain bounce off retracement level.
---
03/30/22
What do traders typically look for when using an options calendar spread?
---
03/29/22
Will options traders get on board as tech stock tests technical level after five-month correction?
---