Bounce, interrupted
Thursday–Friday sell-off erases rebound, tech slides
Interest rates keep climbing, Powell hits hawkish note
This week: GDP, Fed inflation, big earnings
What was shaping up to be the market's second-best week of the year early last Thursday turned out to be its worst in more than a month, as hawkish comments from Fed Chairman Jerome Powell, mixed earnings, and another jump in long-term interest rates appeared to derail bullish sentiment.
The S&P 500 (SPX) was up 2.74% for the week soon after the opening bell rang Thursday morning, but by the end of the day it was back to breakeven, and accelerated selling on Friday sent the index to a -2.8% weekly loss and its lowest close since March 14: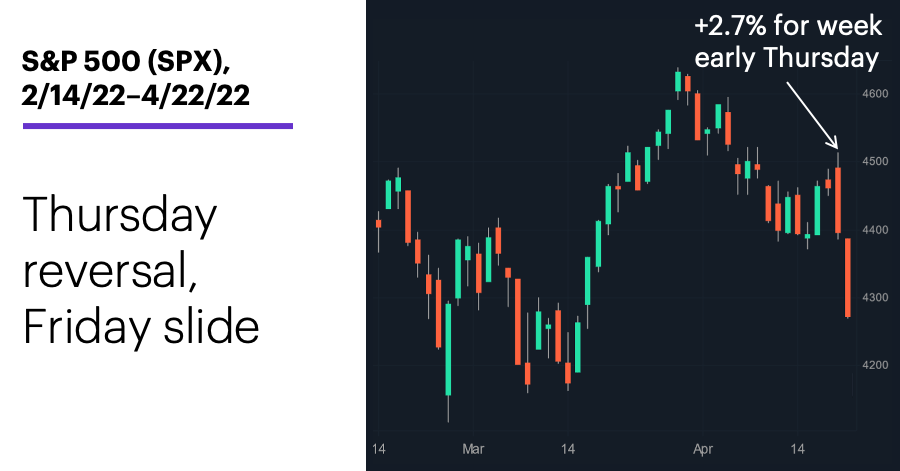 Source: Power E*TRADE. (For illustrative purposes. Not a recommendation.)
---
The headline: Stocks slide for third week as Fed signals next move.
The fine print: On Thursday, Fed Chairman Jerome Powell confirmed a 0.5% rate hike would be "on the table" at the Fed's May 3-4 meeting.1 While stocks ended the day sharply lower, the 10-year T-note yield pushed as high as 2.95%.
The number: 200,000, the number of subscribers Netflix (NFLX) lost in the first three months of the year.2 The stock fell 35% last Wednesday after releasing earnings on Tuesday afternoon.
The scorecard: The Nasdaq 100 (NDX) tech index took the biggest hit last week: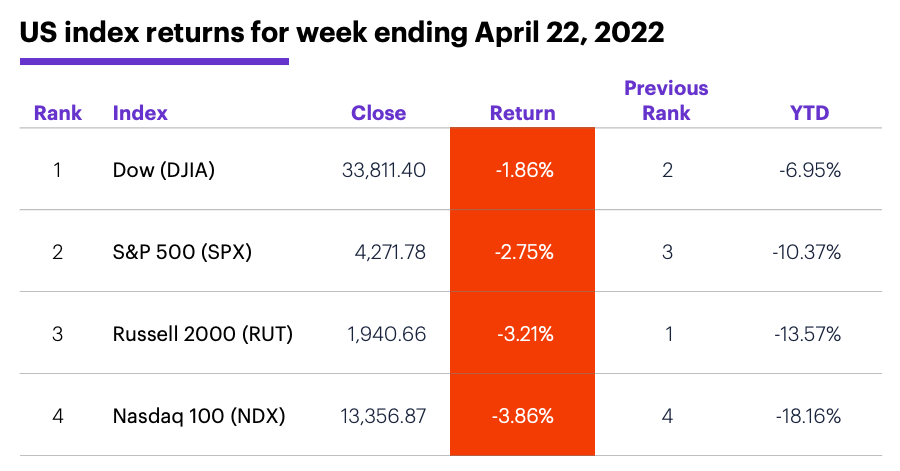 Source (data): Power E*TRADE. (For illustrative purposes. Not a recommendation.)
---
Sector roundup: The strongest S&P 500 sectors last week were real estate (+1.2%), consumer staples (+0.4%), and industrials (-1.6%). The weakest sectors were communication services (-7.7%), energy (-4.6%), and materials (-3.7%).
Highlight reel: Natus Medical (NTUS) +29% to $33.51 on Monday, Axsome Therapeutics (AXSM) +25% to $40.92 on Tuesday. On the downside, System1 (SST) -34% to $13.45 on Tuesday, Netflix (NFLX) -35% to $226.19 on Wednesday.
Futures action: A 4.8% sell-off last Tuesday highlighted a choppy week for June WTI crude oil (CLM2), which closed Friday at $102.07/barrel, down more than $4 for the week. After spiking intraday to $2,003/ounce last Monday, June gold (GCM2) pulled back, closing Friday at a two-week low of $1,934.30. Biggest up moves: July lumber (LBSN2) +13.8%, May VIX (VXK2) +6.6%. Biggest down moves: May natural gas (NGK2) -11.2%, July platinum (PLN2) -6.8%.
Coming this week
First-quarter GDP headlines this week's economic calendar, along with the PCE Price Index (Fed inflation), and more housing numbers:
●Today: Chicago Fed National Activity Index (8:30 a.m. ET)
●Tuesday: Durable Goods Orders, S&P Case-Shiller Home Price, FHFA House Price Index, New Home Sales, Consumer Confidence Index
●Wednesday: Goods Trade Balance (advance), Pending Home Sales
●Thursday: GDP (Q1, initial estimate)
●Friday: Personal Income and Spending, PCE Price Index, Chicago PMI, Michigan Consumer Sentiment (final)

The theme for this week's earnings calendar is "big"—big tech, big pharma, big consumer brands, big energy, and just big overall—more than a thousand companies are scheduled to report. Here's a sample:
●Today: Activision Blizzard (ATVI), Coca-Cola (KO), Medpace (MEDP), Whirlpool (WHR)
●Tuesday: Enphase Energy (ENPH), Alphabet (GOOGL), United Parcel Service (UPS), PepsiCo (PEP), D.R. Horton (DHI), Waste Management (WM), Archer Daniels Midland (ADM), General Electric (GE), Juniper Networks (JNPR), Visa (V), Microsoft (MSFT), General Motors (GM), Chipotle (CMG), Teradyne (TER)
●Wednesday: Boeing (BA), T-Mobile (TMUS), Check Point Software (CHKP), General Dynamics (GD), Spotify (SPOT), ServiceNow (NOW), PayPal (PYPL), Qualcomm (QCOM), Mattel (MAT), O'Reilly Automotive (ORLY)
●Thursday: Baxter International (BAX), Mastercard (MA), Eli Lilly (LLY), Caterpillar (CAT), McDonald's (MCD), Mr. Cooper Group (COOP), Southwest Airlines (LUV), Hershey (HSY), Merck (MRK), Twitter (TWTR), Keurig Dr. Pepper (KDP), Northrop Grumman (NOC), Intel (INTC), First Solar (FSLR), Amazon.com (AMZN), Apple (AAPL)
●Friday: Phillips 66 (PSX), AstraZeneca (AZN), Aon (AON), Bristol Myers Squibb (BMY), Colgate-Palmolive (CL), Honeywell (HON), Chevron (CVX)

Check the Active Trader Commentary each morning for an updated list of earnings announcements, IPOs, economic reports, and other market events.
Three out of four (down)
Although one day never makes or breaks the market, the fact that the S&P 500's chances of a positive April went from decent to slim last Thursday may be worth noting, especially in light of Fed Chair Powell's hawkish comments. Morgan Stanley analysts have argued that inflation and higher interest rates will likely become increasingly stiff headwinds for earnings growth and the market—hence their advice for investors to focus on defensive sectors and stocks.3
Unless the SPX rallies at least 6.1% this week, the index will have lost ground in three of the first four months of the year, something it's done only 11 other times since 1960, most recently in 2020. It would also be just the fourth time in the past 62 years that the SPX fell in January and February, rebounded in March, and fell in April.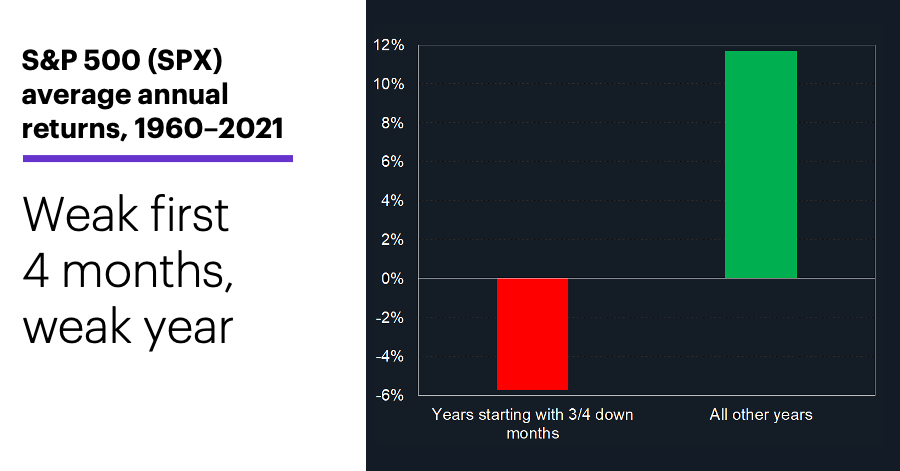 Source (data): Power E*TRADE
---
Seven of the 11 years that started with three out of four down months also turned out to be down years. The chart compares the average annual return for these 11 years to the average return for all other years.
One important detail: The SPX's average loss through April in those 11 years was -5.8%, almost exactly the same as its average loss at the end of the year (-5.7%). In other words, the index didn't end all these years dramatically lower than it had been at the end of April. With the exception of 2000, 2002, and 2008, at the end of December the SPX was never more than an additional 3.1 percentage points below its April close.
Click here to log on to your account or learn more about E*TRADE's trading platforms, or follow the Company on Twitter, @ETRADE, for useful trading and investing insights.
---
1 Reuters.com. Fed's Powell, half-point hike in view, completes hawkish pivot. 4/21/22.
2 CBSnews.com. Netflix shares slide after it loses 200,000 subscribers. 4/20/22
3 MorganStanley.com. Thoughts on the Market podcast: Inflation Drags on Forward Earnings. 4/18/22.
What to read next...
04/22/22
Recent consolidation shows why traders sometimes tweak a popular non-directional options spread.
---
04/21/22
Legging into spreads carries unique risks, but in certain situations it may also give traders more flexibility.
---
04/20/22
Put volume jumps as gold stock tests record high after seven-week, 45% rally.
---