Fed takes it to the Street
Tech leads stock pullback as Fed gets more hawkish, interest rates jump
Oil dips, but natural gas prices hit fresh highs
This week: Bank earnings, CPI and PPI, retail sales
Earnings season kicks off this week—maybe that will shift the market from its current laser focus on the Fed and interest rates.
Last week the US stock market gave back more of its two-week rally off the March lows as the Federal Reserve ratcheted up its hawkish dialogue, preparing the markets for more-aggressive rate hikes and a faster-than-expected unwinding of its balance sheet.
After a solid rally last Monday, the S&P 500 (SPX) pulled back sharply on Tuesday and Wednesday, bounced on Thursday, then limped into the weekend with a small loss on Friday: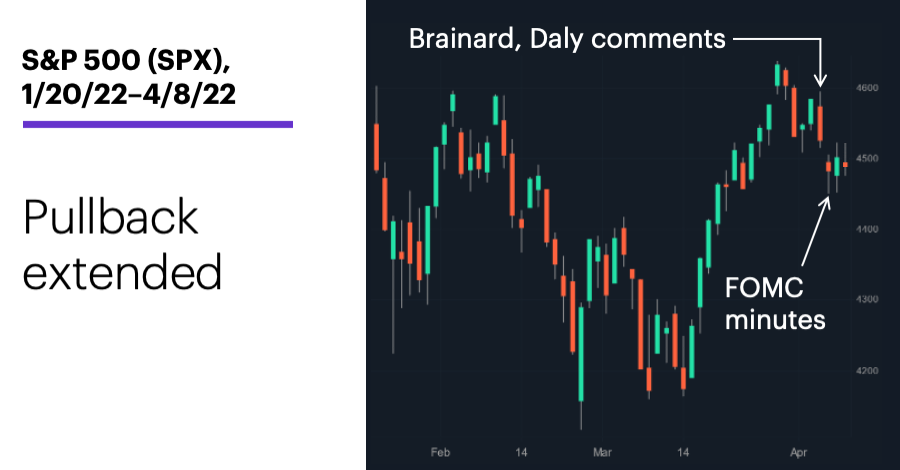 Source: Power E*TRADE. (For illustrative purposes. Not a recommendation.)
---
The headline: Stocks retreat as Fed appears to adopt a harder line.
The fine print: In separate comments last week, Fed Governor Lael Brainard and San Francisco Fed President Mary Daly stressed the risks posed by inflation and the need to confront it head-on.1 Meanwhile, minutes from the Fed's March policy meeting revealed members were looking to trim the bank's balance sheet by around $95 billion per month.
The number: 78.8%, the odds last Friday that the Fed will announce a 0.5% rate hike on May 4, as estimated by the CME Group's FedWatch tool.2
The move: On Friday the 10-year T-note yield topped 2.7% for the first time since March 2019. The 10-year yield is 0.99 percentage points higher than it was on March 4—its biggest five-week increase in nearly 35 years.
The scorecard: All the major indexes lost ground last week, but the small cap Russell 2000 (RUT) took the biggest hit: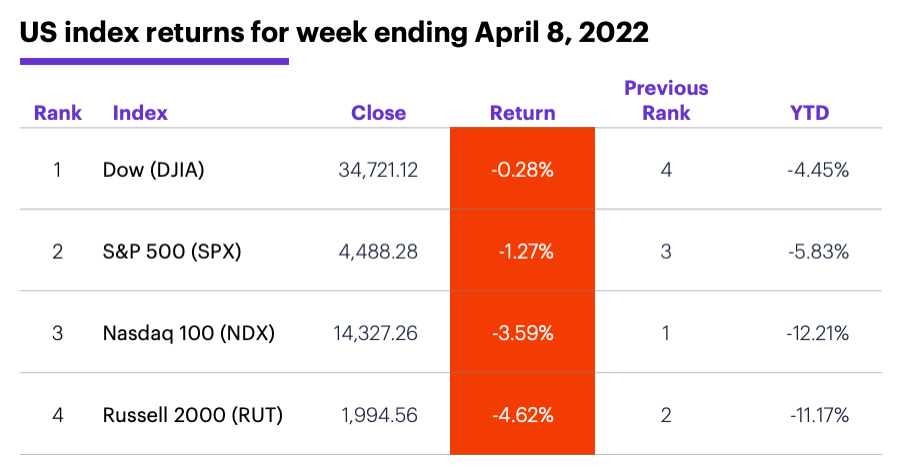 Source (data): Power E*TRADE. (For illustrative purposes. Not a recommendation.)
---
Sector roundup: The strongest S&P 500 sectors last week were health care (+3.4%), energy (+3.2%), and consumer staples (+2.7%). The weakest sectors were information technology (-4%), consumer discretionary (-3.3%), and communication services (-2.7%).

Highlight reel: BRC (BRCC) +29% to $28.28 on Monday, System1 (SST) +34% to $26.81 on Thursday. On the downside, Cassava Sciences (SAVA) -19% to $31.23 on Wednesday, BioCryst Pharmaceuticals (BCRX) -38% to $11.12 on Friday.
Futures action: May WTI crude oil (CLK2) drifted lower last week, falling as low as $97.13/barrel on Thursday and closing Friday at $98.26. June gold (GCM2) continued to trade sideways, ending last week up modestly at $1,945.60/ounce. Biggest up moves: May natural gas (NGK2) +10.4%, July hard red wheat (KWN2) +9.5%. Biggest down moves: April bitcoin (BTCJ2) -7.5%, June Ultra T-bond (UBM2) -6.3%.
Coming this week
Inflation numbers and retail sales highlight the shortened week's economic calendar (US stock and futures exchanges closed for Good Friday):
●Today: NY Fed Inflation Expectations (10 a.m. ET)
●Tuesday: NFIB Business Optimism Index, Consumer Price Index (CPI)
●Wednesday: Producer Price Index (PPI)
●Thursday: Retail Sales, Import Price Index, Consumer Sentiment (preliminary), Business Inventories
●Friday: Empire State Manufacturing Index, Industrial Production and Capacity Utilization

This week's earnings include:
●Today: CIRCOR (CIR)
●Tuesday: CarMax (KMX), Albertsons (ACI)
●Wednesday: Bed Bath & Beyond (BBBY), Delta Air Lines (DAL), Infosys (INFY), Fastenal (FAST), First Republic Bank (FRC), BlackRock (BLK), JPMorgan Chase (JPM)
●Thursday: Rite Aid (RAD), Taiwan Semiconductor (TSM), Wells Fargo (WFC), PNC Financial Services (PNC), Goldman Sachs (GS), Morgan Stanley (MS), Citigroup (C), U.S. Bancorp (USB), UnitedHealth (UNH)

Check the Active Trader Commentary each morning for an updated list of earnings announcements, IPOs, economic reports, and other market events.
Profile of a floating holiday
Good Friday is an unusual market holiday in that it moves around the calendar—as early as March 24 or as late as April 25 over the past six decades—so it may seem unlikely the stock market would exhibit any of the "seasonal" tendencies around it that some traders look for around fixed-date holidays like Memorial Day and Labor Day.
Nonetheless, since 1960 the week before Easter has been, on average, a little stronger than the week after it. Some highlights:
1. The SPX's average gain in the four trading days before Good Friday was 0.8%—more than three times as large as its average gain (0.25%) in the full five-day week after Easter.
2. The SPX's strongest day the week before Easter was Thursday (immediately before Good Friday), which was up 68% of the time with an average return of 0.4%.
3. The Monday after Easter was a down day 56% of the time and had an average return of -0.2%.3
But when Easter was in April (51 of the past 62 years), the week after it was slightly more bullish.
Click here to log on to your account or learn more about E*TRADE's trading platforms, or follow the Company on Twitter, @ETRADE, for useful trading and investing insights.
---
1 CNBC.com. Key people from the Fed spooked the markets—here's what they said. 4/6/22.
2 CMEGroup.com. 4/8/22.
3 Reflects S&P 500 (SPX) daily closing prices, March 1960–May 2021. Supporting document available upon request.
What to read next...
03/31/22
Big print on the options tape as stock attempts to sustain bounce off retracement level.
---
03/30/22
What do traders typically look for when using an options calendar spread?
---
03/29/22
Will options traders get on board as tech stock tests technical level after five-month correction?
---