Appetite for options
QSR had unusually high options volume Wednesday—mostly calls
Stock has consolidated since rallying after earnings in early August
Breakout potential? Traders need to account for volatility and time factors
Early Wednesday morning, Restaurant Brands (QSR), owner of multiple fast and casual franchises (Burger King, Popeye's Chicken, and Tim Horton's, among others) had total options volume close to seven times its daily average: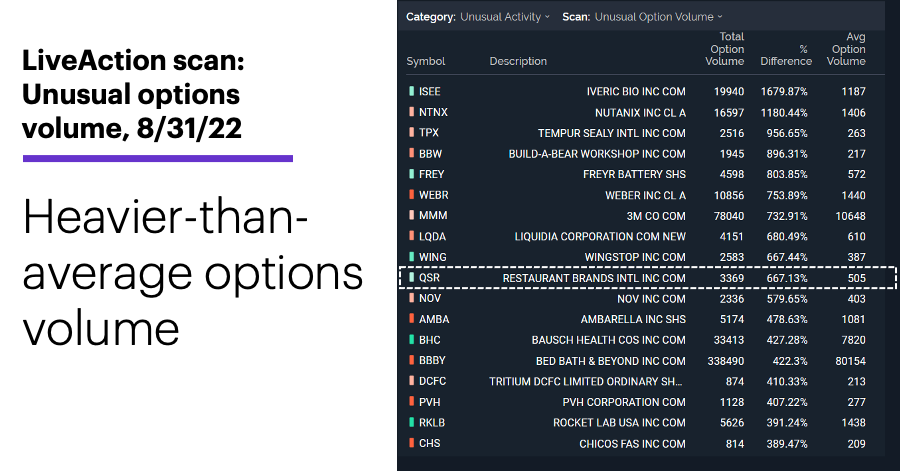 Source: Power E*TRADE. (For illustrative purposes. Not a recommendation.)
---
Also, QSR was near the top of scans for unusual call volume and high call-put ratios, with call volume nearly 15 times average in the first hour or so of trading. But unlike many of the other stocks on these lists, QSR hadn't just released earnings, or wasn't about to do so—a common driver of options volume.
Heavy call volume can often appear to be a bullish development to the casual observer, since calls can gain value when a stock rallies, and can also be converted into long stock positions. But aside from the reality that every call purchase has a seller on the opposite side of the trade (i.e., someone who may not share the bullish outlook of a trader who bought a call to gain from a stock's potential upside), there's also the possibility that heavy call volume is the result of traders getting out of existing positions, or that the calls are part of multi-legged strategy that isn't bullish.
In this case, the call trades responsible for Wednesday's volume surge were in the September $57.50 and $60 calls—the first strike prices immediately above and below where QSR was trading yesterday morning (roughly $59–$59.50):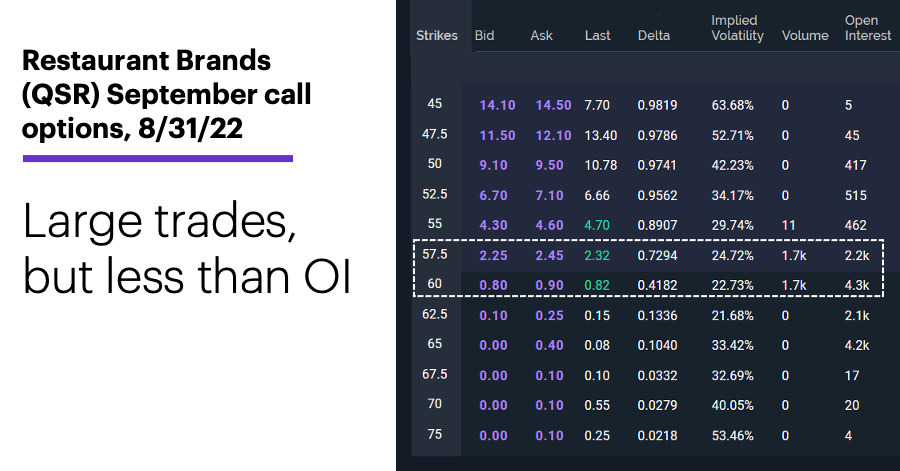 Source: Power E*TRADE. (For illustrative purposes. Not a recommendation.)
---
As always, open interest (OI) is one of the keys to unlocking what unusual options volume may represent. Rising OI means traders are establishing new positions, declining OI means they're liquidating positions. In this case, the existing OI—which always reflects the number of open positions at the end of the previous day—in both contracts was greater than the volume. That means it's possible at least some of Wednesday's trades could have been liquidations. But if today's OI levels are higher than they were on Wednesday, it will suggest the opposite.
QSR's price chart shows the stock has been consolidating since rallying after its August 4 earnings beat: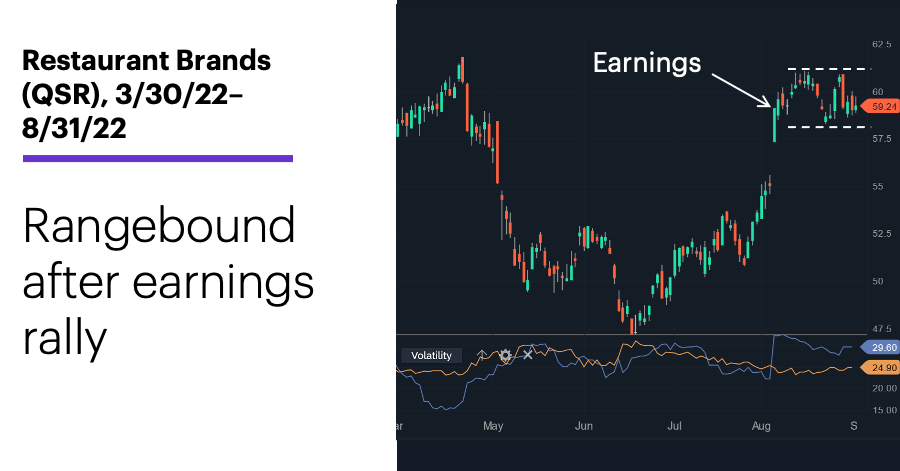 Source: Power E*TRADE. (For illustrative purposes. Not a recommendation.)
---
Regardless of any questions surrounding yesterday's options activity, pauses such as this can encourage some traders to think about a "long volatility" trade (e.g., a long straddle or strangle) with the potential to profit from a breakout move in either direction. As "S&P range highlights "strangle hurdle" illustrated, such positions can sometimes be profitable, but they must be selectively executed and carefully managed to avoid the losses that can occur because of declining volatility and time decay.
Today's numbers include (all times ET): Challenger Job-Cut Report (7:30 a.m.), Jobless Claims (8:30 a.m.), Productivity and Costs (8:30 a.m.), S&P Global Manufacturing PMI (9:45 a.m.), ISM Manufacturing Index (10 a.m.), Construction Spending (10 a.m.), EIA Natural Gas Report (10:30 a.m.).
Today's earnings include: Ollie's Bargain Outlet (OLLI), Campbell Soup (CPB), G-III Apparel (GIII), Ciena (CIEN), Broadcom (AVGO), Lululemon (LULU).
Friday's numbers include (all times ET): Employment Situation (8:30 a.m.), Factory Orders (10 a.m.), Vehicle Sales (time undetermined).
Friday's earnings include: Hurco (HURC).
Click here to log on to your account or learn more about E*TRADE's trading platforms, or follow the Company on Twitter, @ETRADE, for useful trading and investing insights.
---
What to read next...
08/30/22
September has had its share of surprises for stock traders and investors.
---
08/29/22
Despite another inflation downtick, stocks slip as traders react to perceived Fed hawkishness.
---
08/23/22
School is in session, and the S&P 500 started a new week with a pop quiz.
---