Hit the gas or pump the brakes
GM announced entry into online used-car marketplace
Carvana (CVNA) rebounded after 6% intraday sell-off
Shares down more than 50% from August highs
One of the perennial lessons of the markets is that it's easier for a big company to announce it's getting into a new business than it is to dominate that business. The corollary is that stocks sometimes overreact to such announcements.
For example, when Amazon (AMZN) announced it was getting into the prescription delivery business in November 2020, shares of Walgreens (WBA) and CVS (CVS) reacted the way most people would expect them to—with double-digit percentage losses in the first few days after the news, and WBA hitting a nearly eight-year low. Such episodes came to be known as the "Amazon Effect."
The epilogue to the story is that both stocks have actually outperformed AMZN since then: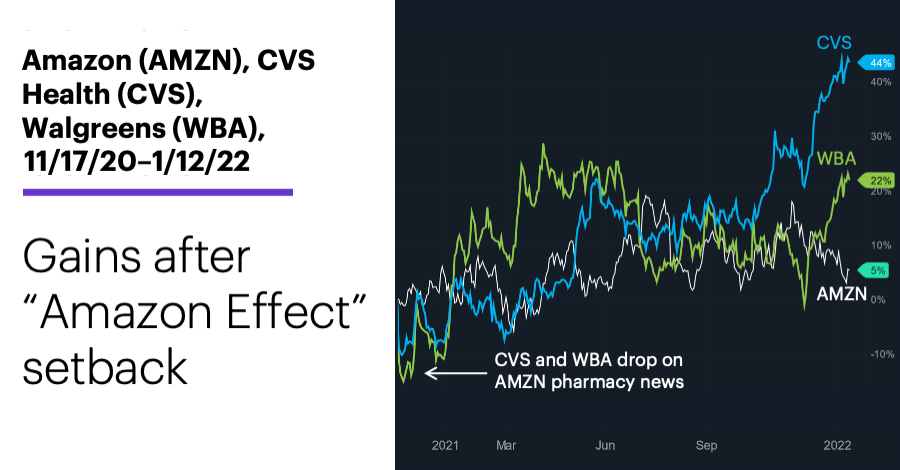 Source: Power E*TRADE. (For illustrative purposes. Not a recommendation.)
---
Although this is an admittedly apples-to-oranges comparison—pharmacy is a sliver of AMZN's business, after all, and its stock has outperformed CVS and WBA by a huge margin on a longer-term basis—the takeaway is that CVS and WBA both recovered relatively quickly from their Amazon-induced headaches.
Another notable episode occurred in May 2018 when shares of Match Group (MTCH) plunged 22% in one day after Meta (FB) announced it was getting into the online dating business. Again, though, MTCH began to rebound almost immediately, and since then has gained almost twice as much as FB.
Every situation is different, of course, but traders may have noticed a similar dynamic yesterday when online used-car platform Carvana (CVNA) slid more than 6% intraday in the wake of General Motors' (GM) announcement that it was launching its own used-vehicle marketplace, CarBravo.1 While that's not competition to take lightly, some traders may question whether it merits a sharp or sustained sell-off in CVNA shares.
For starters, Carvana has already experienced a significant discount in recent months after a tenfold rally from March 2020–August 2021, during which the company joined the Fortune 500.2 Interestingly, the stock's subsequent downturn unfolded even as vehicle prices—especially used cars—continued to skyrocket. In fact, yesterday's Consumer Price Index (CPI) release cited used car and truck prices as two of the primary contributors to the inflation gauge's nearly 40-year high annualized increase of 7%.3
Carvana bounced off its intraday low yesterday, although it still closed at its second-lowest price since September 2020 (see inset):
Source: Power E*TRADE. (For illustrative purposes. Not a recommendation.)
---
Was CVNA's 2020–2021 rally overdone? We can answer "yes" only in retrospect, since the stock is currently more than 50% below its 2021 highs. But just as it would have been impossible to know the answer to that question one year or six months ago, it's similarly impossible to know now whether CVNA has overshot to the downside, or has simply priced in a return to a "more normal" car market as the supply chain issues (specifically, chip shortages) that have disrupted the entire auto industry eventually work themselves out.
Along with the near-term trajectory of the broad market, those are the types of issues—not headlines of a new competitor—that are likely to dictate CVNA's longer-term course. But whenever some version of the "Amazon Effect" appears in the market, it's always interesting to see how the stocks involved perform after their initial reactions.
Today's numbers include (all times ET): Producer Price Index, PPI (8:30 a.m.), Weekly Jobless Claims (8:30 a.m.).
Today's earnings include: Taiwan Semiconductor (TSM), Delta Air Lines (DAL).
Click here to log on to your account or learn more about E*TRADE's trading platforms, or follow the Company on Twitter, @ETRADE, for useful trading and investing insights.
---
1 Reuters. GM challenges Carvana with CarBravo online used car marketplace. 1/11/22.
2 Fortune. How did Carvana make it onto the Fortune 500? Unconventional values—and car vending machines. 6/2/21.
3 U.S. Bureau of Labor Statistics (www.bls.gov). Consumer Price Index Summary. 1/12/22.
What to read next...
01/12/22
Clean-energy stocks played a big part in Tuesday's rebound, including some with unusual options activity.
---
01/11/22
Someone has an exceptionally large options position in this small-cap industrial stock.
---
01/10/22
Stocks retreat amid tepid economic data and hawkish Fed stance.
---