Airlines cruise into earnings season
S&P airline index recently broke out above resistance
Initial industry earnings strong, more numbers rolling in
Earnings volatility can bring opportunity along with risk
Some traders may have needed to lock their tray tables and put their seat backs in the upright position yesterday, because airline stocks were definitely in lift-off mode—a strong day in what has been, so far, a strong summer.
And the industry is about to let loose a flood of earnings.
As of yesterday, airlines were up around 7.3% over the past month, and more than 5% over the past five days—a big reason the industrial sector has recently been the strongest segment of the S&P 500 (SPX). The SPX airlines index broke out of a multi-month consolidation in recent days, a move shown in microcosm by United Continental (UAL):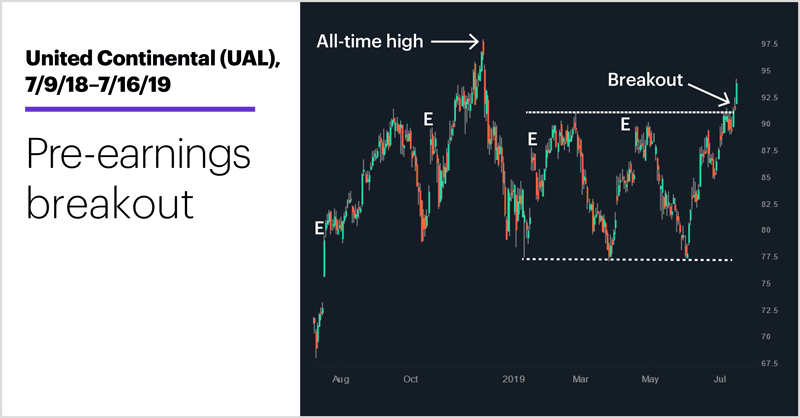 Source: Power E*TRADE
---
This snapshot was taken roughly halfway through yesterday's trading session when UAL was up around 3% on the day; the company was scheduled to release its numbers after the close.
The industry's recent bullishness may have surprised some market watchers, given the ongoing issues surrounding Boeing's 737 MAX 8 airliner. But as noted in "Unlinking a chain reaction," as disruptive as the grounding of these planes may have been, they represented relatively small portions of most major airlines' fleets.
With a half-dozen more earnings announcements scheduled for next week (see list at end of article), airline traders will no doubt be hoping other carriers can emulate the performance of Delta (DAL), which released huge numbers last Thursday, topping estimates and, probably more importantly, raising its profit outlook.1 The stock has since blasted to a new all-time high.
But with airlines already several weeks into their current rally, even the most bullish traders will take into account the volatility that often accompanies earnings and the importance of not chasing a hot market, which brings us back to the UAL chart. The stock's performance after its four most recent earning releases ("E") has followed a general pattern:
1. An initial surge after earnings (the stock gapped higher each time).
2. A pullback before the stock turns higher.
In other words, even if UAL's numbers get a warm reception from the market, recent post-earnings performance suggests the stock could soon give back all or most of that move even if it ultimately trades higher—in which case some traders could be looking for the stock to at least test its recent breakout level (around $91).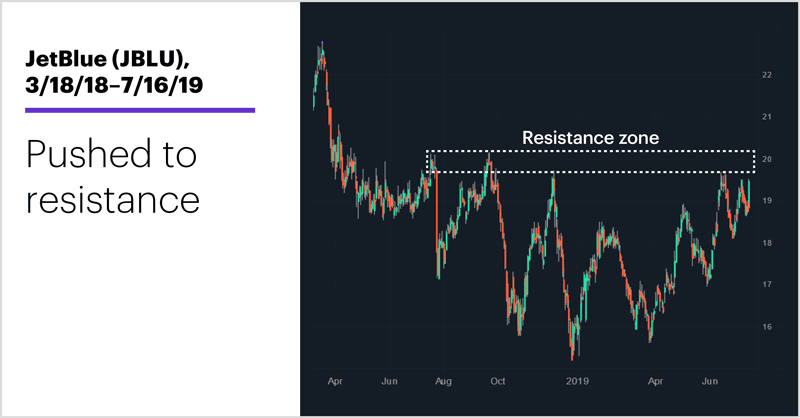 Source: Power E*TRADE
---
Unlike UAL, JetBlue (JBLU) is still knocking on the door of its conspicuous resistance level, a zone from roughly $19.50–$20.10 that encompasses the July, September, and December 2018 highs, as well last month's highs (chart above).
Also unlike UAL (and DAL), JBLU is coming off a more significant late-2019 decline, and the stock is still well off its 2015 all-time high above $27. But if it's able to clear the zone, many traders will likely notice the absence of additional technical barriers between current levels and the early 2018 highs around $23.
Buckle up. There's likely to be a lot of action in these stocks in the coming days.
Next week's scheduled airline earnings: JetBlue (JBLU) on 7/23/19; American Airlines (AAL), Southwest (LUV), SkyWest (SKYW), Spirit (SAVE), Alaska Air (ALK) on 7/25/19.
Market Mover Update: Johnson & Johnson (JNJ) topped both earnings and revenue estimates yesterday, and upped its sales forecasts on the back of strength in its pharmaceutical unit.2 After a three-day pullback, Netflix (NFLX) was quiet yesterday on the eve of today's earnings release. The stock recently appeared on a Goldman Sachs list of companies with the potential to rally 20% or more.3
Today's numbers: Housing Starts (8:30 a.m.), EIA Petroleum Status Report (10:30 a.m.), Beige Book (2 p.m.).
Today's earnings include: Alcoa Corp (AA), Bank of America Corp (BAC), Abbott Laboratories (ABT), U.S. Bancorp (USB), International Business Machines (IBM), Bank of New York Mellon (BK), eBay (EBAY), Omnicom (OMC), PNC Financial Services (PNC), Netflix (NFLX).
Click here to log on to your account or learn more about E*TRADE's trading platforms, or follow the Company on Twitter, @ETRADE, for useful trading and investing insights.
---
1 CNBC.com. Delta raises 2019 profit outlook on strong demand as rivals grapple with Boeing 737 Max grounding. 7/11/19.
2 Bloomberg. J&J Ups Sales Forecast as Cancer Drugs Drive Pharma Growth. 7/16/19.
3 TipRanks. Goldman Sachs: These 3 Stocks Have Over 20% Upside Ahead. 7/14/19.
What to read next...
07/16/19
Attention shoppers: Negative headlines sometimes translate into favorable short-term buying opportunities.
---
07/15/19
Stocks advance on dovish Fed testimony.
---
07/12/19
Beware the narrative: Headlines, sentiment sometimes mislead traders just before a market makes a move.
---