Trading the air up there
Airline stocks soared this week on vaccine news
RYAAY has been under-the-radar industry leader
Will pullback pattern dovetail with recent breakout level?
We've been down this runway before.
One of the more obvious expressions of the "vaccine euphoria" trade this week was the vertical ascent of airline stocks. Check out the following 30-minute chart of Delta (DAL), United (UAL), and Ryanair (RYAAY) and see if you can guess when traders first got a chance to act on news of the Pfizer–BioNTech vaccine success: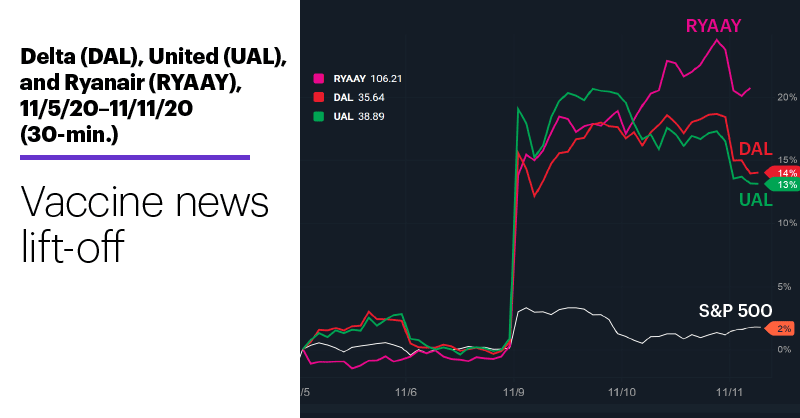 Source: Power E*TRADE
---
The math isn't difficult. The promise of widespread immunization—at some point—means the battered travel industry can envision getting back to something approaching normal. Of course, there's a lot of wiggle room in "at some point" and "approaching," but for an industry that's been more or less grounded for nine months, anything that raises the prospects of simply getting into the air is bound to be greeted with more than a little enthusiasm.
As always, there are short-term and long-term considerations to balance here. Airlines have lagged the broad market since the March lows, but as a group they were up more than 35% as of yesterday—nothing to sneeze at, even if a nice chunk of that move admittedly occurred this week. And lest we forget, airlines stocks had been stuck in a holding pattern for roughly two years before the COVID sell-off.
All of which is to say, as encouraging as the vaccine news is, even traders who see potential upside in airline stocks may nonetheless take a more cautious near-term view of this week's breakout moves. The following chart of RYAAY helps explain why: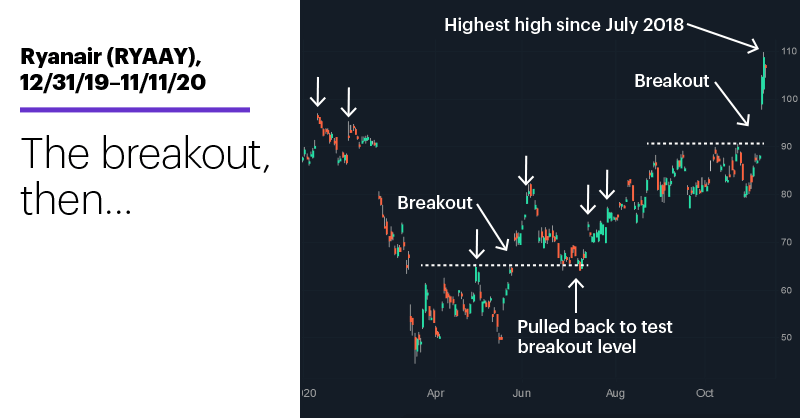 Source: Power E*TRADE
---
First, many traders may be tracking RYAAY because the Irish low-cost carrier's stock has outperformed most of its peers not just this week but for the past few years. It leaped above its pre-COVID highs on Monday and rallied to its highest point since July 2018 on Tuesday.
In addition to this week's breakout (Monday's 19% moonshot was the stock's second-biggest daily gain ever, by the way), the chart highlights the breakout of the March–May consolidation and the subsequent pullback to that breakout point in June–July. Is the stock setting up for a similar retreat toward this week's breakout level?

If a single example hardly seems compelling—and it shouldn't—the six arrows highlight other days similar to Monday: a big up day (in this case, 5% or more) that is also at least a two-week high. The stock was lower in every instance but one (May 26), and most of these events represented significant swing highs. In fact, after 94 similar days dating back to 1997, the stock was lower one week later more often than not.1
Spring 2020 may indeed turn out to be a long-term low for airline stocks, but that doesn't necessarily mean they've permanently climbed above potential turbulence. This story, like the virus story itself, isn't over. Traders who pick their spots based on solid analysis, rather than chasing prices based on emotion, are likely to enjoy a smoother ride.
Today's numbers (all times ET): Consumer Price Index, CPI (8:30 a.m.), Weekly Jobless Claims (8:30 a.m.), Jerome Powell Speaks (9:30 a.m.), EIA Petroleum Status Report (11 a.m.).
Today's earnings include: Applied Materials (AMAT), Weibo (WB), Cisco Systems (CSCO), Walt Disney (DIS), Hyliion (HYLN), Dillard's (DDS).
Click here to log on to your account or learn more about E*TRADE's trading platforms, or follow the Company on Twitter, @ETRADE, for useful trading and investing insights.  
---
1 Reflects Ryanair (RYAAY) daily prices, 1997–2020. After one week, RYAAY closed lower than the closing price of the pattern day 51 of 94 times (54%). Supporting document available upon request.
What to read next...
11/11/20
Traders may look to add digital retailer to their shopping lists—if a potential historical trend plays out again this year.
---
11/10/20
Pandemic-era winners aren't immune to sell-offs, but was Monday's disruption a warning to bulls—or an opportunity?
---
11/09/20
Stocks surge during historic election week.
---