Hard landing
Airline stocks tumbled Monday amid news of Berkshire Hathaway sales
Delta (DAL) approached March low before recovering intraday
Near-term contrarian play?
If stocks favored by a certain guy named Warren occasionally get the "Buffett bump," yesterday airlines experienced the opposite—the "Berkshire dump," after news broke over the weekend that the Oracle of Omaha was bailing out of his airline positions.1 Delta (DAL), Southwest (LUV), United (UAL), and American (AAL) all fell 7% or more intraday.
It certainly wasn't good news for a sector that was hit especially hard by the coronavirus, but that may be precisely why some short-term traders are thinking about the potential for a short-term counterreaction. After all, "news shocks" like this can sometimes trigger emotional sell-offs that are prone to quick reversals, especially if they occur near key technical levels.
For example, Delta (DAL), which was trading above $27 four days ago, tumbled 15% to $20.50 in early trading yesterday, getting to within shouting distance of its March 18 low of $19.10. By the end of the day, though, the stock had rallied around 10% off its intraday low, more than cutting its loss in half and pushing well above its opening price: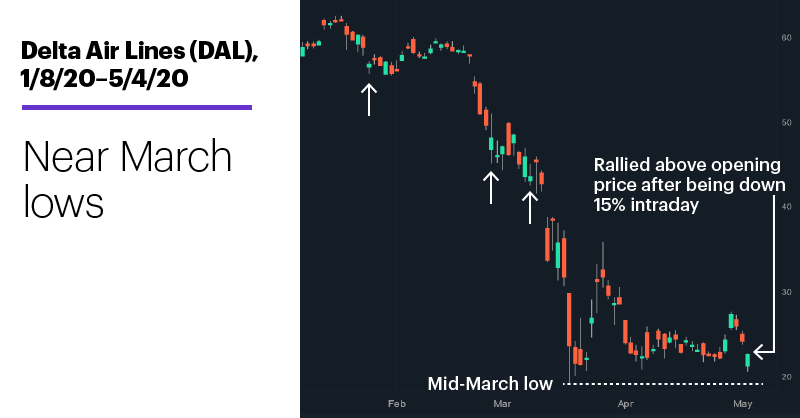 Source: Power E*TRADE
---
Could DAL and other airlines make another significant down move? Of course, and if the entire market goes into panic mode again, it stands to reason they would. However, Buffett himself noted his move shouldn't be interpreted as a sign that airlines were headed for another major decline, only that as a long-term investor he saw limited upside potential.2 That's doesn't have anything to do with the price action over the next few days or weeks.
The price chart shows yesterday's sell-off dropped the stock fairly close to the support level of its March lows. And traders who analyzed DAL's performance after making similar one-day declines in the past may have noticed the stock's tendency to rebound in the near term.    
DAL has had 20 other days like yesterday since 2007,3 and three of them occurred in the past few months—on January 27, February 27, and March 9 (marked on the price chart with up arrows). While the stock kept falling after these instances, DAL's performance after the 17 examples that didn't occur during the coronavirus sell-off was much different: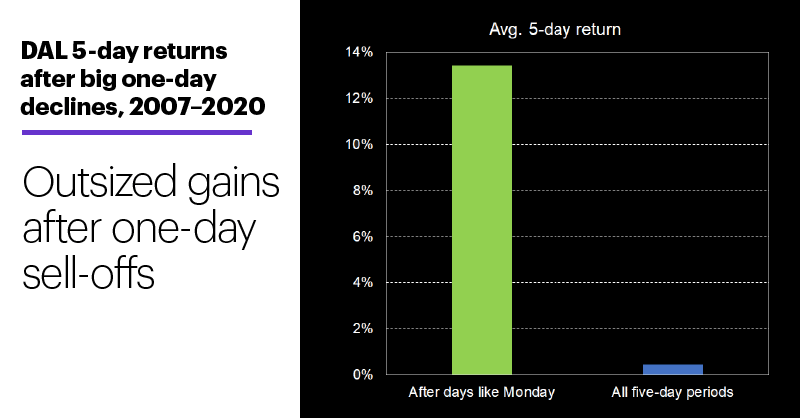 Source (data): Power E*TRADE
---
This chart shows DAL's average return for the five days after these big down days was around 13%, dwarfing the stock's overall average five-day return of around 0.05%. Also, the stock was higher five days after these big down days 13 out of 17 times.
Finally, there's the "bear-trap" angle to consider. More cautious traders may look for a stock like DAL to temporarily break below its March low—potentially flushing out panicky longs and enticing short-sellers—before reversing to the upside.
But as is always the case—and even more so in times like this—DAL and other airlines won't be able to fly alone; they'll need the tailwinds of a broad-market up move to make the most of any potential rebound.
Market Mover Update: June WTI crude oil futures (CLM0) rallied more than 7% yesterday to get back above $21/barrel—more than twice as high as last week's low.
Today's numbers (all times ET): Trade Balance (8:30 a.m.), Markit Services PMI (9:45 a.m.), ISM Non-Manufacturing Index (10 a.m.).
Today's earnings include: Activision Blizzard (ATVI), Verisk Analytics (VRSK), Electronic Arts (EA), Allstate (ALL), Beyond Meat (BYND), Occidental Petroleum (OXY), Marathon Petroleum (MPC), Walt Disney (DIS), Virgin Galactic (SPCE), LGI Homes (LGIH), Henry Schein (HSIC), Wayfair (W), Martin Marietta Materials (MLM), Pinterest (PINS).
Click here to log on to your account or learn more about E*TRADE's trading platforms, or follow the Company on Twitter, @ETRADE, for useful trading and investing insights.  
---
1 Reuters. Berkshire sells entire stakes in U.S. airlines: Buffett. 5/2/20.
2 TheStreet.com. Buffett Dumps the Airlines - How the Charts for Delta and Southwest Look Now. 5/5/20
3 Reflects DAL daily prices 5/3/2007–5/4/2020, where "large down day" is defined as a day with 1) a low below the 10 preceding days' lows, 2) a -5% or larger intraday decline, and 3) a close above the opening price. Supporting document available upon request.
What to read next...
05/04/20
Stocks pull back after posting biggest month in decades, while states look to ease lockdown restrictions.
---
05/01/20
Is specialty apparel stock bumping up a key technical level and new lockdown realities?
---
04/30/20
In wake of mega-merger, A&D powerhouse looks to escape gravity of its recent lows.
---