The view from 30,000 feet
Airlines down roughly 3x as much as SPX during virus scare
Fears of economic slowdown, travel restrictions, fueled move
Traders may see opportunities in specific names that approach key levels
In trading, "It's always darkest before the dawn" translates to "Reversals often occur when traders and investors are most afraid they won't."
In real-time, of course, it's extremely difficult to know when those moments are occurring, and it's even more of a challenge to put on a trade. But when prices reach levels that allow you to clearly define risk and potential reward, it can be easier to make an objective decision.
That's all prelude to a discussion of airline stocks, which have lost altitude at a much faster rate than most areas of the market in recent weeks. Since February 12, airlines are down roughly 30%, while the S&P 500 (SPX) is off around 11%.
Delta (DAL) has been fairly representative of the group, with yesterday's 8% intraday sell-off dropping the stock below $44.50 by the middle of the day, off nearly 25% from its February 12 close: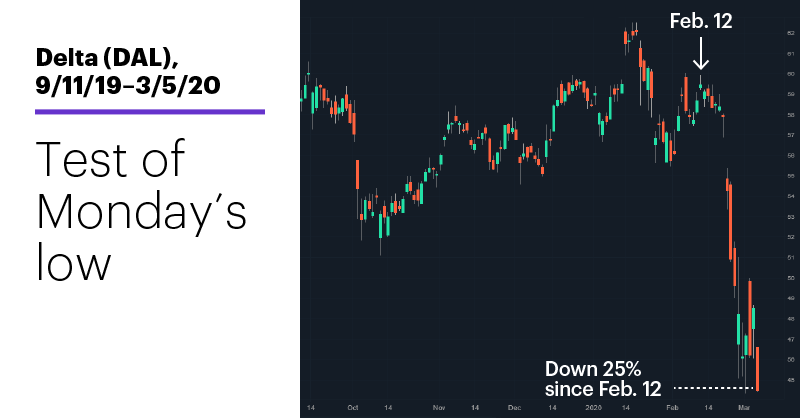 Source: Power E*TRADE
---
Yesterday's dive also pushed DAL more or less to Monday's low tick of $44.33—a virtual test of the stock's personal "initial coronavirus sell-off" low that has so far eluded the broad market. (Yesterday, the SPX was still more than 5% above last Friday's low.)
While that may prompt some traders to simply say "Look out below!" the weekly chart below shows DAL's recent lows fall in the support zone that has launched three previous 25%-plus rallies over the past three years—April and September 2017, and December 2018: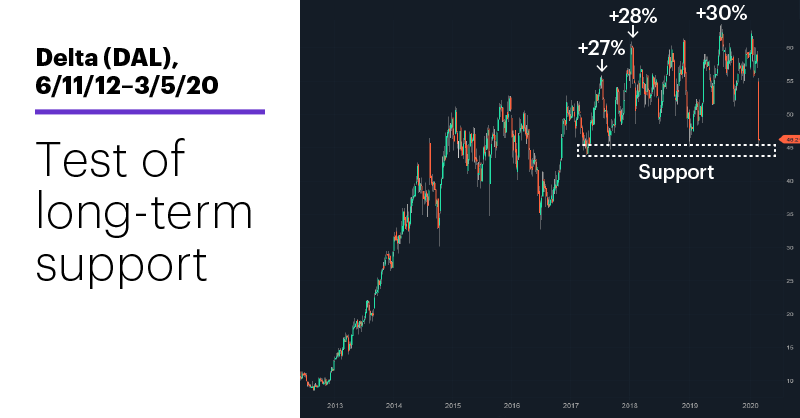 Source: Power E*TRADE
---
That doesn't mean "Look out below!" is off the table, but it does mean traders who think the worst of the coronavirus is in the rear-view mirror—and that beaten down industries like airlines could snap back with extra momentum on good news—may be probing the long side in specific stocks, like DAL, that have retreated to key technical levels.
Prices in these situations have to be given leeway to fall to lower lows on a "test." Support is never a single line in the sand, it's a general level, and in this case, the lowest of the swing lows in DAL's zone (April 2017) is $43.81. The stock could easily drop—sharply—below this level even if it eventually turns higher. On Monday, for example, DAL traded more than 2% below last week's low before pivoting higher.
Experienced traders know markets like to inflict as much pain as possible before they reverse—head fakes at key technical levels are one way to do that. But traders who are prepared to weather a certain amount of adverse price action, while committing to limiting losses at a predetermined level, can sometimes find themselves in good positions.
Biden bump? Sure, it may have only lasted a day, but if you doubt claims that Joe Biden's Super Tuesday rebirth helped fuel Wednesday's stock surge, consider this: Health care was the strongest S&P 500 sector on Wednesday, and health provider UnitedHealth Group (UNH) posted its biggest daily gain (+10.7%) since 2008.
Today's earnings include: National Beverage (FIZZ), Burlington Stores (BURL), Tech Data (TECD), Kroger (KR), Costco Wholesale (COST), Marvell Technology (MRVL).
Click here to log on to your account or learn more about E*TRADE's trading platforms, or follow the Company on Twitter, @ETRADE, for useful trading and investing insights.  
---
1 The Wall Street Journal. Stocks Rally as Super Tuesday Results Buoy Health Insurers. 3/4/20.
What to read next...
03/05/20
There may be more than one way to play potentially overdone market swings.
---
03/04/20
What did Monday's mega-bounce say about the market's odds of a quick rebound from the coronavirus sell-off?
---
03/03/20
Some traders looking for a long-side edge may find it in put options.
---