Takeoff or descent?
AAL options volume, trade activity heavy on Thursday
Airline stocks in holding pattern since March
AAL trading around long-term technical level
Trading in American Airlines (AAL) yesterday showed how unusual options activity can call attention to potentially interesting developments in a stock's price action.
In truth, as far as "unusual" goes, AAL's options activity was fairly low key. It appeared on the LiveAction scan for high total option volume, but it wasn't close to the top of that list (although it beat out a few other trader favorites):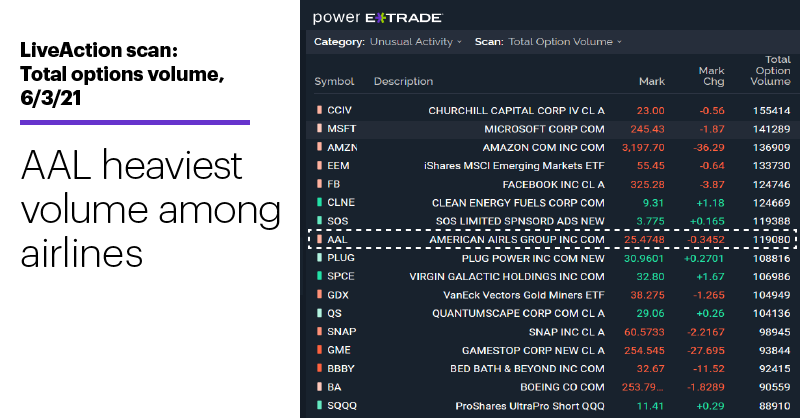 Source: Power E*TRADE
---
But AAL also landed on the scan for largest number of trades, which suggests that not only was there heavy volume, there was widespread trader participation, as opposed to just a handful of large trades. Also, it was the only airline to land on either list.
The following chart shows one reason AAL may have been getting more attention than other airlines stocks. Although it hasn't been the biggest gainer off last year's lows, it's been one of the strongest airline stocks during the most recent leg of the industry's rally, edging out its two-nearest competitors by a little more than 10 percentage points: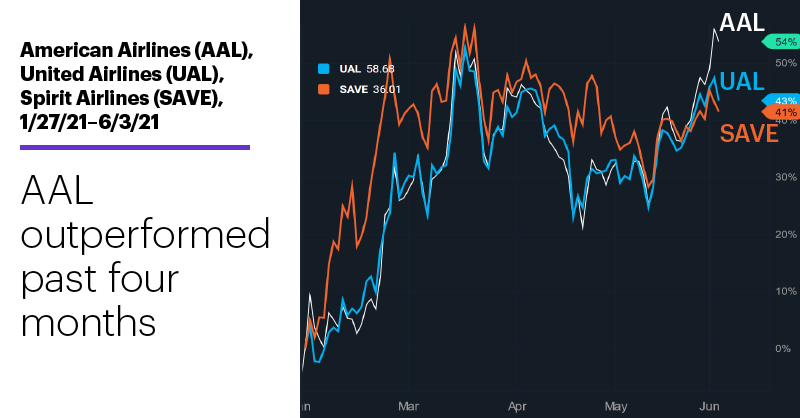 Source: Power E*TRADE
---
Overall, airlines have been in a bit of a holding pattern since hitting 13-month highs in mid-March, a point that may carry more weight with some traders in light of AAL's longer-term price history. A weekly chart shows the stock is now trading around a long-term technical level (roughly $24–$26) that acted as support in 2016 and 2019 and—since prices pulled back from it in March—has functioned as resistance: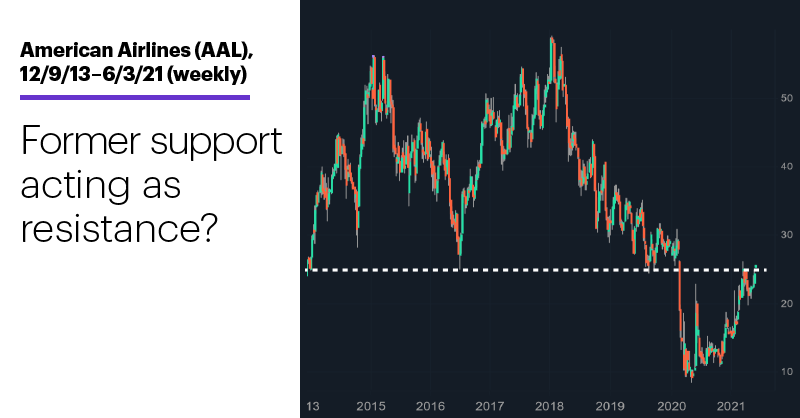 Source: Power E*TRADE
---
The chart also highlights another aspect of the airline story. While these stocks have certainly participated in the reopening trade, fueled by expectations of a recovery in a lockdown-battered industry, airlines had been trading sideways to lower for two years before last year's COVID sell-off, and AAL had been one of the weaker performers, falling more than 50% between January 2018 and January 2020.
Whether or not AAL and other airlines can gain additional altitude in the near-term remains to be seen, but options activity may provide additional insight into which stocks may be in play, and which way traders may be leaning.
Market Mover Update: As of Thursday, Seer (SEER) was up around 15% since testing its all-time how on Tuesday (see "Stock low, options positions high").
Today's numbers include (all times ET): Jerome Powell speaks on "Central banks and climate change" at the Green Swan 2021 Global Virtual Conference (7 a.m.), Employment Report (8:30 a.m.), Factory Orders (10 a.m.).
Click here to log on to your account or learn more about E*TRADE's trading platforms, or follow the Company on Twitter, @ETRADE, for useful trading and investing insights.
---
What to read next...
06/03/21
A real estate stock breaks out: Missed opportunity or signal for future setup?
---
06/02/21
Traders may have started paying more attention to silver (and silver stocks) recently, as the "other precious metal" has again been outperforming gold.
---
06/01/21
Stocks close out May on up note, head into June with two-week win streak.
---