Airlines queue for earnings
Several airlines scattered among flood of early-season bank earnings
DAL in consolidation leading up to Thursday's release
BABA bounces back after antitrust settlement
As is the case at the outset of every earnings season, all eyes will be on big banks in the next few days. But they aren't the only companies releasing numbers this week—airlines also figure prominently, with American (AA), Delta (DAL), and United (UAL) all scheduled to post their Q1 results in the next five trading days.
While most airline stocks have battled back admirably from last year's COVID sell-off lows, most are also still well below their pre-pandemic highs. Delta, for example, is still more than 20% below its January 2020 high, despite having rallied more than 150% off its May 2020 low of $19.19: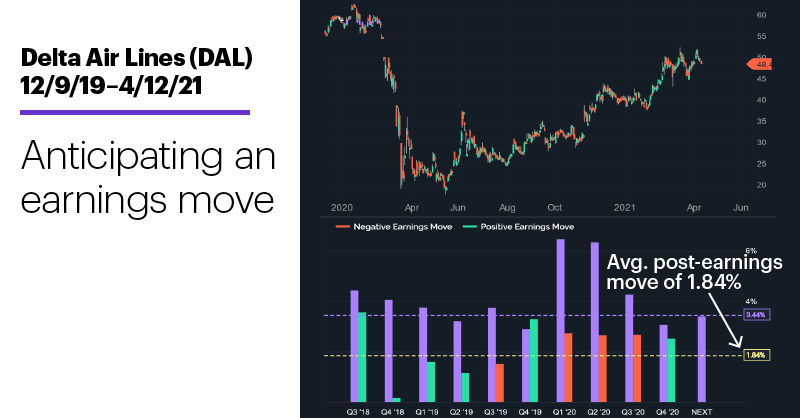 Source: Power E*TRADE
---
The stock has also been stuck in a choppy trading range since late February, and has lagged many other airline stocks so far this year. Will this week's earnings provide the catalyst for a move out of the stock's seven-week consolidation and a challenge to its old highs? One possible way to address that question is to listen to what the market is "saying." The bottom half of the chart, which shows DAL's performance on earnings days dating back to Q3 2018, suggests that traders looking for an explosive price move on Thursday could be disappointed.
As of yesterday, the options market was pricing in a 3.4% post-earnings move (final purple column)—which is pretty much in line with what the market has forecasted, on average, historically (purple dashed line). But as the actual earnings-day results show (green and red columns), DAL's post-earnings moves have been smaller—1.84%, on average (yellow dashed line), with gains after the six of the past 10 announcements, and losses after four. (DAL's average five-day move after an earnings announcement is +0.8%.1)
The longer-term picture is another story, of course, but if DAL closes on Wednesday in the same vicinity it traded on Monday afternoon (around $48.50), it would take an 8%-plus earnings-day move—more than twice the size of the market's current estimate—to break it out of the top of its consolidation ($52.38).
(Anti)trust and reconciliation. Given it agreed to a record $2.8 billion fine for antitrust violations, and issued a statement that it accepted the penalty "with sincerity and will ensure its compliance with determination,"2 Monday seems like it would have fallen into the "bad day" category for Chinese e-tailer Alibaba (BABA).
But the following chart shows that wasn't the case, as BABA shares jumped more than 8% early yesterday morning:
Source: Power E*TRADE
---
While BABA had outperformed the S&P 500 (SPX) by a wide margin from June to late-October 2020, the stock began to turn lower (ultimately retreating as much as 30%) while the broad US market embarked on new leg of its longer-term uptrend.
But as Morgan Stanley analysts noted, "Despite the record fine amount, we think this should lift a major overhang on BABA and shift the market's focus back to fundamentals."2
It was just the most recent and high-profile example of the market principle that, while uncertainty typically brings volatility, resolution often brings relief—and, as BABA illustrated yesterday, a relief rally.
Click here to log on to your account or learn more about E*TRADE's trading platforms, or follow the Company on Twitter, @ETRADE, for useful trading and investing insights.
---
1 StreetInsider.com. Delta Air Lines Inc. (DAL) Earnings. 4/12/21.
2 MarketWatch.com. Alibaba shares jump after record antitrust fine by China. 4/12/21.
What to read next...
04/12/21
Rotation, what rotation? The Nasdaq 100 is back to all-time highs.
---
04/09/21
What are traders seeing in gold's recent rebound?
---
04/08/21
"Hybrid" pharma stock's consolidation may have breakout traders testing the momentum waters.
---