Call buyers board aircraft stock
Heavy call volume in aircraft leaser ATSG on Monday
Amazon acquired stake in company last month
Stock rallied Monday after hitting 50-week low on Friday
While the "Amazon effect" refers to the window-rattling volatility that has occasionally afflicted the stocks of companies that AMZN announces its intention to compete with (arguably more myth than reality), some unusual options activity on Monday highlighted a move in a stock with a different Amazon angle.
In early trading, aircraft leasing and cargo transport company Air Transport Services (ATSG) had call options volume around five-and-a-half times its average level: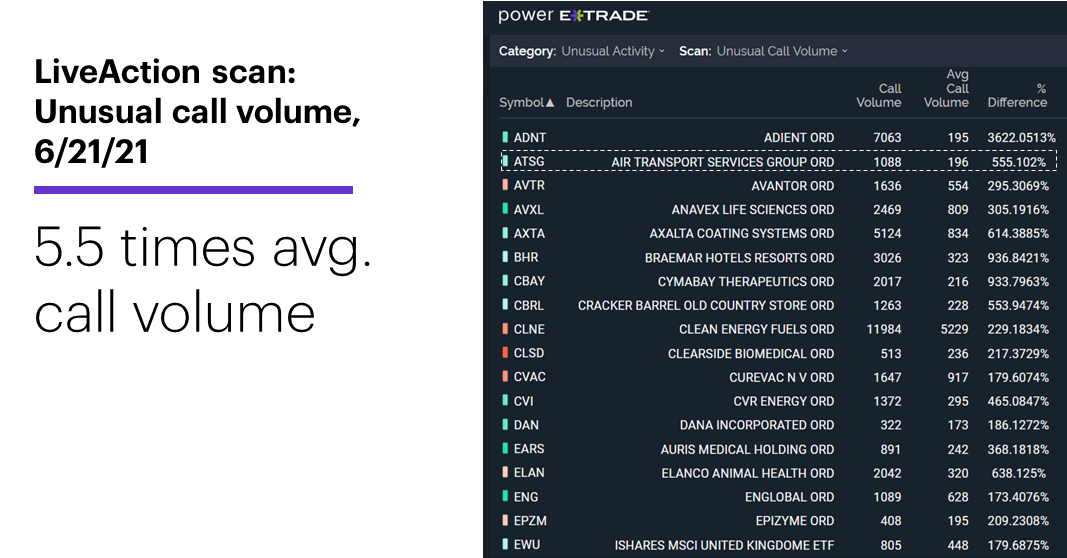 Source: Power E*TRADE
---
One hour into the day, around 1,100 calls had traded hands—which may not sound like much until you compare it to the number of ATSG put trades, which stood at…zero. (And was still zero an hour later. Around midday, a few had traded, resulting in a call-put ratio of 395:1.)
Here's a quick breakdown of where the most notable call trades and positions were:
1. Most of the volume was in the out-of-the-money (above the market) July $25 calls (392 contracts) and August $25 calls (484 contracts).
2. The biggest piece of the open interest pie was 1,700 contracts in the September $30 calls.
There was no conspicuous news about ATSG crossing the wire, although the company made some headlines in March when news emerged that Amazon (AMZN) had taken a minority stake in it.1  Some reports estimate that Amazon's ownership position in ATSG, which is pegged at around 20%, could eventually double as the online-shopping leader pushes to expand its delivery fleet to keep up with online shopping volume that soared over the past year.2
Meanwhile, ATSG shares, which last Friday tumbled to their lowest level ($22.52) since July 2, 2020, were up nearly 3% in early trading to $23.55:
Source: Power E*TRADE
---
Interestingly, while a bigger, tighter relationship with AMZN sounds like a recipe for a stock rally, ATSG got only a short-lived boost immediately after the March 8 news. As of yesterday, the stock was down roughly 26% from the intraday high it tagged the day after the announcement, and 28% below the all-time high of $32.43 it hit on the first trading day of the year.
Traders can never read too much into a single day's activity, and there's no way to know whether yesterday's call volume suggested buyers felt the stock had dropped enough, at least for now. On a related note, implied volatility (IV) in the July, August, and September options was running 14 percentage points above its 30-day average, and seven percentage points higher than the 30-day historical volatility—conditions that may suggest options traders are anticipating a little more movement in ATSG's stock over the next month than they've seen over the past month.
That doesn't say anything about the direction of that movement, of course, but traders are always faced with assembling many puzzle pieces to develop their picture of a market.
Market Mover Update: J.B. Hunt Transport (JBHT) turned higher yesterday after a two-day, 5.2% sell-off (see "Shipping stock delivers options volume"). Sunrun (RUN) gave back some of last week's breakout move, falling more than 6% intraday on Monday (see "Sun breaks through clouds").
Many commodities kicked off the week with rallies, including two that have made notable down moves recently: July copper (CLN1) closed higher for the first time in six days, while July lumber's 4%-plus rally (LBSN1) helped the market avoid its 25th lower close in the past 30 days.
Today's numbers include: Existing Home Sales (10 a.m.).
Today's earnings include: Korn Ferry (KFY), Cognyte Software (CGNT).
Today's IPOs include: TransCode Therapeutics (RNAZ), Full Truck Alliance (YMM).
Click here to log on to your account or learn more about E*TRADE's trading platforms, or follow the Company on Twitter, @ETRADE, for useful trading and investing insights.
---
1 CNBC.com. Amazon spends $131 million to take minority stake in air cargo contractor ATSG. 3/8/21.
2 AviationPros.com. ATSG Emerges Stronger from COVID with Amazon Investment. 5/3/21.
What to read next...
06/21/21
Markets recalibrate in the wake of the central bank's new line on inflation and interest rates.
---
06/18/21
The question now is, what do traders think of the longer-term forecast?
---
06/17/21
Is this stock's recent volatility reading a warning of more selling to come, or a contrarian rebound signal?
---