Following up on a year like no other
2020 truly an exceptional year for stocks
The magnitude of the market's V-shaped rebound has few parallels
Similar events that do exist paint a mixed picture
What can you expect after years like 2020?
It's a difficult question to answer, since 2020 was, in many respects, truly a year without precedent.
When the S&P 500 (SPX) closed at a new record high of 3,699.12 on December 4, it marked a 60.5% gain from March 20—the index's largest-ever gain in a 37-week period. In fact, there have only been a few other 37-week rallies larger than 50% over the past six decades, and as soon as you look for even marginally comparable rallies that were also preceded by eight-week, 30% sell-offs, like this year's…well, the list doesn't get any longer.
But that doesn't mean there aren't any precedents. It's an interesting thing: When you look at the SPX's 50 biggest 37-week moves since 1957, which ranged from 32.6% to this year's 60.5%, you find these rallies occurred in just a relative handful of years (1971, 1975, 1980, 1983, 1986, 1987, 1999, 2009, and 2010), and were often part of the initial reversals off what turned out be significant long-term lows.
For example, the following chart shows two of these 37-week moves from the 1970s—the 38.5% rally that followed the March 1970 low, and the 40% rally that emerged after the 1973-74 bear market low: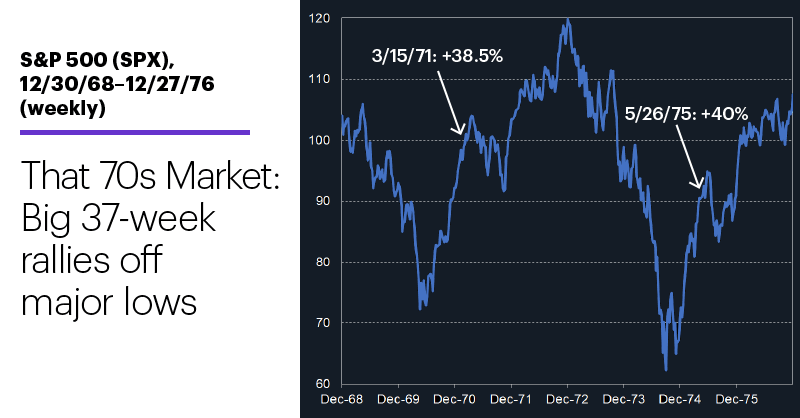 Source (data): Standard & Poor's
---
The chart highlights two key characteristics common to many of these moves:
1. Although both rallies kept going a little while longer after hitting the 37-week mark, they were interrupted by fairly significant pullbacks within a couple of months.
2. However, in both cases the market also resumed its uptrend and posted significant gains over the next year or so.
The numbers support this general picture: While the SPX's median six-month return is around 4.5%, its median gain after the big 37-week rallies was only 0.10%. A full year later, though, its median return was a little above 8%, which is not too far removed from its long-term average.1
As always, there were exceptions. The SPX barely paused after rallying more than 34% in the 37 weeks ending February 18, 1983 (the real beginning of the 1980s bull market), for example, and a year after its 1987 rally the index was still in the red.
But overall, the market's typical behavior after these events may be, on the whole, relatively encouraging for bulls: Stocks often kept climbing after rallies like the one that unfolded this year, but they rarely did so without experiencing some significant setbacks in the process.
Click here to log on to your account or learn more about E*TRADE's trading platforms, or follow the Company on Twitter, @ETRADE, for useful trading and investing insights.  
---
1 Reflects S&P 500 (SPX) weekly price data, 1957–2010; "Six-month" and "one-year" changes represent 26-week and 52-week closing price moves, respectively. Supporting document available upon request.
What to read next...
12/24/20
How has the stock market performed in the first years of first-term presidents?
---
12/23/20
You never know where the big moves will come from in the futures market.
---
12/22/20
The holidays may be here, but over the years, stock market bulls have tended to stay on the clock.
---