After the storm
NFLX blew past earnings estimates last week
Stock is up more than 9% from September low
Recent pullback represents test of near-term trendline
Netflix (NFLX) has had a lot of plot twists the past few days.
After releasing earnings last week that crushed estimates—$1.47/share vs. $1.04 forecasted1—the market's initial reaction was perhaps what you'd expect; NFLX shares, which spiked as much as 11% in after-hours trading, jumped nearly 8% early on Thursday to their highest level since August.
But the chart below also shows the stock retreated intraday to close in the lower portion of the day's range (up just 2.8%), and dropped 6.2% on Friday. Yesterday began with more downside follow-through, but shares stabilized to trade up more than 1% intraday: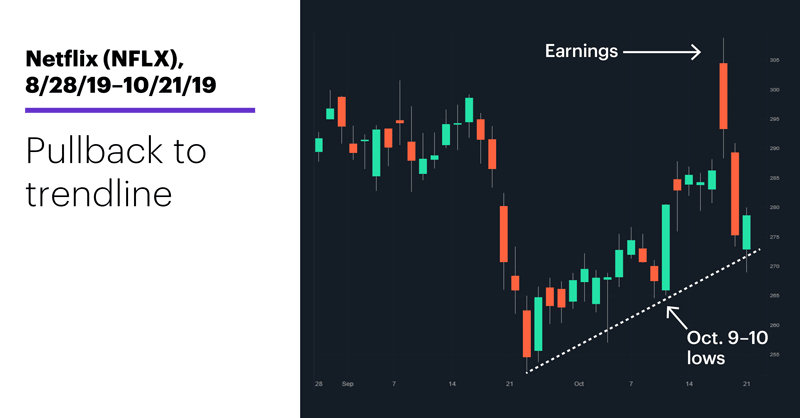 Source: Power E*TRADE
---
Looking past the big earnings beat, the Thursday–Friday reversal may have been the product of several factors, including a natural correction of possibly overdone initial buying, the digestion of lower-than-expected domestic subscriber numbers, and the reality of increased competition.2
And while some analysts have lowered their 12-month targets for the stock, "lowered" is relative. The TipRanks average target is $377.39,3 around 36% above where the stock was trading yesterday. (Goldman Sachs, for one, reiterated its $400 target and buy rating shortly after last week's earnings.4)
For many short-term traders, though, the interesting thing about the stock's recent pullback is that prices pivoted to the upside yesterday after shares reached the representative trendline connecting the September–October lows. One of the most basic definitions of an uptrend is a series of higher lows and higher highs, which NFLX has been doing since hitting its year-to-date low of $252 on September 24 (the stock is up around 9.5% since then).
Now that the smoke has cleared after earnings, some traders may see a stock that has rallied off a longer-term low and pulled back to the vicinity of a short-term uptrend that has already supported two rebounds this month. The most cautious of these traders may see a breach of yesterday's low as a bearish flag, others would see the uptrend as intact until the stock violates the October 9–10 lows, and still others would be willing to see the stock test its September low.
Any which way, it's a matter of determining what scenario would negate the recent rebound, not whether one exists.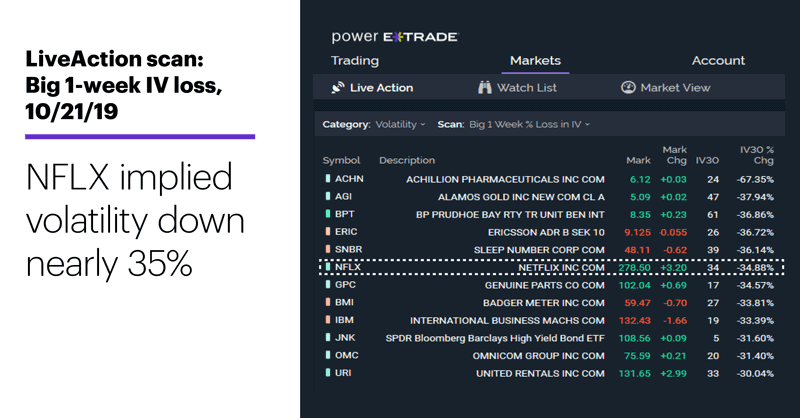 Source: Power E*TRADE
---
Another aspect of putting earnings in the rearview mirror is that NFLX options (especially calls) may have become a bit more affordable. The LiveAction scan above shows NFLX implied volatility (IV) is down almost 35% from its a level a week ago, and because lower IV typically translates into lower options prices, traders interested in bullish NFLX option plays may find calls much cheaper than they were last week.
There could be a lot of twists and turns on the way to reaching analyst price targets in the long term. But the stock's performance the next few days around its recent lows may help determine whether traders are engaged with the short-term bullish storyline.
Market Mover Update: After pulling back to its recent breakout level on Friday, ASML (ASML) jumped more than 2.5% yesterday (see "Shovel-ready stocks?")
Many of yesterday's earnings announcements were warmly embraced by the market, but none got a bigger hug than PetMeds Express (PETS), which shot up as much as 38% intraday and reached its highest level since November 2018.
Today's numbers (all times ET): Existing Home Sales (10 a.m.).
Today's earnings include: JetBlue (JBLU), Biogen (BIIB), McDonald's (MCD), Chipotle (CMG), Procter & Gamble (PG), United Technologies (UTX), Lockheed Martin (LMT), PulteGroup (PHM), Meritage Homes (MTH), Snap (SNAP), United Parcel Service (UPS), Teradyne (TER).
Click here to log on to your account or learn more about E*TRADE's trading platforms, or follow the Company on Twitter, @ETRADE, for useful trading and investing insights. Online stock, ETF, and options trades1 are now commission-free.
---
1 StreetInsider. Netflix (NFLX) Earnings. 10/21/19.
2 MarketWatch. Opinion: Netflix finally admits the obvious: Competition from Apple and Disney will hurt. 10/19/19.
3 TipRanks. NFLX Netflix Analyst Price Targets. 10/21/19.
4 StreetInsider. Netflix (NFLX) Revenue Growth Expands Goldman Reiterates $400 PT. 10/17/19.
---
What to read next...
10/21/19
Positive earnings surprises last week helped market extend winning streak.
---
10/18/19
A name-brand stock may have dropped to levels that coupon-clipping bulls notice.
---
10/17/19
Construction materials? High–flying? Yes, more than you may realize.
---