Offense, defense, and aerospace
Aerospace and defense stocks trading mixed in new year
Two long-time leaders trading near multi-month lows
Stocks bounced this week after reaching support levels
Being a reflexive contrarian is a dangerous thing in the markets, since it can sometimes put you in the path of a runaway trend that doesn't know you've determined it's time for the prices to reverse.
That said, there are times when it can make sense to go against the grain, especially when you can do it with minimal risk. That's why some contrarians may be looking at potential action in aerospace and defense (A&D) stocks, many of which have floundered over the past year or so as other areas of the market have soared.
One reason for the group's relative weakness may be the overlap between the commercial and military/governmental spheres, even in the case of individual stocks—Boeing (BA), for example, may be best known for making commercial airliners, but it also holds huge defense contracts. Airline stocks, of course, were among the worst casualties of the COVID sell-off, although they took off in the final two months of the year as viable vaccines emerged. Less known is the fact that the other half of the equation, global defense spending, was stable last year, and some industry watchers see the potential for growth this year.1
Some A&D names, including Raytheon Technologies (RTX) and Leidos (LDOS), have recently been trading in the vicinity of their 10-month highs. But two perennial powerhouses, Lockheed Martin (LMT) and Northrop Grumman (NOC), are much closer to their 10-month lows after several months of soggy trading.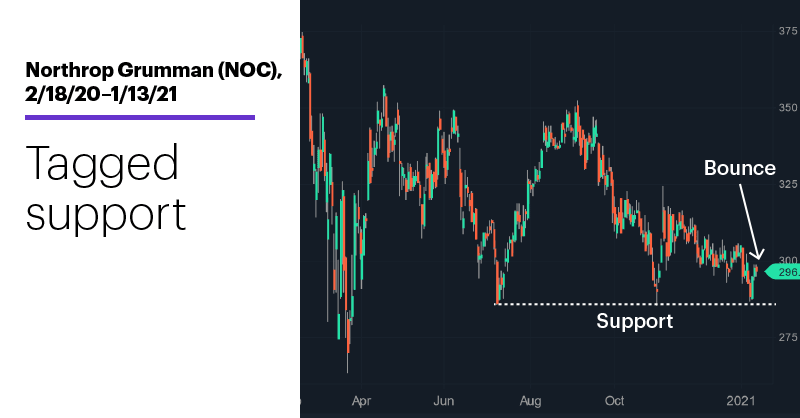 Source: Power E*TRADE
---
However, NOC has bounced this week after falling back to a conspicuous price level—the support defined by its July and November 2020 lows (above).
LMT presents a similar picture (below), except that last Friday it broke below its July low before bouncing this week—a possible "bear-trap" sell-off that could squeeze shorts?
Source: Power E*TRADE
---
In addition to the possibility that both stocks are temporarily oversold and have the potential to rebound if the broad market holds its ground and A&D builds momentum, some traders may be watching names in this space more closely as earnings approach: The group typically reports numbers soon after the first wave of financial names, and both LMT and NOC are currently scheduled to announce on January 28.
Finally, contrarians who look to buy near lows instead of pursuing momentum at highs have one possible advantage: They can use those lows to define their risk, exiting positions if prices break down again.
Market Mover Update: March WTI crude oil (CLH1) may have hit a new contract high of $53.94 yesterday, but the real futures market action lately has been in corn. After surging more than 5% on Tuesday and trading limit up, March corn (ZCH1) jumped another 4.7% yesterday before reversing and closing near the low of its range. The market is up around 24% over the past month.
Today's numbers (all times ET): Jobless Claims (8:30 a.m.), Import and Export Prices (8:30 a.m.), Jerome Powell, livestream discussion hosted by Princeton University (12:30 p.m.).

Today's earnings include: BlackRock (BLK), First Republic Bank (FRC), Progress Software (PRGS).
Click here to log on to your account or learn more about E*TRADE's trading platforms, or follow the Company on Twitter, @ETRADE, for useful trading and investing insights.  
---
1 Deloitte. 2021 aerospace and defense industry outlook. December 2020.
What to read next...
01/13/21
Breakout watch: Options positions pile up as stock's consolidation pattern tightens.
---
01/12/21
Some gene-editing stocks have recently cooled after red-hot rallies in 2020. Find out which levels traders may be watching.
---
01/11/21
Small caps pick up where they left off in Q4 to pace market in first week of 2021.
---