Biotech in the news
EXAS gained 47% last year despite a big Q3 correction
Stock is up more than 30% from Nov. lows
Price breakout, high options volume as key conference approaches
It's always difficult to know what heavy options volume really means—it can imply different things in different situations—but when you see an unusual number of calls cross the ticker, it's worthwhile to see if there's other evidence traders may actually be lining up on the bullish side of the ledger.
Yesterday, for example, call options were trading at roughly 2.5 times their average rate in biotech (cancer diagnostics) company Exact Sciences (EXAS):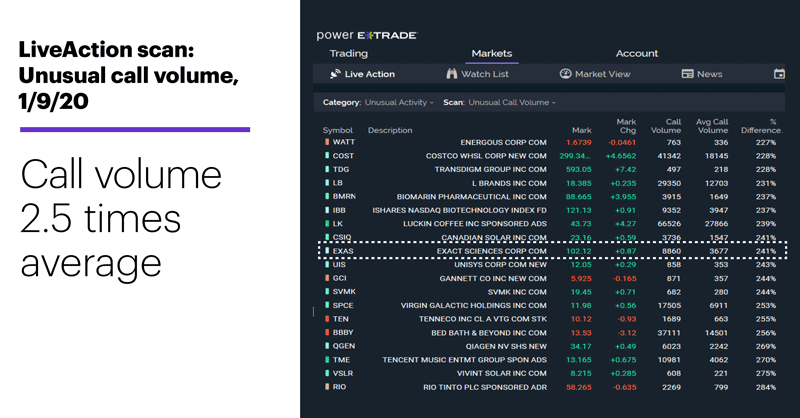 Source: Power E*TRADE
---
That's not runaway options volume, but the stock was also up more than 1% around noon ET, pushing against the highs of a mini-consolidation it formed after breaking out above its October and December highs on Tuesday.
EXAS cranked out a nearly 47% gain last year—despite selling off around 37% in September–November—and as of yesterday had rallied more than 30% since November 22: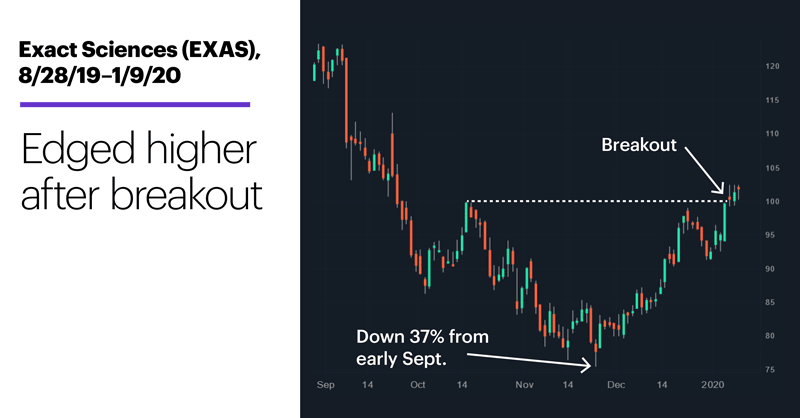 Source: Power E*TRADE
---
In gauging whether EXAS can build on its recent upward momentum, one thing traders may be looking at is the condition of biotech stocks as a whole.
Biotech underperformed the S&P 500 (SPX) by a country mile last year, and a positive return looked like it may not materialize at all until the group went on a tear in Q4. The S&P Biotechnology Index gained more than 23% between October 2 and December 23, ultimately locking in a roughly 14% gain for the year. And after pulling back into early January, biotech turned up in recent days, getting close to its late-December highs.
And in what could be good timing, the sector may be about to get a PR boost from the J.P. Morgan Healthcare Conference—the industry's biggest annual confab, which kicks off on Monday.1 You know what companies like to do at industry get-togethers like this? Make a splash, if they can—new products, new initiatives, new business deals.
While Exact Sciences is scheduled to participate in this year's conference, traders may not be thinking so much in terms of the company itself making a blockbuster announcement, but the potential for stocks like EXAS to benefit from industry tailwinds whipped up by the conference.
If that enthusiasm can push biotech indexes to fresh highs, individual stocks that have recently exhibited bullish momentum may get extra attention from traders.
Market Mover Update: After hitting a record high of $44.90 yesterday, Luckin Coffee (LK) was up around 55% since December 5—not bad for a stock some folks may have thought was oversold after a 77% rally in late-November (see "A whole latte price action").
Today's numbers (all times ET): Employment report (8:30 a.m.), Wholesale Trade (10 a.m.), Baker-Hughes oil rig count (1 p.m.).
Click here to log on to your account or learn more about E*TRADE's trading platforms, or follow the Company on Twitter, @ETRADE, for useful trading and investing insights. 
---
1 Investor's Business Daily. Red-Hot Biotech Stocks Brace For Key Meeting — Here's What To Expect. 1/9/20.
What to read next...
01/09/20
Has the worm turned for one of last year's new tech stocks? Options traders may see an edge.
---
01/08/20
Spike pattern may help clarify fuzzy earnings data.
---
01/07/20
Some traders may be wondering whether geopolitical risk is creating a trading opportunity in airline stocks.
---