5G: Better late than never?
5G transition, stocks initially dealt setback by lockdown
Some analysts think 5G wireless adoption will accelerate after the pandemic
QCOM rallied more than 5% intraday on Monday
A funny thing happened on the way to the 5G revolution.
It got postponed. And we all know why.
The coronavirus pandemic may have slowed the transition from today's 4G wireless technology to the faster, stronger, shinier 5G, but no one doubts 4G will—eventually—be as dead as 1G. In other words, the debate is about when, not if, 5G will be the global standard.
There are a lot of companies (and investors) with a lot riding the new wireless paradigm, so it's no surprise the unavoidable delays caused by the COVID-19 crisis whacked many 5G-related stocks particularly hard.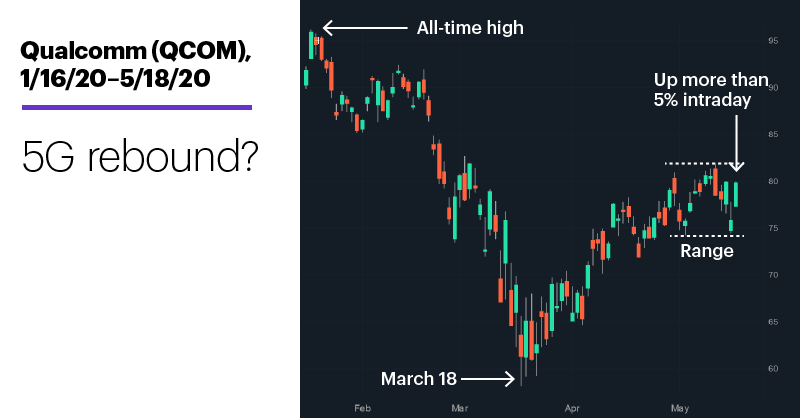 Source: Power E*TRADE
---
For example, Qualcomm (QCOM), the chip and telecommunication equipment maker that could be one of the bigger players in the 5G sweepstakes,1 took a 40% haircut from its January all-time high above $96 to its March 18 low of $58 (above).
Qualcomm has been working to solidify its foothold in the 5G arena, having already released two processors (including one this week) that include integrated 5G modems.2
If the 5G transition is actually accelerated because of the coronavirus, certain stocks may get an unexpected lift.
Like many other stocks, QCOM has been fighting to maintain the momentum of its initial rebound off those market lows. The stock surged more than 5% intraday on Monday, though, after dropping more than 7% last week (along with most other semiconductor stocks) as renewed US–China tensions threatened to throw a wrench into the tech recovery.
The 5G/coronavirus story has developed an important twist, though: The possibility that, after the initial pandemic setback, the 5G transition will actually be accelerated because of the demands of remote working (and stay-at-home schooling and entertainment, and telemedicine…need we go on) that are likely to linger even after the crisis has passed.3
Ironically, one of the challenges 5G faced before the pandemic was the risk of slow adoption—consumers taking their time to spend more on a technology they didn't see as essential. Crises often trigger innovation, and sometimes accelerate trends that may not have been apparent before they occurred.
If that's the case with the coronavirus and wireless tech, QCOM and other 5G stocks may find bulls are more willing to push them out of their consolidations than they are other stocks.
Market Mover Update: July WTI crude oil (CLN0) surged more than 10% intraday yesterday, topping $30/barrel for the first time since April and hitting an intraday high of $33.10 before pulling back. Oil has jumped  more than 40% in the three days since breaking out of the consolidation highlighted in "Commodity crunch." Crude's recovery has hit tanker stocks, though—Teekay Tankers (TNK) is down more than 30% since April 22, falling to support around $15.50–$16 (see "Storage wars").
Today's numbers (all times ET): Housing Starts (8:30 a.m.), E-Commerce Retail Sales (10 a.m.).
Today's earnings include: Advance Auto Parts (AAP), Kohls (KSS), Weibo (WB), Home Depot (HD), Eagle Materials (EXP), Walmart (WMT), Urban Outfitters (URBN), Nordstrom (JWN).
Click here to log on to your account or learn more about E*TRADE's trading platforms, or follow the Company on Twitter, @ETRADE, for useful trading and investing insights.  
---
1 Barron's. 5G Is Still Coming Despite Covid-19. These Are the Stocks Set to Benefit First. 5/18/20.
2 theverge.com. Qualcomm announces new Snapdragon 768G 5G processor. 5/11/20
3 Politico. After the virus: A 5G gold rush? 4/2/20.
What to read next...
05/18/20
Stocks lost ground, but once again shrugged off the week's worst economic data.
---
05/15/20
Earnings season may feel like it's come and gone, but some key companies will release their numbers next week.
---
05/14/20
Why two of the biggest commodity futures markets may be setting up for breakout moves.
---