Bucking the bear
SNEX up more than 45% this year, +26% over past five weeks
Stock jumped nearly 8% Thursday, hit all-time high
Larger-than-average rallies susceptible to give-backs?
For much of this year, scanning for stocks trading at new 52-week highs was akin to fishing in a slowly evaporating pond: Fewer and fewer bites, and if you did hook something, it was likely to be a small fish—and maybe one you'd never come across before.
The market's rebound off its June lows has altered that picture, to a degree. Yesterday's LiveAction scan for 52-week highs included no fewer than 17 stocks trading above $20, and 10 of those were trading above $70. One of them was financial services company StoneX (SNEX), which has hit multiple record highs over the past couple of years—including on Thursday, when it rallied 7.8% intraday to hit $94.32 after announcing earnings Wednesday afternoon: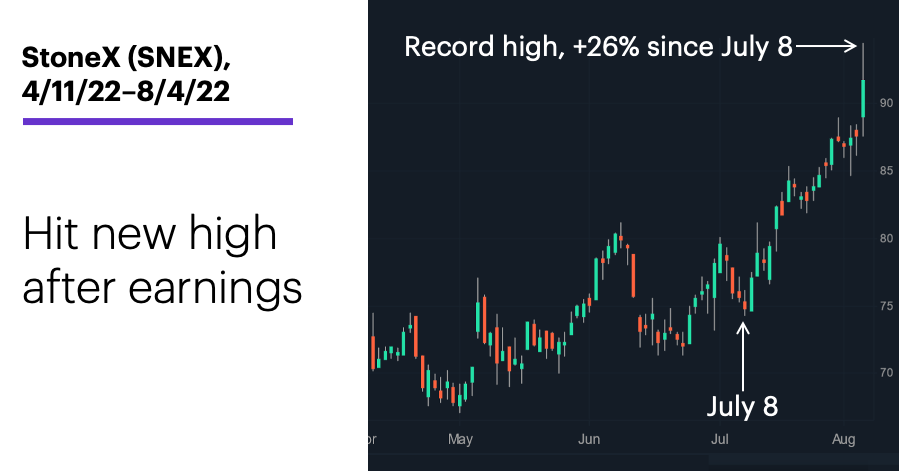 Source: Power E*TRADE. (For illustrative purposes. Not a recommendation.)
---
Although the stock retreated from its intraday high later in the session, that momentum burst capped a 26% rally since July 8—a move this bear-defying stock has matched or exceeded only once (in February) over the past two years.
Some traders and investors are inclined to think in terms of continued momentum when they hear a stock has hit a new 52-week high—perhaps especially in years like this one, when uptrends have been few and far between (SNEX is up more than 45% for the year). Contrarians, on the other hand, will reflexively think about the possibility that prices may be getting overextended, and ripe for a pullback.
Neither camp is automatically correct, since results will likely be influenced by the larger market trend, as well as each stock's specific circumstances. For example, two of the stocks on yesterday's 52-week-high scan were the subject of takeovers or mergers; their prices are unlikely to move much, unless their deals are cancelled.
What can help provide some perspective is to find out what prices have done in similar situations in the past. For example, SNEX has matched or exceeded its recent rally 45 other times over the past 20 years:
1. After one week the stock was higher more often than it was lower, but its average return of -0.2% suggests some of the less-frequent down moves were fairly significant.
2. After two weeks the stock was down more often than it was up (23 vs. 22 times).
3. After three weeks the stock was lower in 24 cases with an average return of -1.3%.1
That's far from making a compelling case for aggressive short selling, but it does highlight the potential for weakening momentum after a significant upside push—and that's something that may interest both traders and investors wondering whether a stock making a 52-week high is likely to follow through in the near term.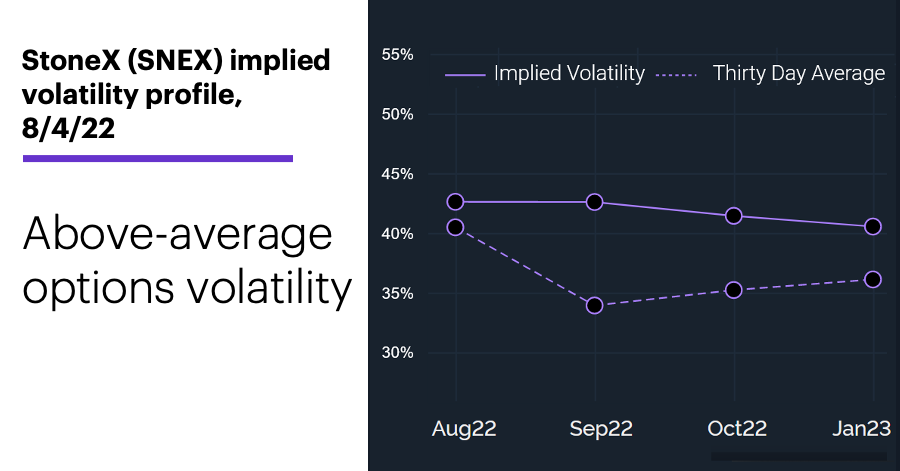 Source: Power E*TRADE. (For illustrative purposes. Not a recommendation.)
---
A note on SNEX options: The chart above shows SNEX's options implied volatility (IV) was above average, particularly for September options. All else being equal, higher IV can result in higher options premiums—a drawback for buyers, but a potential benefit for sellers. But since yesterday was the first day of trading after earnings, traders may expect IV will fall over the next few days.
Market Mover Update: Credo Technology (CRDO) jumped more than 8% intraday on Thursday—then reversed into negative territory—one day after an unusually large call options trade crossed the ticker (see "Traders plug into tech options"). After releasing earnings yesterday, Lantheus (LNTH) rallied more than 7% before falling nearly 13% into the red and closing lower for the day (see "Puts in play with numbers on the way").
September WTI crude oil futures (CLU2) traded below $88/barrel on Thursday and closed at their lowest level since mid-March—even though OPEC and its oil-producing allies announced it would increase oil output only minimally (100,000 barrels/day) in September. On Wednesday, though, the Energy Information Administration announced US crude oil stockpiles rose unexpectedly over the past week.2
Today's numbers include (all times ET): Employment report (8:30 a.m.).
Today's earnings include: Goodyear (GT), DraftKings (DKNG), Western Digital (WDC), Gray Television (GTN).
Click here to log on to your account or learn more about E*TRADE's trading platforms, or follow the Company on Twitter, @ETRADE, for useful trading and investing insights.
---
1 All figures represent StoneX (SNEX) daily price data, August 2003 – August 2022. The "rally" referenced in the article models SNEX's price move from July 8, 2022 – August 4, 2022: a 25%-or-larger rally (at the most current day's high) over the past 19 trading days, and the highest close in at least 62 trading days. Supporting document available upon request.
2 Reuters. U.S. crude, gasoline stockpiles rise unexpectedly–EIA. 8/3/22.
What to read next...
08/04/22
Options trade highlights under-the-radar tech stock about to release earnings.
---
08/03/22
Is the stock market's recent rebound a head fake, or evidence the bear is headed back to the woods?
---
08/02/22
As industrial stock extends its rally off retracement level, options volume surges.
---