2021: Sector rotation
Tech, communication services, or consumer discretionary set to slide in 2021?
Late rally not enough to push energy out of the cellar
Financial sector weakened the most from 2019
Sector analysis isn't just for investors, since many traders like to concentrate on those areas of the market with the strongest tailwinds. One way to gauge this type of momentum is to see how sectors rotate—or don't—over time.
The following table shows how the 11 S&P sectors ranked each year from 2010 to 2020 (this year's stats reflect performance through December 18). The bottom row shows each sector's median rank for the entire period: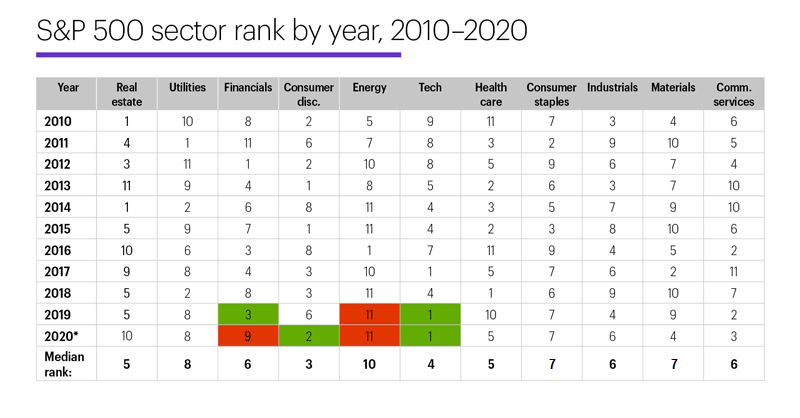 Source (data): Standard & Poor's. *2020 data reflects performance as of 12/29/20.
---
A few interesting trends:
1. Tech pulls the repeat: For the first time in more than 11 years, a sector claimed the top spot two years in a row. No sector has ever ranked higher than fourth the year after being the strongest sector.
2. Lacking energy: Despite an impressive end-of-year run, energy did something no other sector has done since at least 2009—came in last place three years in a row. In fact, it was the only sector to nail down the same spot, period, for three straight years.
3. Consumer strength: Consumer discretionary was the second-strongest sector, extending its decade-plus run as the most reliably robust corner of the market.
4. Financial flip: As noted here a year ago, in every year but 2014, at least one of the three-strongest sectors became one of next year's three-weakest. This year it was financials, which slid to ninth place this year after placing third in 2019.1
A couple of considerations: Traders interested in making their home where the momentum roams may want to consider which of the top-three sectors from this year, if any, may lose steam in 2021. And although some traders may look for energy to finally move up the relative strength rankings, the table also shows it's been much more common for stronger sectors to slide to the basement than it is for cellar dwellers to move into the penthouse.
Final note: E*TRADE publishes monthly sector rotation analysis on the first trading day of each month.
Click here to log on to your account or learn more about E*TRADE's trading platforms, or follow the Company on Twitter, @ETRADE, for useful trading and investing insights.  
---
1 All statistics reflect S&P 500 closing price data 2010–2020. Supporting document available upon request.
What to read next...
12/07/20
Tech got back in the driver's seat as stocks kicked off December with more records.
---
12/04/20
Price and volatility patterns in this high-momentum stock may be signaling another move.
---
12/03/20
If the market rotates back toward technology, don't overlook potential opportunities outside the "big tech" spotlight.
---