Taking stock of equity compensation year-end considerations
E*TRADE Corporate Services
12/18/18
It's that time again. Another year has come and gone. With the holiday season in full swing, you're left to reconcile dispositions, plan for tax season, and get ahead of IRS requirements—all while trying to take some time off.
Managing an equity compensation plan can be challenging, and creating or updating a year-end process may be one of the most significant responsibilities you face. How do you prioritize year-end planning with so many competing needs?
Obstacles to establishing an organized year-end process
The obstacles to creating an efficient year-end process for your equity compensation plan may sound familiar:
•  Time: Quite simply, there's no time to save time. Because you're already navigating a cumbersome year-end process, you may not have the time to improve it.
•  Change: You've always done things this way. It may never have crossed your mind that you could change your year-end process. Even if it did, where would you start?
•  Constituents: You likely work with multiple internal partners. These groups all require different information, which can complicate efforts to make meaningful changes.
Potential steps toward an improved year-end process
If you're looking to improve your existing year-end process—or to create a new one altogether—here are some suggestions:
•  Plan ahead: Set up a planning meeting as early in the year as possible. If your year-end is typically busy and hectic, start thinking through the year-end process when you have time earlier in the year. Include your stock plan provider, if possible, as you craft your year-end process.
•  Create a checklist: Determine and document what steps need to be completed in the process.
•  Set parameters: Identify timelines, expectations, and dependencies for each deliverable.
•  Identify necessary internal partners: Include all internal partners in your planning, including Legal, Accounting, Payroll, and Human Resources, but don't overdo it. Too many cooks in the kitchen can potentially bog down the process.
•  Consider automation: Think about which deliverables can be automated. Could your stock plan provider help with the automation process?
What to keep in mind
If you do decide to update certain year-end processes, consider a technology-focused stock plan provider, which can help streamline the most time-consuming year-end tasks—improving reporting accuracy, building the confidence of plan participants, and conserving valuable time.
Some of the year-end tasks a stock plan provider can help improve:
•  Reconciling employee stock purchase plan dispositions (if applicable): This includes confirming that both qualifying and disqualifying dispositions match the number of shares sold during the year.
•  Reconciling incentive stock option dispositions (if applicable): It's important that incentive stock option dispositions are properly reconciled for accurate IRS reporting.
•  6039 reporting: Are you providing plan participants with the Form 3921 and 3922 information that the IRS requires? Work with your stock plan provider to see if there's anything they can do to help expedite (or completely manage) the process.
•  Non-US participants / W-8BEN certifications: Non-US plan participants must certify their international status and then re-certify every three years. Talk to your stock plan provider to see if they can help plan participants meet IRS reporting requirements.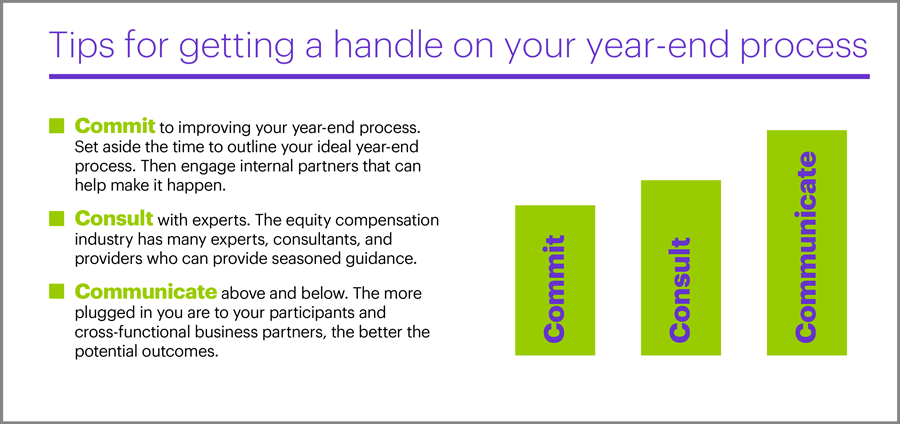 The year-end process may never be a sleigh ride through the park. But by planning in advance and properly leveraging technology, you can certainly make the ride less bumpy.
Ready to move forward? Consider the three Cs
•  Commit to improving your year-end process. Set aside the time to outline your ideal year-end process. Then engage internal partners that can help make it happen.
•  Consult with experts. The equity compensation industry has many experts, consultants, and providers who can provide seasoned guidance.
•  Communicate above and below. The more plugged in you are to your participants and cross-functional business partners, the better the potential outcomes.
Make this the year you finally create the year-end process of your dreams and take your equity compensation plan to the next level. With proper planning and the right stock plan administration provider, it may be one New Year's resolution you can actually keep.
And remember, E*TRADE has an industry-leading administration platform in Equity Edge Online® and many experienced resources to help you prepare your year-end checklist.1 Just give us a call at 800-783-3388. We're here to help when you're ready.
Click here to log on to your account or learn more about E*TRADE's investing choices, or follow the Company on Facebook or Twitter for useful investing and trading insights.
1. As of June 15, 2018, Group Five Stock Plan Administration Benchmark Study and Financial Reporting Benchmark Study rated Equity Edge Online® highest in Loyalty and Overall Satisfaction for the seventh consecutive year (2012-2018) among all plan sponsors who use a commercial system to manage the recordkeeping of their stock plans in-house. Group Five, LLC is not affiliated with E*TRADE Financial Corporate Services, Inc. or the E*TRADE Financial family of companies.