Serving up equity comp know-how
E*TRADE Financial Corporate Services, Inc.
09/26/17
Company perks come in all sizes, big and small. They can be used to boost morale, show appreciation for a job well done, or just increase the fun quotient at work. But the benefits package that a company offers, their stock plan benefits in particular, can help individuals meet their financial goals and stay connected to the company over the long term, more than, say, an office ping-pong table.
Yet according to almost 40,000 stock plan participants surveyed by E*TRADE Corporate Services,1 many individuals may be missing out on the full potential of their equity compensation benefits due to a lack of understanding of their awards. Participant responses to several questions indicated there's plenty of room for improvement. For example: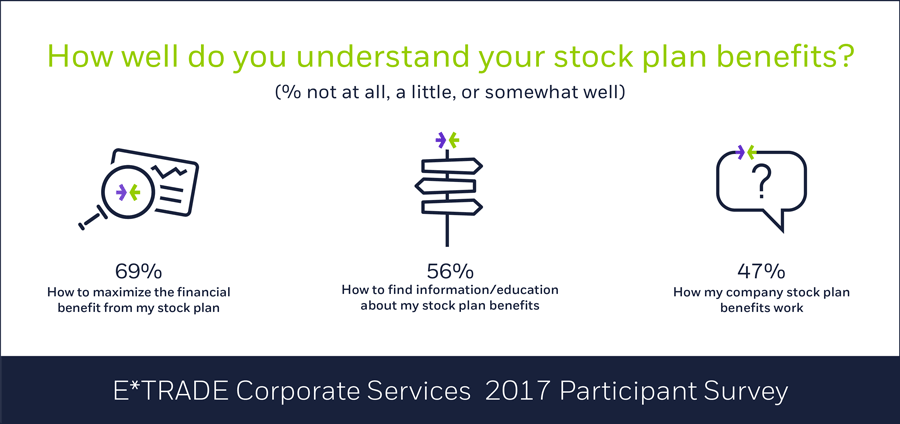 Looking for educational solutions, we find that many companies are modernizing their stock plan administration strategies with enhanced communications and offerings. "But it's not just about the participants in the plan," according to Scott Whatley, Senior Vice President at E*TRADE Financial Corporate Services, Inc. "Companies see this modernization as a chance to increase their odds of organizational success."
Removing the mystery
The days of stock plan benefits information arriving as a mountain of paperwork to sift through, make sense of, and submit—with fingers crossed that they've done it right—have passed. Concerted company efforts to simplify the process from the get-go are becoming the norm. Many companies are looking to make their stock plan administration more robust by:
Keeping contact. Regular, customized communications in easy-to-understand terms, metrics, and visual aids are helping participants recognize not just the value of their stock plan benefits, but how they can play an active role in contributing to their company's performance.
Offering guidance. 24x7 customer service support, personalized alerts, on-demand seminars, live trainings, and rich online multimedia and mobile content are popular tools companies are using to provide guidance.
Getting feedback. Focus groups designed to collect participant input on what types of communications work best for them are becoming increasingly common. Millennials are a particular focus in this regard. E*TRADE, in its work with clients, has seen some companies hold roundtables to encourage Millennials to speak more openly about plan strategies with their peers. 
Solutions to help both sides
Compounding the stock plan administration challenge are the realities of today's economy and workforce. Many companies are increasingly global and culturally diverse. There are also five generations to account for in the labor market, all with varying preferences and needs.  
Historically, one common method used to incentivize company-wide performance and keep employees working toward company goals has been the employee stock purchase plan (ESPP). But we find that many companies are taking ESPPs a step further and designing plans that better reflect changing workplace demographics.
Some multinational companies are looking to engage individuals in other parts of the world by tailoring their ESPPs to address cultural differences, currency issues, and legal hurdles, including different tax structures. We've also seen well-established companies with older participant populations design their ESPPs differently than, say, start-ups with younger populations. Another generational consideration seen recently is that in 2016 a quarter of Millennials assumed managerial positions as 3.6 million Baby Boomers retired, 2 giving companies reason to cater more toward Millennial needs.
Differences in plan administration show by industry too. For example, we find some technology companies have more robust equity-based compensation plans, marked by bigger grants, or higher discounts for ESPPs, than in other industries.
What could be next?
Another potential solution to increasing engagement may be in the palm of our hands. Down the road, some industry observers envision employers investing in an all-encompassing benefit portfolio via a single, mobile application. Along with their health and wellness information, individuals could also receive enhanced stock plan benefits information, customized to their needs. Industry news source HR Technologist said it well, "The onset of emerging technologies such as cloud, mobile, social media, Internet of Things (IoT) has a deep impact on our lives; these will invariably spill over and alter the way we work."3
There's little doubt that equity compensation is complex and the learning curve for participants is steep. But once that light bulb turns on and they grasp the power of their stock plan, that knowledge can drive real value for all involved. It can also help solidify the connection between participant and company. Of course, keeping that ping-pong table and maybe some breakroom snacks around probably wouldn't hurt the cause either.  
---
1. "E*TRADE Corporate Services 2017 Annual Participant Survey" conducted by E*TRADE Securities LLC.
2. Aon Hewitt, "People Trends 2016: What HR Will Be Thinking About in the New Year," January 2016.
3. Kulkarni, Rhucha. "Disruptive Trends in HR for 2017," HR Technologist, Mar. 24 2017. https://www.hrtechnologist.com/articles/core-hr-functions/hr-technology-trends-for-2017/