Peeking in on equity award strategies
E*TRADE Financial Corporate Services, Inc.
10/31/17
Trying to keep up with the Joneses isn't always the best way to go. More often than not, it's better to just do you. But a peek over the shoulder every now and again, just to see, doesn't hurt.
In fact, it makes sense for companies that provide equity awards. It's a competitive marketplace, and seeing who's doing what with equity compensation awards can be informative. Maybe a company finds out there's a better way of going about the process, or discovers an incremental advantage they can fold into their own approach. So let's take a brief look over the fence at the state of play regarding equity awards today…
"Seeking ways to make their cost and talent management more dynamic, many companies we interact with continuously seek the right mix of equity vehicles, vesting schedules, and performance conditions," said Scott Whatley, President of E*TRADE Financial Corporate Services, Inc.
But that's easier said than done sometimes, especially when a company is adapting to changing participant preferences and balancing the interests of shareholders and proxy advisory firms. 
Mapping it out
Further, market events can upend even the best laid equity award plans. A bumpy 2015 for many sectors may have had compensation committees rethinking strategies in recent years. Going back further, of course, is the shadow of the financial crisis, and scrutiny over executive compensation and expensing.   
While our proprietary data show that the number of companies granting equity remained flat between 2014 and 2016, the amount of restricted stock (+12%) and stock options (+5%) granted increased noticeably.1 Many companies like to use restricted stock as a way to foster employee retention. It can be less volatile by nature than stock options, and the mechanics are relatively easy to understand. Simply stated, once restricted shares vest, participants become owners in the company. And many choose to hang on to the stock for a spell. According to our data, only 24% of participants sell restricted stock within 180 days after it vests.2
In contrast, when looking at stock options in this same data set, roughly 90% of participants exercise and sell within 180 days of vesting. This can make establishing a culture of ownership more difficult over the short and medium terms. Stock options also can bring complicated tax implications depending on option type and the length of time the shares received as a result of exercise are held prior to sale.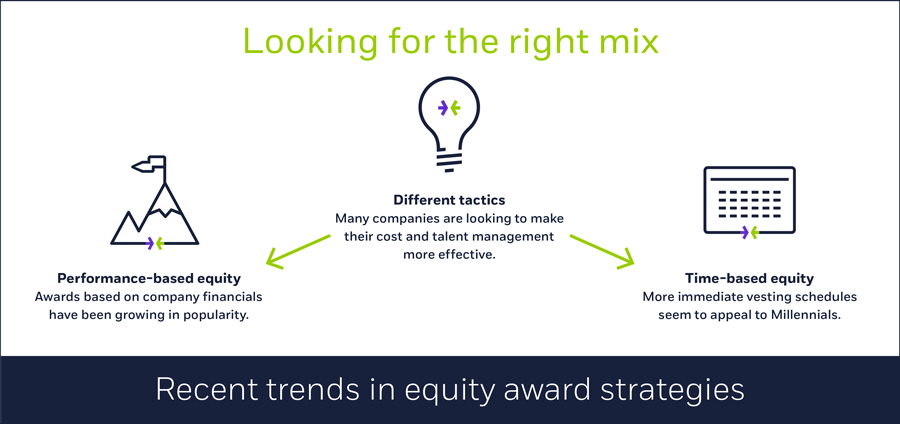 Adding wrinkles
Companies appear to be getting more imaginative in their approaches, varying the contingencies that determine how they construct their equity awards.
Performance-based awards, where companies determine equity awards using any number of financial metrics, such as total shareholder return or return on capital, have become popular. Adoption began slowly, but it continues to increase year over year for mid- and large-cap companies and at measurable rates for small-cap companies. Our proprietary data show increases in the grant of performance-based awards of 28% in large cap, 26% in mid cap, and 31% in small cap between 2012 and 2016.1
Demographics play into companies' decision-making as well. Many companies find that time-based awards appeal to specific participant populations. Millennials seem to prefer more immediate vesting over the more traditional three- or five-year vesting schedules.2 Consequently, some companies are evaluating monthly or quarterly grants of awards—or even shortening their vesting periods.
Choosing your own
While checking to see what the other guy's doing can be informative, what works for one may not work for another.
Take health care. Typically, we've observed that the companies in this sector grant options at a far higher rate than other industry segments.2 Drilling down further, the biotechnology segment of this market has a significant impact on that outsized result. Perhaps it is because Biotech's DNA is a natural fit for stock options, given extended product development life cycles and often lengthy regulatory approval processes. There's a bit of, "We're in this together over the long haul," with the hope that it's worth the wait to see if that potential gain can be realized.
There's bound to be some trial and error when a company's looking for the right equity award mix. But if you find the right ingredients to concoct a well-designed strategy, others may soon be gazing your way for insight.  
---
1. "Equity Compensation Trends, Featuring Commentary From E*TRADE Financial Corporate Services, Inc.," Equilar, September 2017, Page 12.
2. Equity Edge Online® active Restricted Stock Plans, as of June 30, 2017; stock plans administered by E*TRADE Financial Corporate Services, Inc. as of June 30, 2017.