The new tax reform and equity awards taxation
E*TRADE Financial Corporate Services, Inc.
04/10/18
How do we know that winter's cold will soon be behind us? When April tax talk starts to become a dominant theme in our conversations with plan sponsors. But taxes can bring an entirely different "chill" for some stock plan participants.
Our propriety annual survey indicates a general lack of understanding about equity awards taxation.1 Of the nearly 40,000 E*TRADE Securities LLC US stock plan participants surveyed, just 29% indicated that they felt highly confident in their understanding of how taxes affect their specific type of stock plan benefits.
Of course, the added twist starting in tax year 2018 is the Tax Cuts and Jobs Act ("Act"), some provisions of which may affect how companies administer equity compensation plans. So let's look at what's changed, as well as some of the steps companies may want to keep in mind.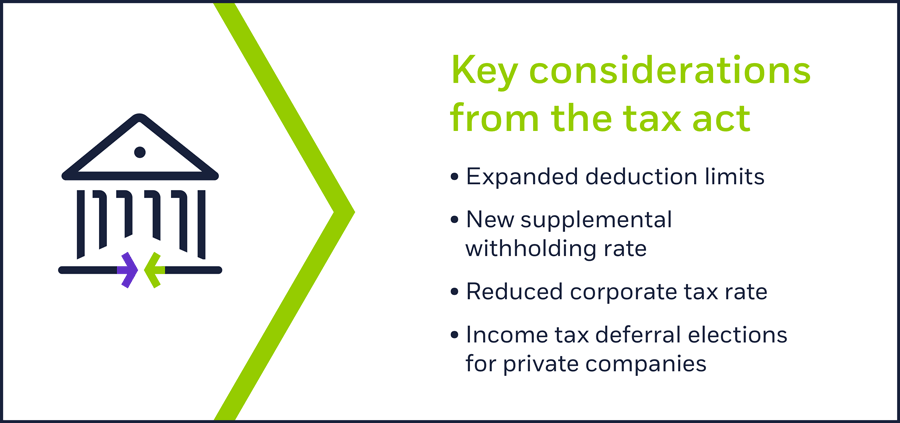 Source: E*TRADE
---
Section 162(m)
This is one of the more notable changes the Act makes to executive compensation. Section 162(m) limits the employee compensation deduction for covered employees (highly paid executives of the company) to $1 million. Prior to 2018, this limitation did not apply to "qualified, performance-based" compensation for the CEO and the three other covered employees during the year. Companies that offered incentive plans (e.g., stock options, performance units) to covered employees received a corresponding tax deduction when an executive exercised an option or when a performance award vested.
The amended Section 162(m) eliminates this exclusion. In addition, it expands the definition of covered employees to also include anyone who served as CEO or CFO during the year, not just the CEO or CFO at the end of the year. And once an employee is deemed "covered" under Section 162(m), he/she will remain covered as long as he/she receives compensation from the company.
Further, since companies can no longer take a tax deduction above $1 million, plan sponsors may elect to issue smaller grants to covered employees, which vest over shorter periods, while also paying these executives more frequently.
Supplemental withholding rate
Previously, the withholding rate for supplemental payments of $1 million or less was equal to that of the third lowest individual tax bracket, or 25%. The rate for employees receiving supplemental payments above $1 million within one calendar year was equal to the highest individual tax bracket, 39.6%. The Act lowers the third-lowest and the highest rates to 22% and 37%, respectively, which means companies will have to adjust their withholding rates.
Corporate tax rate
The new 21% corporate tax rate, down from 35%, may now produce additional considerations for companies and their Deferred Tax Assets, or DTA. A DTA is created whenever a company expects to receive a tax benefit in the future. There are several inputs that contribute to a company's DTA, one of which is the type of equity vehicle granted to stock plan participants. For companies granting Non-Qualified Stock Options (NSOs) the DTA impact to the company is determined in the year the participant includes the transaction as income.  On the other hand, the DTA impact for Incentive Stock Option (ISOs) may be less predictable since the tax deduction amount to the company is not determined until the exercise and subsequent sale of the stock in the future. Consequently, accounting and executive compensation design teams may evaluate the reduction in corporate tax rates more closely as they determine future stock option granting strategies.
Privately held company grants
Section 83 requires recipients of stock plan awards to include those awards in income in the year that the awards become transferrable or are vested.  Under the Act, eligible employees of private companies who receive stock options or restricted stock can elect to defer the income tax inclusion year to the earliest of the year that:
The stock becomes transferrable
Company stock becomes publicly traded (ex. IPO)
Is five years after vesting
The employee is no longer an eligible employee
The employee chooses to revoke the deferral

Even though income tax is deferred, the income inclusion is generally based on the fair market value of the stock at the time that the award is exercised, not at the time of the income inclusion.  On the employer side, the deduction for employee compensation associated with a deferred award is deferred until the tax year that the employee includes the award in income.
This decision is particularly relevant for privately held companies as they consider the future design of their equity programs. For private companies where the company stock does not have a public market, a participant's ability to take actions like exercising a stock option may be limited as compared to a publicly traded company. In these situations, the same tax obligations exist for the participant, even though the resulting transaction may not result in immediate proceeds. So there's a catch: Instead of opting to sell shares or have them withheld to cover their tax requirements like one can do when the stock is publicly traded, these participants may need to access additional savings to cover the cost of certain equity transactions. That said, the Act permits private companies an inclusion deferral that could allow qualified participants to defer the income on an equity transaction for a limited period of time, eliminating certain immediate tax obligations. For plan sponsors, this could be used as a retention strategy, targeted at participants working toward a public event that want to become owners in the company stock but may have been reluctant to due to these non-public stock tax requirements.
Potential action steps
The Act brings with it a host of changes. And while these changes mostly only affect issuers and plan sponsors, the very public nature of the legislation can likely prompt participants to reach out to their administrator with questions. So what can be done to increase equity awards taxation know-how?
More accessible, tax-focused communications is likely a good start. We expect many employers to revisit educational guides, FAQs, and internal tools to encourage learning. Videos and engaging web experiences that provide participants with an easy path to the tax information that is most relevant to them can help. Oftentimes, that is a convenience that can be delivered by or through your benefit provider.
In our view, in a period marked by significant reforms coming out of Washington, it can only help to communicate early and often—even if just to reassure your participants about what is staying the same.
---
1.        "E*TRADE Corporate Services 2017 Annual Participant Survey" conducted by E*TRADE Securities LLC over a three week period in March 2017.