Help plan a no-surprise year-end
E*TRADE Financial Corporate Services, Inc.
12/29/17
When is a surprise not a surprise? The calendar, for one—it starts January 1 and ends December 31. Every year. Yet year-end still catches many by surprise time and again.
Closing out the year can bring stresses and uncertainties, as workloads tend to increase and deadlines creep up. Unfortunately, slowing down to evaluate the situation is a luxury for many, especially stock plan administrators. But fear not—there are a few simple steps you can take to help clear your desk of year-end clutter. And even though you're likely still in the thick of year-end 2017, you may be able to start making year-end 2018 a smoother ride.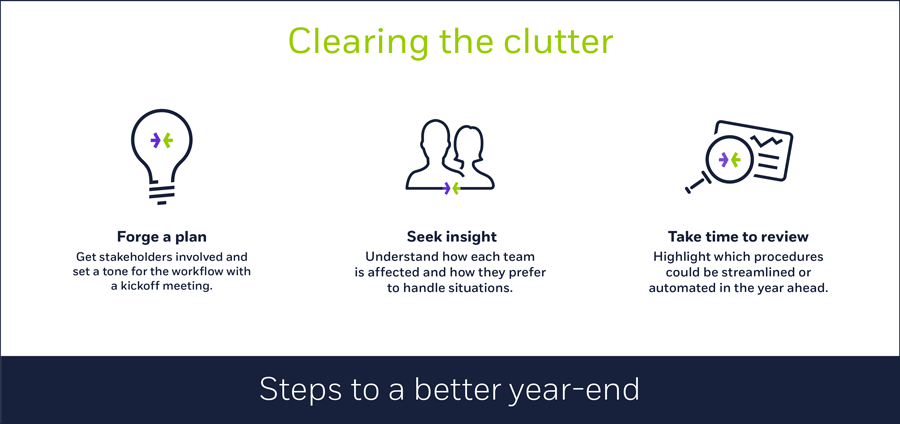 Forge a plan
An easier year-end doesn't start at year-end. The first and most basic step of preparing for a year-end equity compensation event: set up a planning meeting.
A sound plan gets stakeholders involved with its transparency and logic. Food doesn't hurt either—sounds simple, but many of the clients we work with get creative, whether with a catered breakfast or lunch, or some sort of fun event that brings people together.
Much of the work this time of year is time-sensitive and risk-oriented, so accuracy and proper execution is critical. Steps to completing major tasks like taxes and financial compliance reporting should be taken with precision. To help reduce risks, many companies create a playbook. But what's that old saying about best laid plans? Building flexibility into that playbook can help teams make adjustments on the fly.
Seek input
A smooth year-end is unlikely to be a go-it-alone deal. Many tasks involve multiple departments, including tax, human resources, finance, legal, and operations, as well as external vendors. Getting their input on projects can reveal a better view of the whole picture.  
For example, consider some of the complexities that may accompany stock plan participants who either are not US persons, are non-US citizens, or are non-US resident aliens. These individuals must certify their foreign status when opening a US brokerage account and they need to recertify every three years. Accounts that are not recertified by December 31st may be subject to US back-up withholding of up to 30% on gross proceeds, taxable dividends, interest payments, and/or taxable payments until recertification is complete.
Participants rushing to meet the deadline can increase the burden on stock plan administrators and the organization as a whole. Staying ahead of that potential onrush with a good understanding of how each department could be affected, and how each prefers to handle individual participant situations, can increase the chances of a successful outcome.
Take time to review
Inefficiencies often reveal themselves amid the year-end scrum. This is a good time of year to note which procedures could be streamlined in the year ahead (put that notepad by your desk to good use). One note may be to update manual processes with automation.
For example, consider that the Internal Revenue Code's Section 6039 reporting rears its head every year. Companies know they have to provide participants with Form 3921 for all incentive stock option exercises and Form 3922 upon first transfer of legal title of shares acquired through an employee stock purchase plan. The deadlines are static: companies must provide participant statements by January 31 and Forms 3921 and 3922 must be filed by February 28 for paper filers and March 31 for electronic filers.
Outsourcing these filings and mailings could make a big difference in finding time to allot to other, more complex projects. 
A little effort
At first blush, 365 days may appear like a lot, but when rushing from one project to the next while dealing with unexpected events that pop up, the calendar can grow short quickly. But year-end comes at the same time every year. So we know which weeks and months are likely to require increased collaboration across operating units amid a flurry of deadlines.
Thinking ahead and establishing an efficient strategy for all involved can make for an easier go, and hopefully fewer surprises. A little effort can often go a long way.