When companies merge: equity compensation considerations in M&A transactions
E*TRADE Financial Corporate Services, Inc.
06/29/18
With the US economy running on all cylinders and economic recovery underway overseas, mergers and acquisition (M&A) volume is increasing worldwide. In 2017, global M&A activity exceeded $3 trillion for the fourth consecutive year and shows no signs of slowing.1 According to a 2018 Deloitte survey, "nearly 70 percent of executives at US-headquartered corporations and 76 percent of leaders at domestic-based private equity firms say deal flow will increase in the next 12 months."2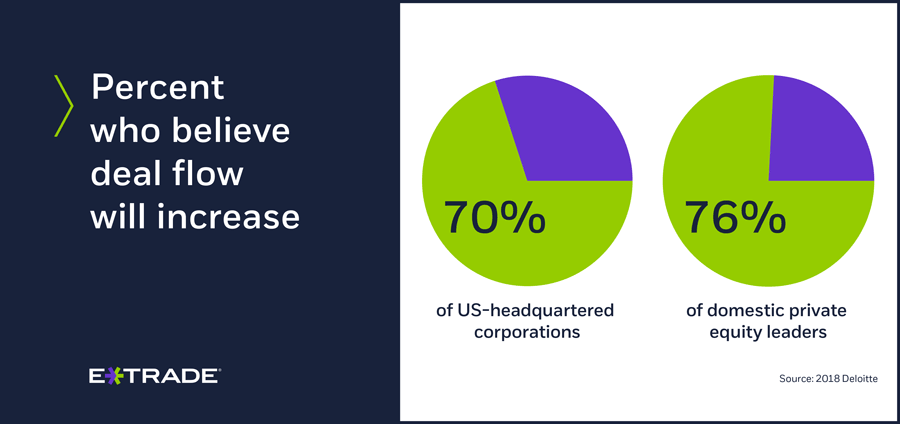 Source: E*TRADE
---
In one of the most recent high-profile deals, a federal judge gave the green light to AT&T's $85.4 billion acquisition of Time Warner. While megadeals and hostile takeovers tend to get all the ink, mergers can be small, amicable affairs that bear little resemblance to Gordon Gekko raiding Anacott Steel. Nonetheless, even the most minor transactions can be complicated. Extensive due diligence is often required to properly structure a deal.
Equity grants: not just for executives

One of those issues may involve equity compensation. Although many executive compensation packages include an equity component, equity grants are by no means the exclusive domain of senior management and directors. In many industries—particularly among technology companies—equity grants can be critical to recruiting talent at all levels.
How are equity grants treated in an M&A transaction?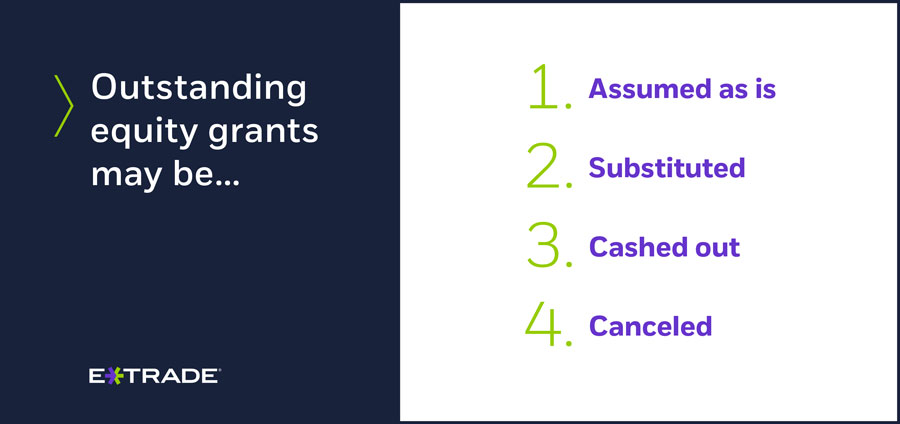 Here are some of the more typical ways of treating existing equity compensation plans in an M&A transaction:
1. Outstanding equity grants may be assumed.
2. The acquiring company may substitute the equity—replacing the stock of the acquired company with its own.
3. The grants may be cashed out, which sometimes include vest accelerations.
4. Outstanding grants can be canceled. In these situations, participants may have the chance to exercise vested stock options beforehand.
A good place to gain more insight is the transaction agreement, which should provide detailed information about the treatment for each outstanding equity grant.
Features of stock plan administration platforms
Once the M&A transaction is approved, firms with equity compensation plans in place will need to move forward with planned changes. Rather than muddling through burdensome recordkeeping, accounting, and regulatory requirements, firms can use stock plan administration technology. These sophisticated tools can help process stock grants and automate many of the most time-consuming tasks involved in stock plan administration. More advanced offerings deliver robust modeling tools along with customized on-site and virtual education.
When weighing the various stock plan administration platforms, give careful consideration to the scope and flexibility of the underlying technology; some platforms offer more flexibility than others. Consider, too, the technology provider's track record. Are the firm and its technology satisfying the needs of customers? Loyalty and satisfaction ratings are a good place to start.
Communication is key   

Regardless of which platform a company selects, firms undergoing mergers or acquisitions should consider having a communications plan in place that addresses equity grants. Anticipate participant questions: How will the transaction affect existing grants or awards? Will there be tax considerations? Do plan participants have the educational resources they need?
How these issues are addressed can have a meaningful effect on employee morale and retention. Clear lines of communication can help clear up any confusion around equity compensation, while the right tools and technology can give you greater control over the impact to your stock plan program.
---
1.  "Global M&A exceeds $3tn for fourth straight year," Financial Times, December 28, 2017, https://www.ft.com/content/9f0270aa-eabf-11e7-bd17-521324c81e23
2.  "How digital tools are helping unlock M&A value," Deloitte, https://www2.deloitte.com/us/en/pages/finance/articles/cfo-insights-how-digital-tools-are-helping-unlock-ma-value.html