E*TRADE Financial Corporate Services, Inc.
11/30/17
If you turn over the keys to your employees, what happens if they take a wrong turn?
This is important for employers to consider when it comes to designing compensation plans. We find that some companies looking to stand out from the crowd are moving beyond traditional equity and cash-based award plans, and are exploring new strategies that offer more choices for participants.
Yet while more choices—and more possibilities—are great in theory, they may open the door for potential missteps for employers and employees alike.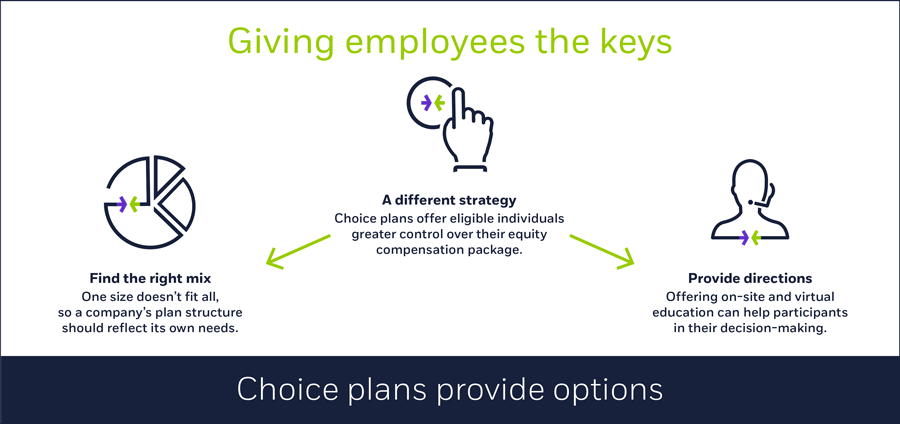 Decisions, decisions
Choice plans are fairly straightforward in concept. Unlike traditional equity compensation packages, these cafeteria-style plans allow participants to select from a list of equity vehicles, or set an allocation of equity and cash. It's a strategy that offers eligible individuals greater control over their equity compensation package. But it's not always the easiest to implement.
First, the company has to find the right mix of choices to offer. What works for one company may not work for another, and so there's a need to build a plan structure that reflects a company's needs. For example, some companies may favor greater share ownership at senior levels within the organization. As a result, they might encourage managers to invest in the company by offering more diverse equity selections. Conversely, the company may offer lower-level participants the ability to choose more cash than equity options.
In our work with clients, we find that some companies with a global presence sometimes prefer cash over equity because they perceive it as easier to understand and having fewer regulatory considerations outside of the US.
Some of our clients have also noted that Millennials seem to prefer more immediate vesting over a more traditional three- or five-year schedule.1 As a result, we have come across companies that are evaluating whether monthly or quarterly grants of awards, or even a shortening of vesting periods, would fit with their cultures.
Directions needed
Once a company decides on the right mix, there's another looming challenge: making sure plan participants know what to do once they're in the driver's seat.
With choice plans, the onus is on the participant to make decisions—significant decisions—about the composition of their compensation package. The potential benefits of choice plans are many, but so are the potential pitfalls—especially if there is a lack of understanding.
So it falls on HR pros to provide participants with the tools necessary to inform their decisions. Unsurprisingly, HR departments need a comprehensive and well-thought-out communication strategy.
What most companies have found, in our experience, is that emails aren't enough to ensure participants have a full understanding of what they're selecting, and what it could mean for their financial planning over the long term.
At E*TRADE, we work with clients to help deliver on-site and virtual education as a way to inform participants about some of the basics of their equity compensation benefits. On-demand seminars, as well as engaging online multimedia and mobile content, can go a long way toward increasing participant understanding. Interactive calculators and models designed to assist participants in the decision-making process are particularly popular as well. Some companies also line up their choice plan enrollment periods with other annual benefits enrollments in an effort to maximize participant attention. 
Keys in the ignition
Giving participants the keys can make equity compensation more engaging, and even fun. But it's up to the company to design ways to keep participants headed in the right direction and on the way to maximizing their compensation package's potential.
---
1. Equity Edge Online® active Restricted Stock Plans, as of June 30, 2017; stock plans administered by E*TRADE Financial Corporate Services, Inc. as of June 30, 2017.
Note: This article will also appear in the December 2017 issue of Human Resource Executive® and posted on HREOnline.