Building community, part 1: E*TRADE Corporate Services and Next Level Boys Academy
E*TRADE Corporate Services

07/21/20
When Gary Davis launched Next Level Boys Academy as a youth summer camp 11 years ago, he did not originally intend to build an incarceration diversion and mentorship program. But over several years working with the community, he recognized an urgent unmet need.
"Every time you turn on the news you see Black or brown males either getting killed or going to prison," he explains. "So, I said to myself, 'I may not be able to save all of them, but I think I can help 1%.'"
That was six years ago. Next Level Boys Academy now works with court systems in 13 counties across Georgia and Alabama to offer young men a powerful alternative to prison: Mentorship through targeted classes and personal support and guidance from community leaders interested in helping young men build a better life. Mr. Davis estimates Next Level serves 300 to 500 young men per year, diverting at least 100,000 years of prison time each week.
E*TRADE Corporate Services Managing Director Scott Whatley and Mr. Davis recently discussed how a chance meeting and a shared passion for investing in their communities led to an ongoing collaboration between their organizations.
Q: How did Next Level Boys Academy and E*TRADE Corporate Services first cross paths?
Scott Whatley: I had finished jury duty and felt a calling to go into a random courtroom. Gary came in and sat behind me, though I didn't know who he was at the time.
A 16-year-old boy was facing a serious charge. The attorney was explaining that the boy had been accepted to a diversion program at Next Level Boy's Academy, and that the founder Gary Davis was present if the judge wished to speak with him.
At that point something triggered me: Sitting in the courtroom, I searched in my phone for Next Level Boys Academy, found Gary's photo, and turned around and asked Gary if he was Gary. He promptly said no.
Gary Davis: I didn't know who this man was or why he was there. He was looking at my photo, and I was looking at him, and he said, "Listen, I love what you guys are doing," and handed me his card. Later, in my car, I Googled him like he Googled me, and from that day to this we've probably talked 3–4 times a week.
Scott has become been deeply involved at Next Level. He not only said he wanted to be part of something, he actually became part of it.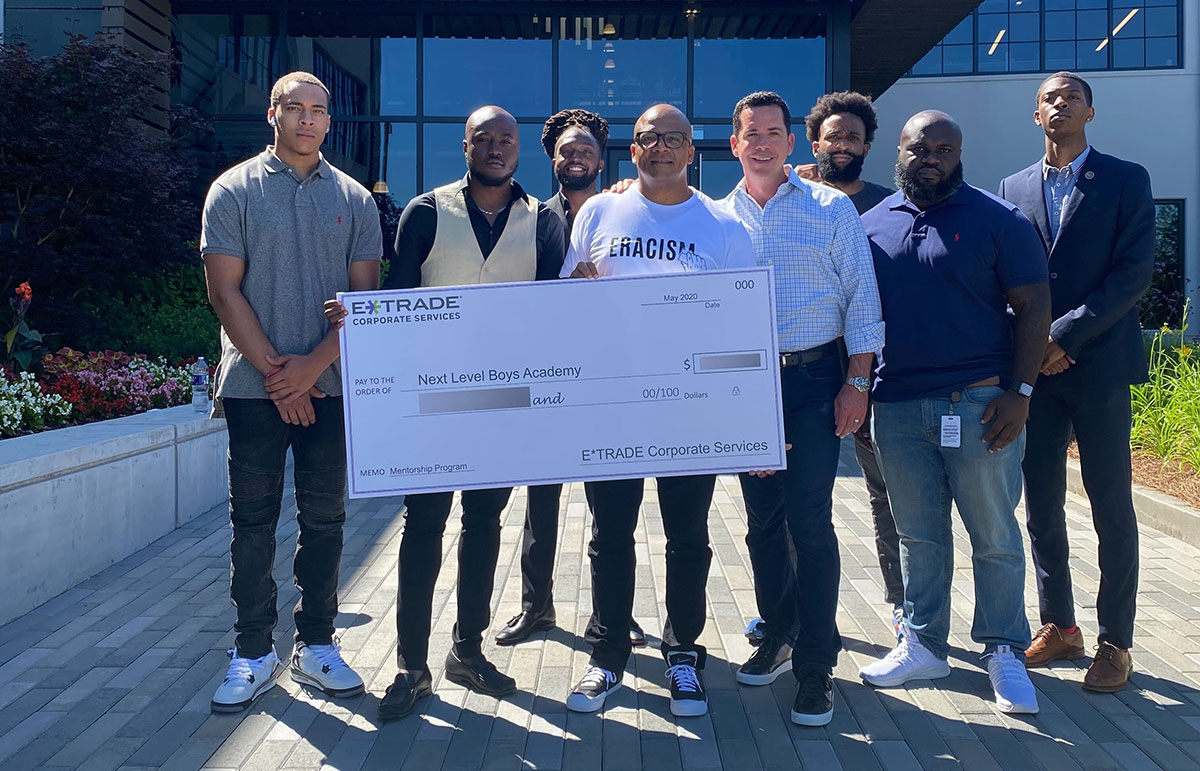 Q: From a leadership perspective, why is mentorship so important?
Gary Davis: Every individual needs a mentor. The courts give us an opportunity to work with a population of young, mainly African American men, many from single-parent households, who are good kids that get caught in bad decisions. They haven't maximized their abilities because they don't have relationships with leaders like the team of mentors I have at Next Level—including Scott.
These young men need daily guidance, and mentorship provides guidance they wouldn't be able to get anywhere else. We work to get their social skills and life skills up to par, teaching conflict resolution, anger management, and more. We get them prepared for jobs, and some go to college. We partner with many outside organizations and companies to outsource and get them connected with what their interests are, what they want to do with their lives.
In our Diversion program, we mentor the entire family. For our high population of single mothers raising sons by themselves, I've also created an additional resource in my first book, Raising Him Without Him, as a manual to help navigate the different challenges that their sons are going through.
Scott Whatley: Gaining an inside perspective is one of the most valuable aspects of getting involved—listening to people, their stories, and the challenges they face. Being able to bring those perspectives and experiences back into the corporate workspace is invaluable for all of us—and the ability to bring opportunities such as job shadowing at E*TRADE creates an opportunity to change a generation. I get a lot more from the program than I'll ever be able to give.
There's what I get, there's what I can give, and then there's the potential to benefit all of us from a societal perspective: What can we do to change the direction for a lot of these young men? It is a societal challenge, especially when you're talking about breaking a cycle of incarceration. It's about being able to expose these individuals to other possibilities, whether that's in financial services or simply showing them that they can believe in themselves—and that even though society in large part may not believe in them, we do.
When you can redirect these young men and their energy and potential to something larger, we all benefit.
Join us soon for part two, where Mr. Davis and Mr. Whatley discuss how mentorship can play an important role in positive societal change.
Learn more at etrade.com/corporateservices